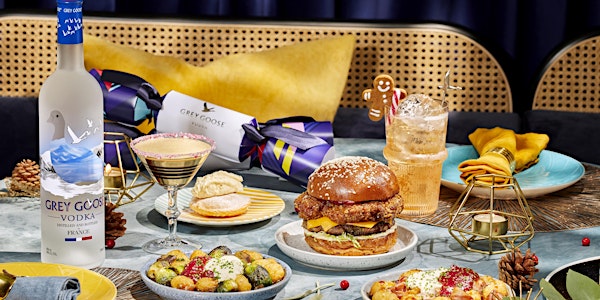 GREY GOOSE® Vodka x Giz 'n' Green Friendsmas Feast Delivery Kit
GREY GOOSE® Vodka x Giz 'n' Green Friendsmas Feast Delivery Kit
About this event
Foodie friendship duo Gizzi Erskine and Stephen Manderson (Professor Green), aka Giz 'n' Green, have partnered with GREY GOOSE® vodka to present the Friendsmas Feast delivery kit!
It's the perfect way to ensure that Christmas celebrations with friends this season don't skip a beat, even in lockdown - providing the ideal opportunity to not only shake up old traditions, but cocktails as well.
Kits will be available for delivery every Friendsmas Friday on 27th Nov, 4th Dec, 11th Dec.
2-person kit - £65
4-person kit- £100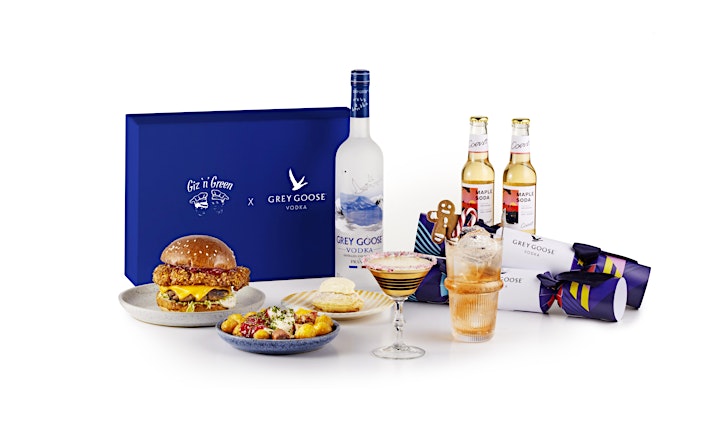 The kit includes: 
A full-sized 70cl bottle of GREY GOOSE vodka and cocktail ingredients to shake n sip your own Instagrammable cocktails
Giz 'n' Green curated three-course GREY GOOSE vodka-infused Christmas Menu, a new take on an old tradition
GREY GOOSE Christmas Crackers
Interactive Friendsmas activities to be enjoyed with friends, including personalisation kits for a gingerbread man cocktail garnish, plus a create-your-own candy cane espresso martini cocktail rim
All proceeds from the Friendsmas Feast kits will be donated to Hospitality Action, a charity that supports a range of services to help hospitality workers get back on their feet during challenging times.
Festive Feasting Menu: 
First Course: Tater Tot & Pigs in Blanket Poutine*: A French classic with a British twist, these tater tots and pigs in blankets are topped with turkey gravy, GREY GOOSE® vodka cranberry sauce, bread sauce and chives
Main: The Christmas Turkey Tower*: A new take on the Christmas sandwich, this Southern fried turkey fillet and sage and onion sausage patty are piled high with GREY GOOSE® vodka and cranberry sauce, bread sauce mayo, burger cheese and brussels sprout slaw, on an sesame seeded brioche bun
Pudding: Deep Fried Mince Pies with Marmalade and GREY GOOSE® vodka Chantilly Cream : A Christmas must-have, this mince pie is deep fried and dusted with icing sugar, topped with marmalade and GREY GOOSE® vodka Chantilly cream
*Vegetarian kit options: Roasted Sprout & Chestnut Poutine and Merry Mushroom Brioche
Seasonal GREY GOOSE® Cocktail Menu:
GREY GOOSE® 'Spiced Gingerbread Man': A warming cocktail of spiced gingerbread syrup and maple soda. Finish with a bespoke gingerbread person decorated by your truly!
GREY GOOSE® 'Candy Cane Lane': Take a trip down 'Candy Cane Lane' with a Christmas twist on the firm favourite Espresso Martini cocktail finished with a crushed peppermint candy cane rim. A perfect after-dinner drink!
Delivery kits also include a fun 'how-to' video which can be found here featuring Giz 'n' Green as they reveal their tips on cooking your feast and their menu inspiration.
What You'll Need:
To experience the joys of the festive feasting menu at home, you just need an oven, a baking tray, a hob, a selection of pots and pans (don't worry about sizes), a couple of spoons and of course, clean hands. We recommend serving the Poutine in a bowl, while the Turkey Tower and the Mince Pie both look great on a plate (for about three seconds - once you pick them up, you're not putting them down again...). The only ingredient that you need to provide yourself is plenty of ice for those holiday cocktails. Because no one likes a warm Martini...
Delivery Details:
Delivery kits are limited and only available in London Zones 1 and 2. Kits must be ordered by 24 hours in advance of delivery day and will be delivered between 4 pm and 7 pm on the selected Friday. Purchasers must be home to receive delivery.
Limited number of kits available so get yours today!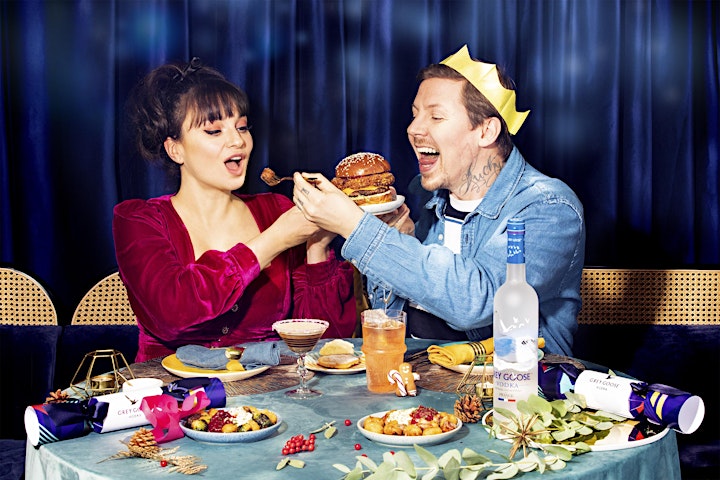 Terms & Conditions:
1. Please check your order thoroughly, as mistakes cannot always be rectified.
2. We regret that orders cannot be exchanged or refunded after purchase.
3. Very occasionally, activations are cancelled or postponed for a variety of reasons. If the activation is cancelled, please contact us for information on receiving a refund. If the activation was moved or rescheduled, we may set refund limitations. It is your responsibility to ascertain the date and time of any rearranged activation.
4. Friendsmas meal kits are sold subject to Grey Goose's right to alter or vary the programme due to events or circumstances beyond its control without being obliged to refund monies or exchange orders.
5. The Friendsmas meal kit listed is strictly for purchasers who are over 18 years of age. Identification may be required.
6. You must purchase a vegetarian kit as part of the ticket process should you require a vegetarian Friendsmas meal kit.
7. You accept that the Friendsmas meal kit will be prepared and consumed in your own private home, and they are therefore fully responsible for their own safety and the safety of those on whose behalf they have purchased the kit. You assume all risk incidental to the preparation and consumption of this Friendsmas meal kit, whether occurring on or after the selected day of delivery. The specific risks vary, and can include but are not limited to cooking food thoroughly; separating and not cross contaminating foods; chilling or refrigerating food appropriately; cleaning foodstuffs, instruments and hands used in and for food preparation; fire or gas hazards. Grey Goose cannot make changes to the meal kits to cater for any allergies, including but not limited to dairy, gluten, sesame seeds, celery and nuts. [
8. Our liability of any kind (including our own negligence) is limited to the price paid for the Friendmas meal kit. In no event (including our own negligence) will we be liable for any economic losses (including, without limit, loss of revenues, profits, contracts, business or anticipated savings); loss of goodwill or reputation; special, indirect or consequential losses.
9. You agree to be present for delivery between 4:00 pm and 7:00 pm on the day of your chosen delivery.
10. Delivery is only available to addresses within London Zones 1 and 2.
Please see the Grey Goose privacy policy for more information about how we use your personal data.
If you do not agree to the Terms and Conditions or your address is not in Zones 1 or 2, your order may be cancelled and you will be refunded the total minus Eventbrite fees.
Allergens: Note, all the food will be prepared in a kitchen that may have traces of nuts.
Tater Tot & Pigs in Blankets Poutine: Dairy, Gluten, Celery
Roasted Sprouts & Chestnut Poutine (V): Dairy, Gluten, Nuts
The Christmas Turkey Tower: Dairy, Gluten, Celery, Sesame Seeds
Merry Mushroom Brioche (V): Dairy, Gluten, Celery, Sesame Seeds
Deep Fried Mince Pies with Grey Goose Vodka & Marmalade Chantilly Cream: Dairy, Gluten