Description
NOTE: Advance ticket sales end at 2pm on the day of the show. That doesn't necessarily mean that that night's show is sold out, just that you'll need to purchase your tickets at the door. You can still make reservations at 504 606 9903 until 5pm. If a show is full, we'll leave that info on the voicemail. Because we're thoughtful like that!
* * * * *
GRENADINE IS BACK, Y'ALL!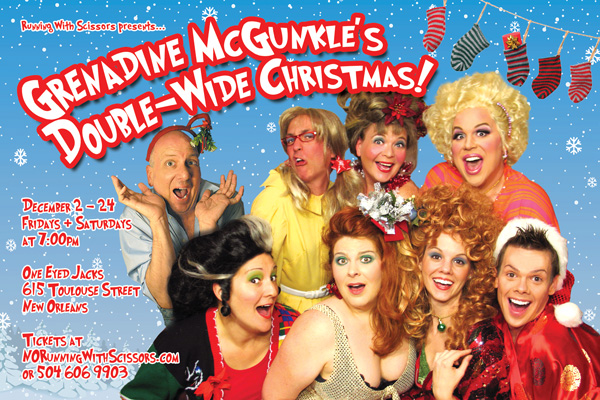 Running With Scissors returns to Hogwalla county
for a celebration of turkey, tinsel, and trailer parks in...
GRENADINE MCGUNKLE'S DOUBLE-WIDE CHRISTMAS!
A HIGH CAMP HOLIDAY MUSICAL EXTRAVAGANZA
Fridays and Saturdays, December 2 - 24 at 7pm
One Eyed Jacks, 615 Toulouse Street
All seats: $20
Haul out the holly, the ham hocks, and the hairspray, y'all: after a two-year hiatus, Running With Scissors is moseying back to the Everlasting Arms Motor Park for another heaping helping of holiday hijinks in Grenadine McGunkle's Double-Wide Christmas!
It's seven o'clock on Christmas Eve, and the unofficial queen of the trailer park, Grenadine McGunkle (Dorian Rush), is running around like a chicken with her head cut off. Company's due to arrive in less than an hour for Grenadine's interfaith potluck barbecue, and our poor little ol' gal hasn't even started the green bean casserole yet!
Will Grenadine's neighbors, Madge and Helen (Elizabeth Pearce and Jack Long), lend our heroine a hand? Did Grenadine's cousins/step-sisters Crystal and China (Lisa Picone and Ashley Ricord) really get run out of Branson, Missouri? Why has Mrs. Finkelstein (Brian Peterson) been spending so much time at Hooters? Has Punkin (Brad Caldwell) finally found true love? And where in blue blazes is Mailman Johnny's (Bob Edes Jr.) ex-wife shacking up? Find out this December as Running With Scissors makes a mad dash for musical merriment at One Eyed Jacks!
Grenadine McGunkle's Double-Wide Christmas features:
Dorian Rush as Grenadine McGunkle, maven of the motor park
Elizabeth Pearce as Madge McGillicuddy, nicotine aficionado and accompanist
Lisa Picone & Ashley Ricord as Crystal & China, alleged entertainers
Bob Edes Jr. as Mailman Johnny Shoemake, who delivers the mail
Jack Long as Helen Highwater, a girl who should really know better
Brad Caldwell as Punkin, a confirmed bachelor
Brian Peterson as Gladys Finkelstein, everyone's favorite neighbor
Grenadine McGunkle's Double-Wide Christmas plays at 7pm on December 2, 3, 9, 10, 16, 17, 23, and 24 at One Eyed Jacks, 615 Toulouse Street, in the heart of New Orleans' French Quarter. All tickets are $20 (general admission).
Please note: Running With Scissors isn't able to offer refunds on ticket purchases. However, if you let us know in advance that you won't be able to make the show, we'll do our best to accommodate you at a future performance! Sound fair?