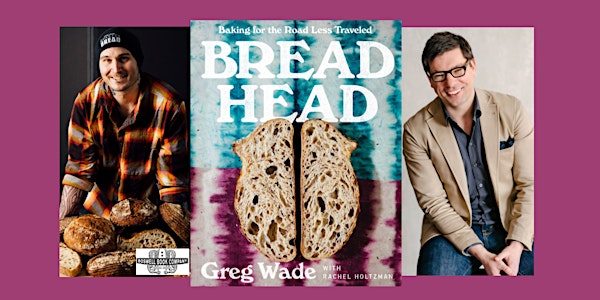 Greg Wade, author of BREAD HEAD - an in-person Boswell event
Greg Wade, author of BREAD HEAD - an in-person Boswell event
Date and time
Starts on Tuesday, June 13 · 6:30pm CDT
Location
Boswell Book Company 2559 North Downer Avenue Milwaukee, WI 53211
About this event
Boswell Book Company presents an evening with Greg Wade, author of Bread Head: Baking for the Road Less Traveled. In conversation with Kyle Cherek. Our event, originally scheduled for May 2, is now taking place on Tuesday, June 13, 6:30 pm, still at Boswell and still in conversation with Cherek.
Greg Wade is an expert in the out-of-this-world tastes and textures of long-fermented, hand-shaped breads. The recipient of the James Beard Award for Outstanding Baker is committed to spreading the love for local, organic flours and long-fermented sourdough loaves far and wide as he kneads, stretches, and proofs his signature loaves each day at Publican Quality Bread in Chicago. Bread Head is his guide to making all your favorite professional-level breads, cakes, and pastries at home. Through accessible, teachable recipes that include baker's percentages and capture the importance of hydration and hand-shaping, Greg will improve your baking know-how, confidence, and zeal in the kitchen.
From Amy Scherber of Amy's Bread in NYC: "Greg Wade is an incredibly talented and passionate baker. From his own commitment to local grains to the mastery of sourdough, soakers, and porridges, he shares his knowledge about all the elements that make up his extraordinary bread. Greg's curiosity and creativity shine through as he reminds us that baking is a lot of fun. He makes everything feel easy and accessible—this book is a gift to bakers at all levels and a must for the bakers of today!"
Greg Wade is the head baker at Chicago's Publican Quality Bread. He is an active member of local, regional, and national farming organizations devoted to producing ethical, quality ingredients.
Click here to order your copy of Bread Head from Boswell. Signed copies and personalization available on pre-orders. Please note that signed copies will not be shipped until after the event.