Description
GREG MIKE • INSIDE VOICES
A SOLO EXHIBITION OF NEW WORK.
*OPENING RECEPTION*
Friday, October 19th, 6:00 PM - 11:00 PM

EXHIBITION HOURS:
Friday, October 19th - 6:00pm - 11:00pm
Saturday, October 20th - 10:00am - 10:00pm
Sunday, October 21st - 10:00am - 8:00pm
Monday, October 22nd - By Appointment Only (Email info@abvatl.com)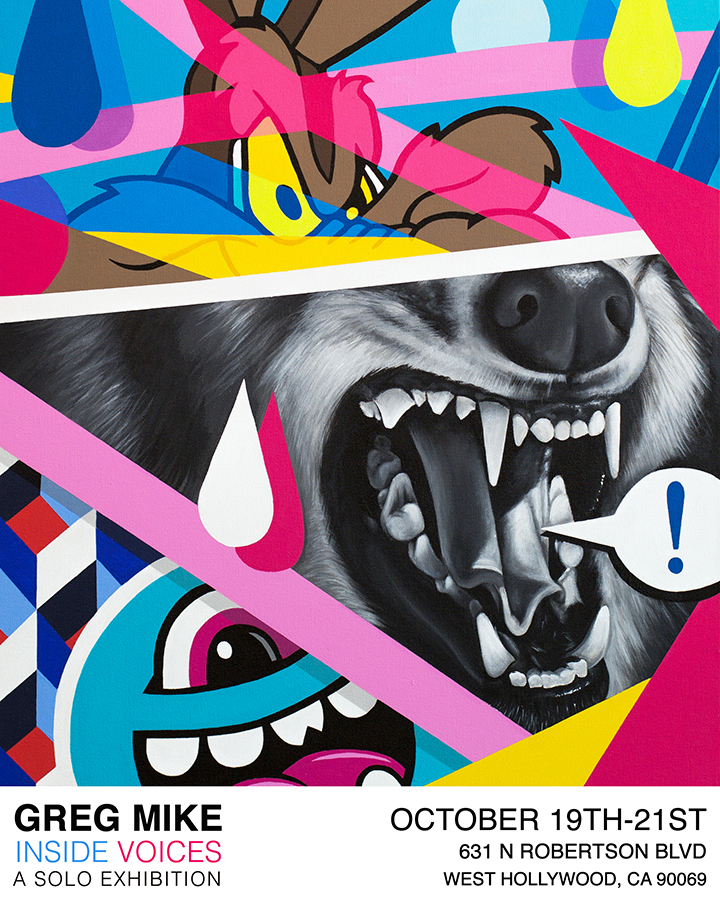 About the Exhibition:
Inspired by the past, present, and future, GREG MIKE's latest body of work, "Inside Voices," breaks boundaries with the artist's loudest collection to date. A true mash-up of styles and mediums, the work nods at GM's love for classic cartoons, color, and ferocious animals while exploring internal battles and motives. The work is bold, energetic and thought-provoking — taking the viewer on a visual adventure led by MIKE's iconic character LARRY LOUDMOUF.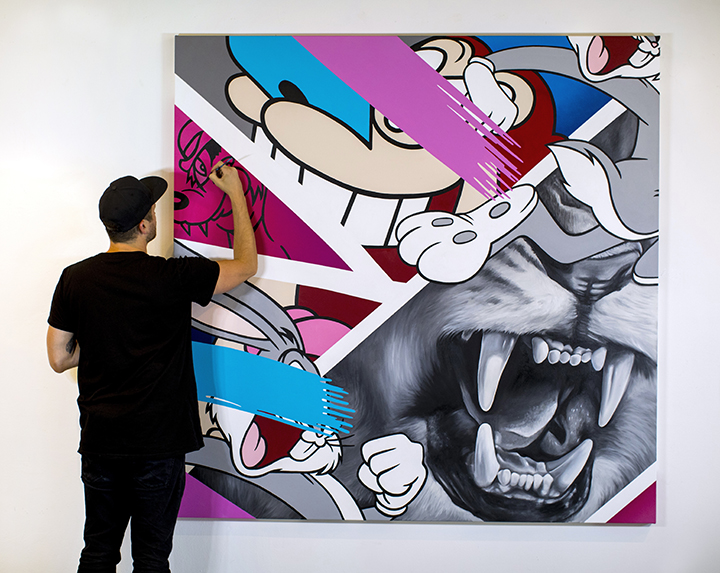 About the Artist:
Born and raised in Connecticut, childhood trips to NYC in the mid-'80s exposed GREG MIKE to the creative potential of reinventing public spaces through art and design. Always obsessed with the boundless energy and crisp line work of iconic American mid-century cartoons, by his early teens Greg began using the walls of his native state to fuse these two passions together. Mixing the take-no-prisoners bombast of classic NYC street art with the eagle-eyed precision of mass market illustration and animation has been his goal from the beginning. Further inspired by his deep involvement with skate culture and his intersections with the design world, he has become known for pieces that incorporate vivid explosions of incandescent color filtered through a Surrealist Pop Art perspective. Populated by gleefully twisted characters, his world is unsettling, mischievous and uniquely captivating.

For more Info: info@abvatl.com
Official Website: www.gregmike.com