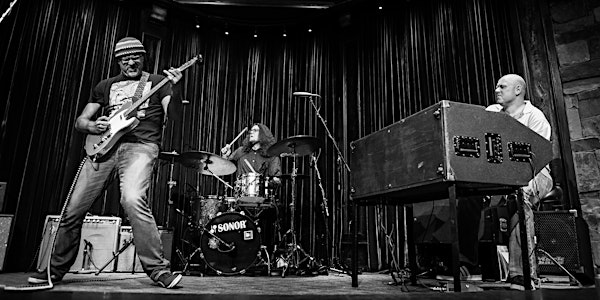 Greg Koch featuring the Koch Marshall Trio
Its Gristle time at the OK Theatre! This is going to be a facemeltingly good time at the old OK!
Date and time
Thursday, July 6 · 7 - 10pm PDT
Location
OK Theatre 208 West Main Street Enterprise, OR 97828
Refund Policy
Contact the organizer to request a refund.
About this event
Milwaukee native Greg Koch has forged a successful career as "a guitar player's guitarist." He is not only a fiercely creative player with a whole trick bag of impressive techniques, ranging from Albert Lee chicken-pickin' to Albert King string-bending to all-out Hendrixian abandon, he is also is a clinician for Fishman Transducers and his wildly popular "guitar test drive" videos (4,000 to date) for Wildwood Guitars of Louisville, Colorado have generated 50 million views. Koch also has a signature axe which was released in 2019 by Reverend Guitars, named the Greg Koch Signature Gristlemaster. The guitar colors were given somewhat humorous names like: Kochwork Orange, and Blucifer. He is also a best-selling method book author and video instructor for music publisher Hal Leonard and a contributing columnist for a variety of guitar magazines including Guitar Player. Guitar great Steve Vai, who released Koch's 2001 album The Grip on his own Favored Nations label, heaped praise on his fellow guitarist: "Greg Koch is one of those rare guitarists that can blend various styles with a light-hearted approach and a tremendous amount of technique. Hearing him play is inspiring to a guitar player to try to achieve greatness on the instrument."
Dylan Koch gravitated to the drums early on in his life using kitchen utensils to play along with music as soon as he could walk. After digesting an early diet of Ginger Baker, Keith Moon, Mitch Mitchell and John Bonham, Dylan was mentored by the legendary Tom Brechtlein (Chick Corea/Robben Ford). In high school, Dylan participated in the Jazz Institute at the Wisconsin Conservatory of Music and furthered his studies at the McNally Smith School of Music in the Twin Cities. While still in his teens he performed with young guitar guns Tallan Noble Latz and Jared James Nichols and has performed alongside his father with such artists as Robben Ford, Little Feat's Paul Barrere, Jon Cleary, David Grissom, Roscoe Beck and Malford Milligan. Dylan was recently nominated for drummer of the year by the Wisconsin Area Music Awards(WAMI). Says proud papa Koch, "This is the third official recording with the kid. And what's great about it is, you can't teach the grease. And he gets it. He gets the filth. I guess he's just got my filthy DNA."
Hailing from the Twin Cities area, Toby Lee Marshall came from a musical family, playing piano for years until falling under the spell of the sound of the organ while at a baseball game at age seven. His fascination for the Hammond B3 took hold after his Dad took him to see Steve Cherewan playing with Dr. Mambo's Combo during their legendary residency at Bunker's in Minneapolis. Steve mentored Toby in the ways of the B3 and he hit the ground running, landing a gig with bluesman Lonnie Brooks while still a teen. He would go on to travel theworld as a member of Bernard Allison's band. Following a long hiatus from music, Toby has returned to the music scene with a vengeance in the smoking Koch Marshall Trio. "Toby had actually retired from music," Koch explained. "He decided to stop touring for several years to help raise his two young kids. But now he's so excited to be playing in this trio because it's just such a perfect format for him to let his freak flag fly. It's the perfect combination of this kind of churchy, bluesy, funky, jazzy, rock, chicken-pickin' thing, and he fits right in."
About the organizer
The historic OK Theatre was reopened in 2014 as a performance arts venue with an emphasis on music