Greg Farnese and the Tom Adams Trio Jazz It Up Philly Spotlight Live at Vesper

Wednesday, June 8, 2016 from 7:00 PM to 10:00 PM (EDT)
Event Details
Greg Farnese and The Tom Adams Trio
Jazz It Up Spotlight "spotlights" both, Philadelphia's talented, up-and-coming, jazz artists as well as established jazz artists. Reminiscent of the great supper club era of days gone by, take a musical journey, through the timeless sounds of The Great American Songbook with Greg Farnese accompanied by the incomparable Tom Adams Trio. Come see these incredible artists, who revel in the unbridled fun, energy, and musicianship that capture the essence of the Jazz, as we present music that has defined many generations. Dress to impress and enjoy.
$5 Of Every Ticket Sold Goes To Jazz Bridge To Support Jazz and Blues Artist In Times Of Crisis. When you buy a ticket you help support Live Jazz & Blues Thrive and Survive.
Discounted validated parking right next door.
Also Join us for the After Party  with more Live Music at 10pm down in the secret hidden Speakeasy, (Be Sure To Get Your Special Password at the Show.)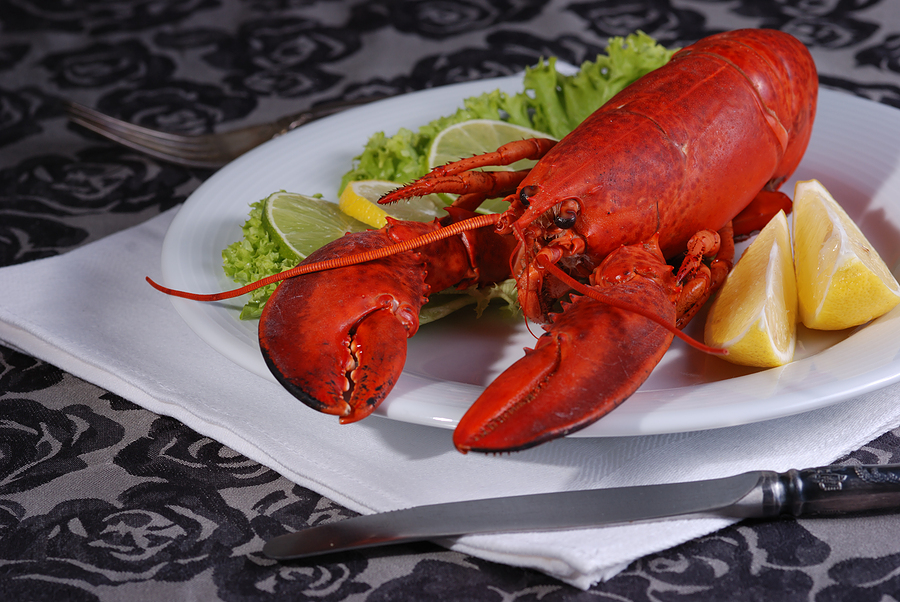 $18.95 11/4 lb Lobster Special
Starring Greg Farnese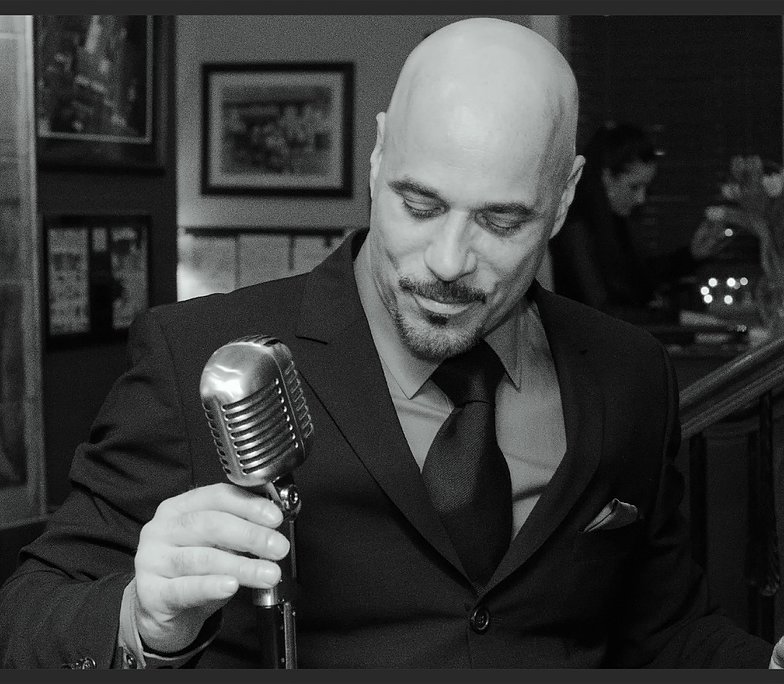 Greg Farnese is one of the fastest rising male jazz vocalists in the area, singing the truly timeless music of the Great American Songbook as well as original jazz arrangements of more current artists. A South Jersey native, Greg began his career in acting, and moved to Hollywood, California where he worked in theater, television and in films.  Missing his roots, he ultimately moved back to the East Coast, where he started his own production company producing content for television, commercials, web content and documentaries.  It was here in New Jersey, that his love of jazz and his vocal abilities took root and he began singing professionally.  His soulful tone and inspired phrasing, as well as his reputation as a consummate performer, have produced a wide fan base of musicians and music lovers.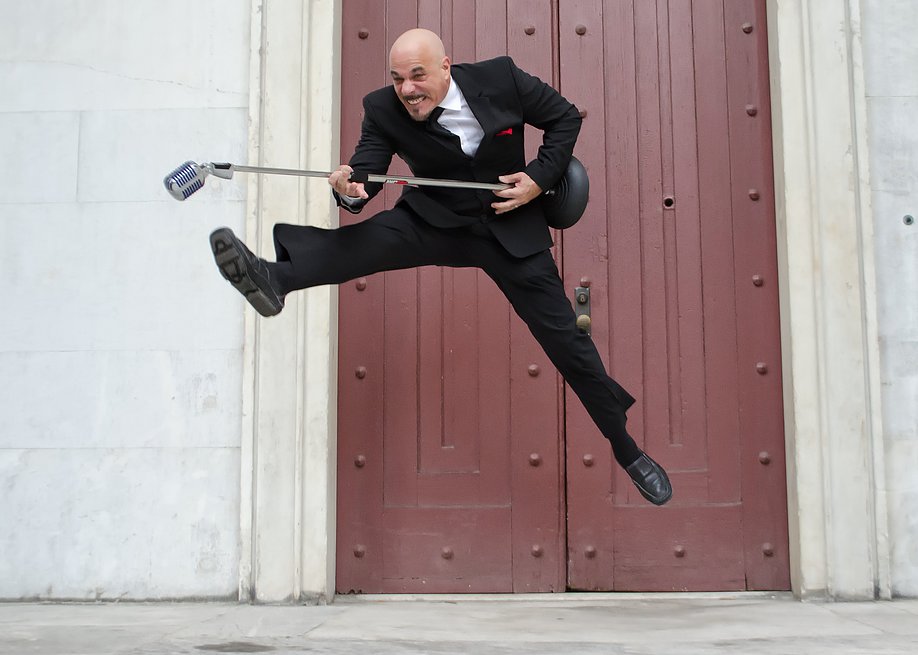 Greg's tremendous fan base and popularity have allowed him the opportunity to delight fans in several venues.  He currently plays in some of the most celebrated clubs and restaurants on the East Coast, including Chris' Jazz Café, Milkboy, Parx Casino, Paris Wine Bar, Victor Talking Machine Co. "The Vault", The Crazy Sofa, Auburn Winery, Filomena's Lakeview and Catelli Duo, as well as popular festivals and private events. His fans and fellow musicians continue to inspire him enhance his passion and love for Jazz
Featuring Christpher Davis Shannon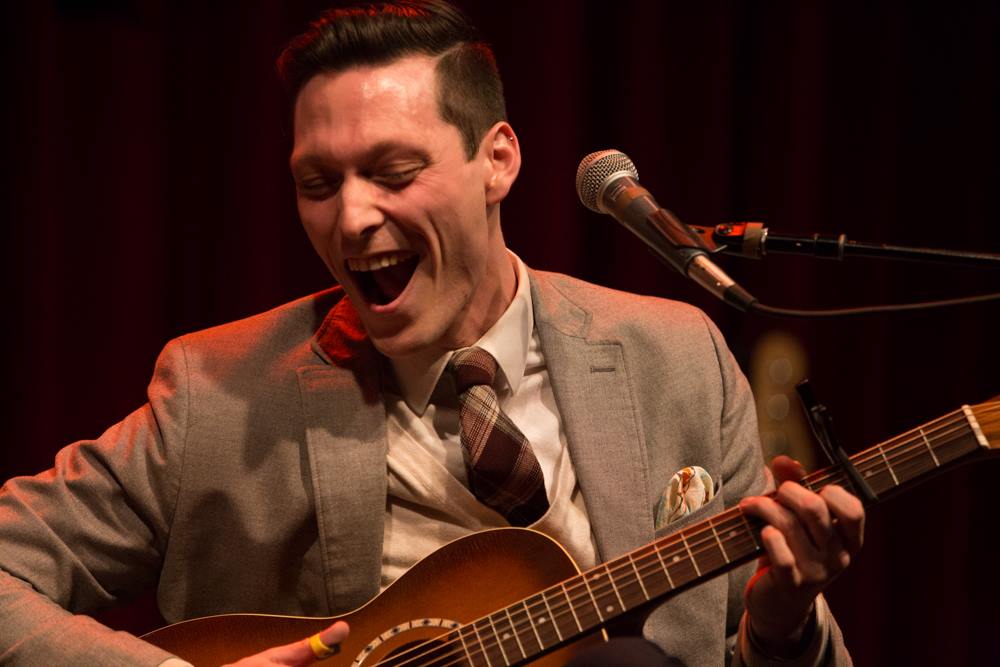 Christopher Davis-Shannon's music is the essence of honest simplicity.  Bringing together influences ranging from Fats Waller to Muddy Waters he creates an atomosphere that will instantly transport you back to jazz and blues clubs of the early 20th century. Not content with being called a traditionalist he forges ahead with his own modern take on timeless classics, weaving together a sound that is enjoyed by both young and old. 
Your Master of Ceremonies Buddy Scheerer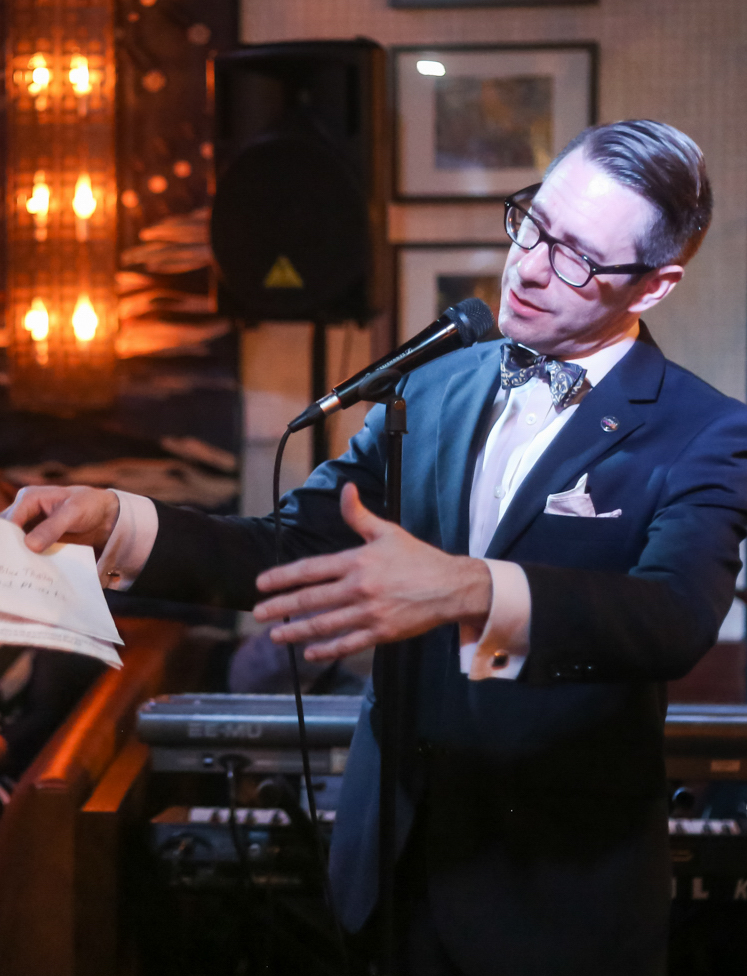 Buddy Scheerer is currently Director of Sales for The Philly POPS; his eighth year with the company. He has held positions with such local cultural organizations as The Philadelphia Orchestra and The Annenberg Center for the Performing Arts. He is an ambassador of all things music and very much enjoys connecting audience and performance; he may also enjoy the spotlight…just a little.
Jazz It Up Philly Supporting Patron Gets This Number Artist/Performers Signed Reproduction of an original painted May 26th 2015 at The Prime Rib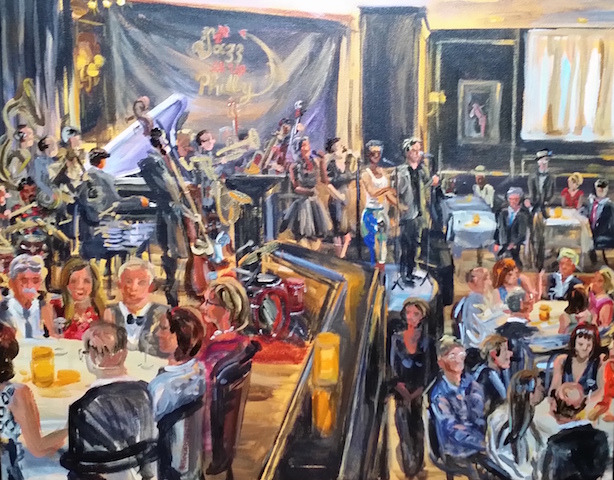 In 2015 Jazz It Up Philly sold out 24 performances and has supported the arts in Philadelphia by showcasing over 100 new and vetted Philadelphia based artists. A Jazz It Up Philly Patron is a person who believes in what we are doing here in Philadelphia and wants to see us do much more,
The experience that is Vesper.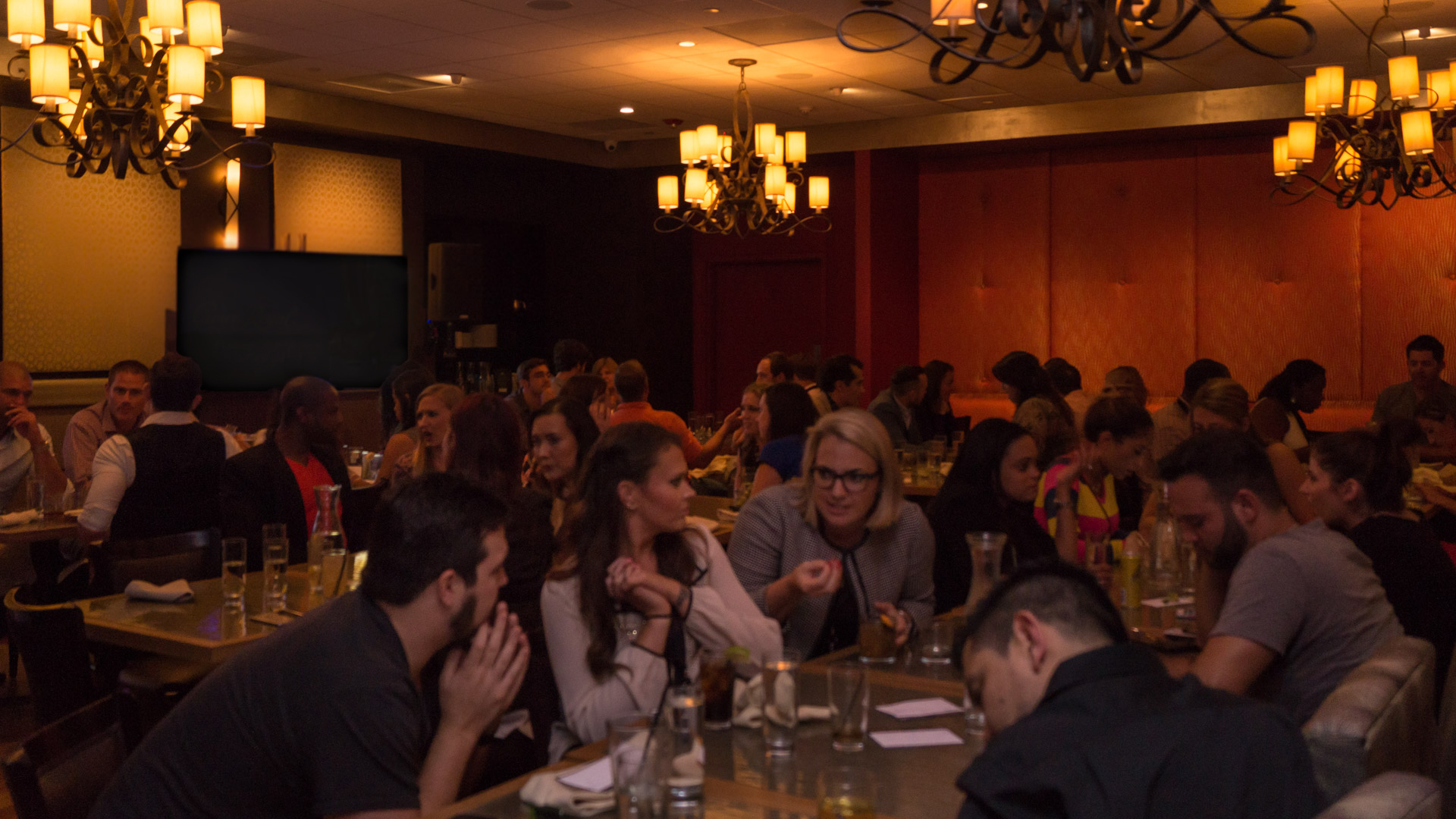 A hideaway in the heart of Philadelphia, Vesper is a modern-day supper club with an Old World feel. We invite diners into an era when meals are events to look forward to and luxuriate over: appreciating the complexity of a cocktail, every fresh ingredient, and your companion's conversation.
With its shadowy past of mob deals, bathtub gin, and general debauchery, Vesper was re-invented in 2015 by owners Brendan Smith, Chuck Ercole, and John Barry. The restaurant is a relaxing, removed oasis for an entire evening's worth of entertainment.
During Vesper Club's mid-century incarnation, prohibition lured out a mischievous side in every person, however there were also stringent rules of etiquette to abide by in polite society. Etiquette guides offered advice such as "do not shake a lady's hand first, let her do it."
While we're not so stuffy or particular nowadays, we pride ourselves on offering a refined environment for enjoying a cocktail after work, a client lunch, or date night. We advise 'smart casual' dress and appreciate your leaving flip flops and baseball hats for more desultory environments.
At Vesper, you may come for Happy Hour and wind up dancing to our live music until last call. We recommend making meal reservations and allowing yourself to open up to an evening of possibilities.
Come Join The Fun an Have A Great Time With Us!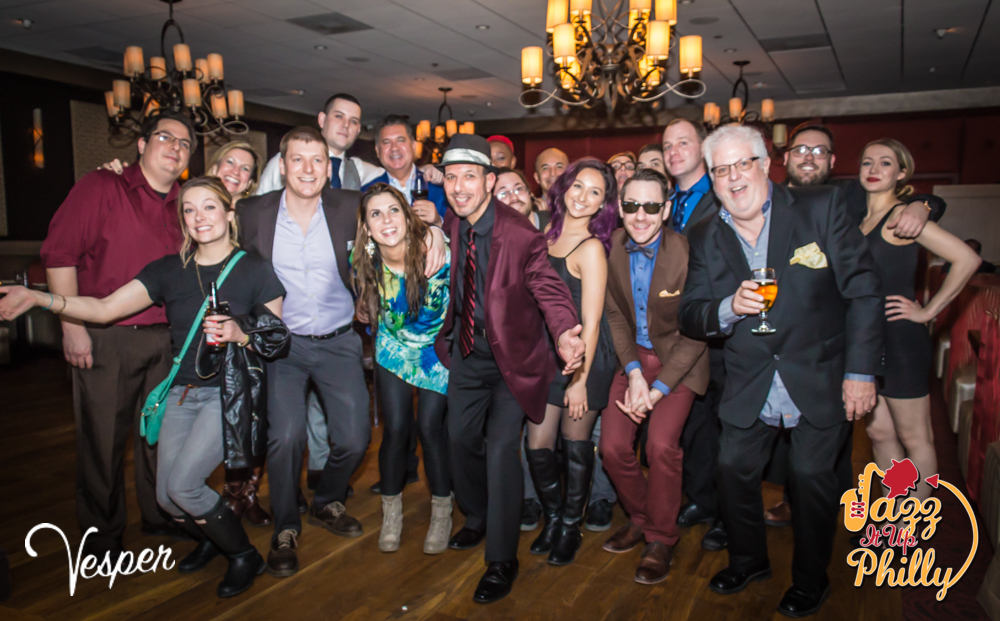 Have questions about Greg Farnese and the Tom Adams Trio Jazz It Up Philly Spotlight Live at Vesper?
Contact Jazz It Up Philly
When & Where

Vesper
223 South Sydenham Street
Philadelphia, PA 19102


Wednesday, June 8, 2016 from 7:00 PM to 10:00 PM (EDT)
Add to my calendar
Organizer
Jazz It Up Philly
Jazz It Up Philly will give Philadelphians and their neighbors an extraordinary evening of live Jazz and Blues entertainment. These monthly live shows that will feature live Jazz and Blues bands and vocalists from the Philadelphia, New Jersey and Delaware area. Website:  JazzItUpPhilly.com; To Sponsor an Event Call 267-888-6440. Sponsored By: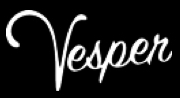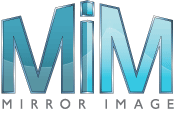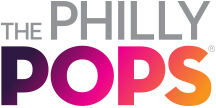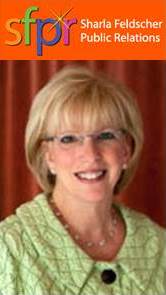 Greg Farnese and the Tom Adams Trio Jazz It Up Philly Spotlight Live at Vesper