Greg and Cheryl Clarke Book Release/Signing Party & Celebrating Greg's 50th Birthday! Friday, September 10, 2021 SPREAD THE WORD!
About this event
Greg and Cheryl Clarke
Book Release/Signing Party & Celebrating Greg 50th Birthday!
WE NEED YOU TO SPREAD THE WORD!
Friday, September 10, 2021
7:00 PM - 10:00 PM
Please join US for the celebration of Greg and Cheryl's NEWLY RELEASED BOOK, The POWER OF THE 4A's
Copies of Greg and Cheryl's book may be purchased onsite or in advance when you register for the event.
Date: Friday, September 10, 2021
Time: 7:00 PM - 10:00 PM
Location: The Row House 2128 Frederick Douglass Blvd, New York, New York 10026
COVID Protocol: Proof of Vaccination is REQUIRED: Face Masks are strongly encouraged
PARKING: There is off-street parking and two (2) neighboring parking garages:
* Park 115th LLC Parking Garage - 301 W 115th St
*NYC Parking 116th - 117th Street Parking Corp 24 W 117th St, New York, NY 10035
For more information, please contact Cheryl Clarke at
r info@gregandcherylclarke.com
Copies of the Power of the 4As will be available for purchase!
Space is LIMITED. RSVP is required for admittance!
Greg and Cheryl Clarke are the authors of The POWER OF THE 4A's®.
They are the founders of the Couple Motivators where busy couples unlearn unhealthy patterns and gain the relationship skills none of us learned growing up. This book is a powerful narrative, filled with vignettes of how to grow personally and to develop as a couple. They believe that behind any relationship challenge is a missing relationship skill of the 4A's (that can be learned), and they are on a mission to lower the divorce rate of couples in their lifetime.
Greg and Cheryl's teachings and their overall story will capture your attention of those who are already in a relationship or looking to be in a thriving relationship and spurs intrigue. Come find out how the implementation can profoundly shift any relationship; as this book encourages and demonstrates how to live, learn, and love one another.
We will have an open discussion on how we all can engage in a joyous journey to be conscious in our relationship especially during the Q&A session.
About the authors:
Greg and Cheryl Clarke are a husband-and-wife team. They are childhood sweethearts and proud parents of 6. They are better known as "The Marriage Specialists", they share the same passion for helping couples build stronger, healthier marriages, taking them from HURTING to HEALED. Greg and Cheryl are speakers, mentors, ministers, and relationship/business coaches. They use their transcendent coaching programs to offer foundational tools and uncommon techniques that assist their clients. Greg is an early childhood education teacher, ordained minister and certified relationship/life coach. Cheryl is a licensed marriage and family therapist, ordained minister and motivational speaker. For nearly 30 years they have been a walking invention and support for couples to thrive in their lives together. View event details
Book Release/ Signing Party Celebrating Greg and Cheryl Clarke's new book, The Power of the 4 A's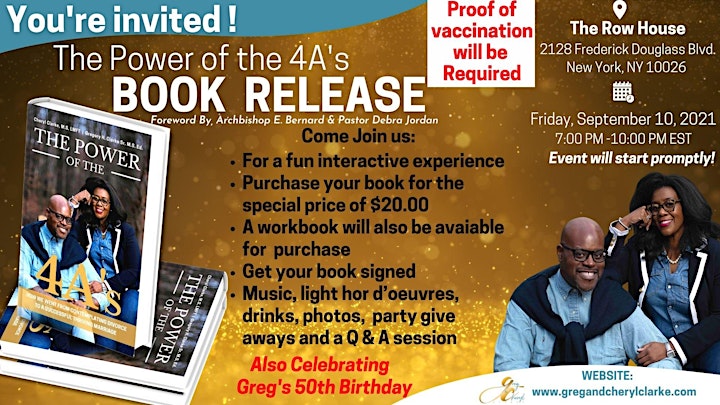 Organizer of Greg and Cheryl Clarke Book Release/Signing & Greg's Birthday Celebration
Cheryl Clarke, LMFT  – NYS-Licensed Marriage and Family Therapist, motivational speaker- better known as the Marriage Specialist. She has wealth of experience and sought-after relationship expert, with appearances on , Dr. Oz, Fox5, NBC, CNBC and Security Brief.
She is proud wife and the mama to the most amazing 6 children on the planet. Which she uses her life as blueprint – that if she can do it anyone can! She has faced many things in her life that have challenged the very fabric of who she has become today.
She believes that we all come with our own set of uniqueness, talents and experiences; that with the right guidance we can tap into our purpose to use for the higher good to the world.