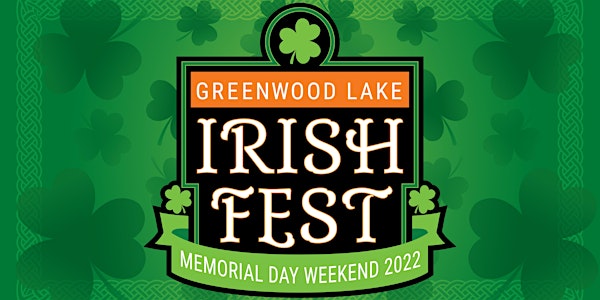 Greenwood Lake Irish Fest 2022
Hudson Valley's Largest Irish Music Festival in Beautiful Greenwood Lake, NY!
When and where
Location
35 Chestnut St 35 Chestnut Street Greenwood Lake, NY 10925
About this event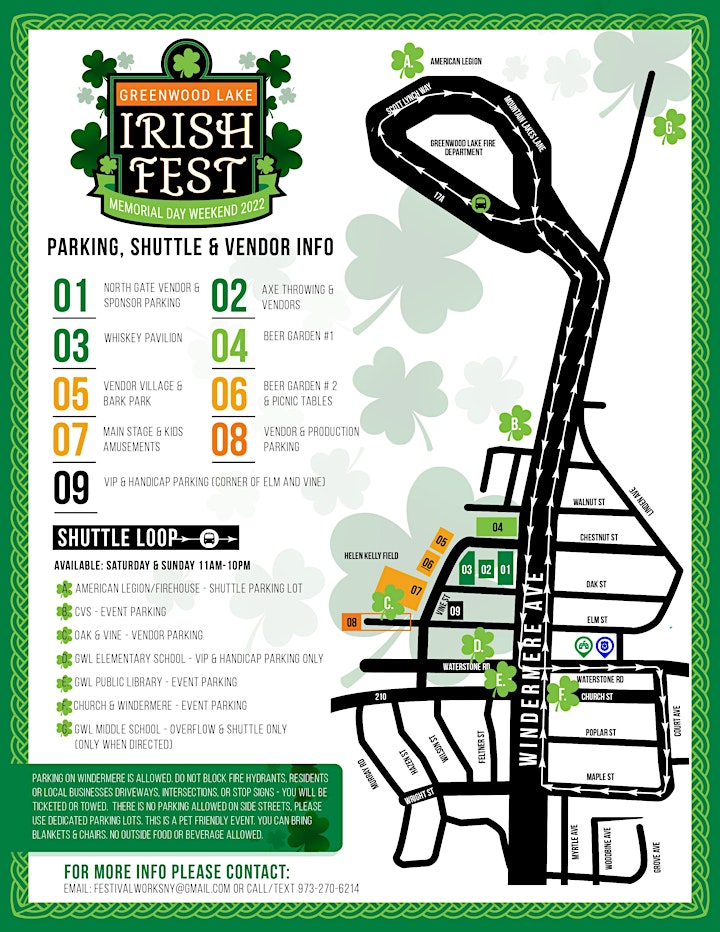 Memorial Day Weekend 2022
Saturday, May 28th 2022
Main Stage
11:30AM - Gates Open
12:00PM - AOH Division 1 Pipe & Drums Opening Ceremony
1230PM - Shehan Gormley Irish School of Dance
1:00PM - Jameson's Revenge
2:30PM - USG Performing Arts
3:00PM - Niall & the Durty Nellys
430PM - Niall O'Leary Dance Troupe
5:00PM - The Ruffians
6:30PM - AOH Division One Closing Performance
7:00PM - Shilelagh Law
Whiskey Pavilion
The Brass Rascals
Fiddle Frenzy 3-4PM
Open Trad Sessions
Sunday
11:30AM - Gates Open
12PM - Opening Pipe & Drum Ceremony Ceremony
1230PM - Shehan Gormley Irish School of Dance
1:00PM - Emish
2:30PM - USG Performing Arts
3:00PM - T McCann Band
430PM - Niall O'Leary Dane Troupe
5:00PM - The Prodigals
6:30PM - Fiddle Frenzy CONFIRMED
7:00PM - Barleyjuice
Whiskey Pavilion
Sheridan Ruitin
The Brass Rascals
FB/IG & Website will be updated daily with new artist, vendor, sponsor, parking, and shuttle information.
Want to be a sponsor or vendor? Contact us at festivalworksny@gmail.com
General Admission Information: (21+ to drink, Must show ID)
Adults - $25.00 Pre-Sale Each Day/ $30 at the Gate
Children - $10.00 Pre-Sale Each Day/ $15 at the Gate (includes games, inflatables, and activities)
Active Duty Military/Seniors - $10 Pre-Sale Each Day/ $15 at the Gate (must show proof of Active Duty Status or 65+ for Seniors)
GREENWOOD LAKE RESIDENTS ONLY:
See Irish Whisper, The Emerald, and The Village of Greenwood Lake Facebook Pages for more information on discounts!
Tickets sold at participating businesses in the Village of Greenwood Lake. Must show proof of residence. List of tickets available for purchase to be announced.
VIP PACKAGES:
VIP is open from 1PM-4PM & 5PM-9PM (Closed between 4P-5P for cleaning & restocking)
Saturday - $150.00
Sunday - $150.00
VIP Sales end on May 28th, 2022 @ 1130AM
What's Included: Open Bar & Food All Day! Includes General Admission - Meet & Greet with artists prior to show if artists allow. Meet & Greet Attendees must be at check in no later than 12:30PM. Includes complimentary beer, wine, hard seltzer, hard cider, non-alcoholic beverages, and cocktail reception style food provided by "Curbside Cuisine"
Disclaimer: This is a ticketed event. Tickets will remain available for purchase up until the day of the event. If we sell out our daily capacity before the event begins, there will be no tickets available at the door. There is a daily limit. If the event sells out before the event begins, we will make a notification on our website, on Facebook, and on Instagram. Please purchase tickets in advance.
Elks Drive will be lit up down the road to Helen Kelly Field with over 100 craft, merchant & food vendors. The Elks Pavilion will serve as a full bar, the basketball courts will serve as a Dining Hall and Beer Garden, Helen Kelly Field will transform into a concert venue with kids games, activities, inflatables, beer trucks, more vendors, and much more.
Use the share tools on this event page to let your friends know where you will be. Please Print PDF ticket for entry into event or your phone email can work as well. No Refund Event. Rain or Shine Event.
Important notice re COVID-19: Please note any interaction with the general public poses an elevated risk of being exposed to COVID-19 and we cannot guarantee that you will not be exposed while in attendance at the event. Eventbrite is not responsible for the health and safety of this event. We encourage you to follow the organizer's safety policies, as well as local laws and restrictions.
The cost of general admission covers our operating expenses for all staff, artists, tents, lighting, sound, stage, electrical, security, shuttles, marketing, volunteer and staff meals, parking attendants, construction, additional power, police, DPW, EMS, Fire Services, and all of the things that make an event like this happen.
Service Fees, Order Processing Fees, Taxes, and Shipping Charges
Tickets purchased on our Site are typically subject to, among other possible fees, a per ticket service fee and a per order processing fee. In some instances, you may be able to purchase tickets directly from the venue box office without paying our service fee. We collect tax as required by state and local laws. We may display the tax separately or include it in the total service fee amount. In many cases, you may need to pay a shipping or delivery fee. Any shipping or delivery charges are calculated based on delivery location and shipping method. Please note that the delivery fee, as well as the order processing fee, may not reflect the actual cost to deliver or process your order, and in some cases, these fees may include a profit to EventBrite.
Refunds, Credits, and Exchanges
All sales are final and refunds are only allowed in limited circumstances if refunds are even offered for the event/festival/game. Before purchasing tickets, carefully review your event selection. Policies set forth by Event Organizers generally prohibit us from issuing exchanges or refunds after a ticket has been purchased, or for lost, stolen, damaged, or destroyed tickets. Tickets therefore cannot be replaced if they are lost, stolen, or damaged.
Refunds. If your event is eligible for refunds and funds have been received from the Event Organizer, we will issue a refund of the ticket price you paid (or, for a discounted ticket, then instead the discounted ticket price paid), any service fees, and any additional add-ons or upgrades (such as parking). In no event will expedited shipping charges, merchandise purchases, parking, event upgrades such as VIP, or any other amounts be refunded.
If a refund is issued, it will be processed to the original method of payment used at time of purchase. We cannot issue a refund to a different credit or debit card (this includes refund requests made through the self-service option). If your credit card or debit card number has changed, but is for the same account (e.g., a new card has been issued for the same account), the refund will be processed to that account. Most refunds are issued within 30 days after the event scheduled date has ended.
THERE ARE NO REFUNDS FOR: GWL IRISH FEST 2022 - MEMORIAL DAY WEEKEND.