Sales Have Ended
Registrations are closed
Looking to register for the replay? If it's been less than one week since this program aired, email support@nyadventureclub.com with your name, email address, and the webinar replay you're interested in viewing. We'll then send along an invoice, and once paid, you'll get access to the replay for the remaining time.
Sales Have Ended
Registrations are closed
Looking to register for the replay? If it's been less than one week since this program aired, email support@nyadventureclub.com with your name, email address, and the webinar replay you're interested in viewing. We'll then send along an invoice, and once paid, you'll get access to the replay for the remaining time.
Can't make it live? Register and get access to the full replay for one week! New York Adventure Club | www.AdventureClub.com
About this event
While Manhattan's Greenwich Village of today conjures up images of tree-lined streets, quaint coffeehouses and cafes, and hidden parks, its past tells a different story. It's time to explore one of New York City's most famous and iconic neighborhoods, from its earliest days as a Dutch village to a hub of anti-war and anti-establishment activism.
Join New York Adventure Club as we uncover the secrets of the New York neighborhood of Greenwich Village, home to everything from artists and activists to tales of ghosts and glamour.
Led by writer, lecturer, and licensed NYC tour guide Carl Raymond, our digital showcase of the historic neighborhood of Greenwich Village will include:
How Greenwich Village became an artists enclave (it's not what you think)
Untold stories of famous landmarks such as the all-night party on top of the Washington Square Arch
A look at the classic Village architecture including the famous brownstones that line the north side of the park
A virtual visit to the haunts of writers and artists of yesteryears, from Edgar Allan Poe and Edith Wharton, to Lorraine Hansbury and Louisa May Alcott
The Village's role as a center of activism such as the efforts of urban preservationist Jane Jacobs and the Stonewall Revolution
The inside scoop of sites throughout the neighborhood, including the corner restaurant where Ernest Hemingway had lunch, to the club where Barbar Steisand first sang in public, to the garden apartment where Marlon Brando once lived
Afterward, we'll have a Q&A session with Carl — any and all questions about Greenwich Village are welcomed and encouraged!
Can't make it live? Don't worry, you'll have access to the full replay for one week!
See you there, virtually!
*Once registered, you will receive a separate, automated email containing the link to join this webinar
**For the best possible viewing experience, please ensure you're using the latest version of your internet browser — Google Chrome is the most compatible. Exact technical requirements and a webinar user guide will be shared in the automated confirmation email upon registration.
***A full replay will be available after the experience for all registered guests
About Carl
Carl Raymond is a licensed New York City tour guide, food historian, writer, and museum educator. He has worked at the Merchant's House Museum as well as King Manor Museum in education and programming. Carl has lectured for the Royal Oak Foundation, Merchant's House Museum, National Arts Club, Metropolitan Opera Guild, St. George's Society, Historic Royal Palaces and the English Speaking Union. He was a contributing writer on SAVORING GOTHAM: A Food Lover's Companion to New York City, ed. Andrew Smith (Oxford University Press) and is at work on his own book, A Culinary History of the Gilded Age.
Testimonials
"Great oral history with excellent slideshow. Excellent speaker." -Barry
"Beautiful and inspiring! So many amazing things about Greenwich Village, so many pioneering souls." -Carol
"I thought it was very well done and I enjoyed the mix of architectural history as well as the famous people who lived in the village. It was also interesting to see the comparisons between the past and present-- what has changed and what has remained the same." -Claudine
"Carl's passion and info about the village is awesome. He took you back in time and captured your attention. Loved it." -Linda
"The presentation was interesting, intriguing & fun. Learned a lot" -June
"I'm a native New Yorker who spent a lot of my teen years in coffee houses in the Village. This webinar brought back lots of memories." -Diane
"Presenter had broad and detailed knowledge, respect for history of and true love for the Village!. Was well organized and his easy style held everyone's attention. Something for everyone. Well done!" -Anne
"Carl has a true zest and command of his subject. An astounding amount of information packed into a very-well organized and beautifully presented talk ,delivered with unflagging momentum.Thank you." -Laura
"The presentation was thorough, well organized, informative, and engaging. Never a dull moment, information-dense without being at all pedantic. Great photos! I knew a lot about the Village and just learned tons more. I enjoyed how you did the Q and A and thank you for taking my questions." -Joanna
"I miss playing in NYC very much lately. This was like visiting an old friend on Facetime. All the amazing history was gravy! I loved the Washington Square arch breech story! Such fun to break up a bleak January." -Kevan
"I was amazed at Carl Raymond's scope of knowledge, his charming entertaining delivery and the vast amount of information and territory he managed to cover---going from one to another seamlessly. This was more than a common tour, it was a college course condensed. Ithank you , Carl Raymond, for your extraordinary ability." -Carole
"I learned a number of things I didn't know. Thought it was a nice overview of the history of the village." -Elizabeth
"The tour guide knew his material and made us feel that we were on his walking tour." -Michele
"Huge amount of information Wonderful pictures Good mix of contemporary and early history." -Linda
"Everything ! Host was just perfect and extremely knowledgeable." -Richard
"The time flew by because the narrator was so interesting." -Barbara
"I loved the pictures and the history, I was especially glad Carl gave the addresses for places so I could google map them." -Paula
"VERY informative and well-presented. Great photos and visuals." -Justin
Disclaimer
By attending a New York Adventure Club experience, you accept our terms of service.
Categories: Virtual, Neighborhoods
Organizer of 'Greenwich Village: Tales of Artists, Activists, & Apparitions' Webinar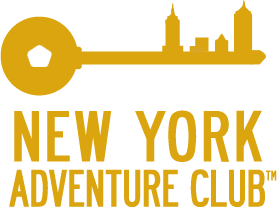 NEW YORK ADVENTURE CLUB
Unlock Your City
We give you insider access to the city's best-kept secrets. But we're so much more than a tour company.
WHO WE ARE

We are a community-driven club that curates the most unique experiences in town, with a focus on history and storytelling. We show you a city you never knew existed, and offer a community you can't live without.
You won't find our special-access tours and exclusive events anywhere else. Think after-hours tours of New York City's most celebrated spaces, themed parties in unexpected locations, and weekend excursions to incredible destinations. All of our events end with social hangouts so you can meet people who love exploring as much as you do.
THE 'CLUB' IN NEW YORK ADVENTURE CLUB

Our current community is more than 23,000 members strong and includes everyone from recent NYC transplants to lifelong residents. Whatever borough you're from (or city or country, for that matter), we'll make it easy for you to take full advantage of the unique places and great people this city has to offer.  
WHERE WE GO
To ensure a one-of-a-kind experience each and every time, we handpick events and outings specifically for the New York Adventure Club community. Recent events include:
* An after-hours tour of New York City Hall
* Special access into some of New York's most coveted private social clubs, including the Explorers Club and National Arts Club
* Petting baby kangaroos, holding sloths, and feeding leopards at Staten Island Zoo

* An NYPD Precinct tour, including a meet-and-greet with detectives and Emergency Service Unit crew members
* A tour of the Polish Consulate led by the Consul General and Vice Consul General of Poland

* A special-access tour of Brookhaven National Laboratory and its Relativistic Heavy Ion Collider (RHIC)
* A Halloween party in a historic gothic crypt, complete with a five-piece brass band
Subscribe with our newsletter to get the inside scoop on the city's most interesting events: http://eepurl.com/1cnVH
Unlock Your City with New York Adventure Club