Description
Kick up your feet and celebrate a year of connections and creativity at the 7th Annual Greenway Soirée, the Greenway's premier fundraiser.



Mario Abney and the Abney Effect
Slick Leo


Patron Party • 6pm-11pm
$120 Ticket | $100 with Member Discount
Soirée • 7pm-11pm
$65 Ticket | $55 with Member Discount
$300 Peloton Package of 6 Soirée Tickets
Late Night • 9pm-11pm
$25 Ticket


Give at the following levels to support the Greenway's continued growth, and be visibly recognized for your support on the Soirée invitations, banners, and digital materials. Questions and assistance? Contact sophie@lafittegreenway.org, 504.702.6777 or learn more at LafitteGreenway.org/SoireeSponsorship
Platinum Gift • $10,000 | 10 Patron Party Tickets

Gold Gift • $5,000 | 8 Patron Party Tickets

Silver Gift • $2,500 | 6 Patron Party Tickets

Bronze Gift • $1,000 | 4 Patron Party Tickets

Titanium Gift • $500 | 2 Patron Party Tickets



We are pleased to offer discount pricing for members. Discount codes have been emailed to current members. Email info@lafittegreenway.org for discount codes or with questions.
Not a member? Join or renew your annual membership today.

Learn about CONTRIBUTING TO OUR AUCTION, or VOLUNTEERING.


Larry Barabino • Jeff Schwartz • Rusty White



Ellen Frischhertz • Leonetta Terrell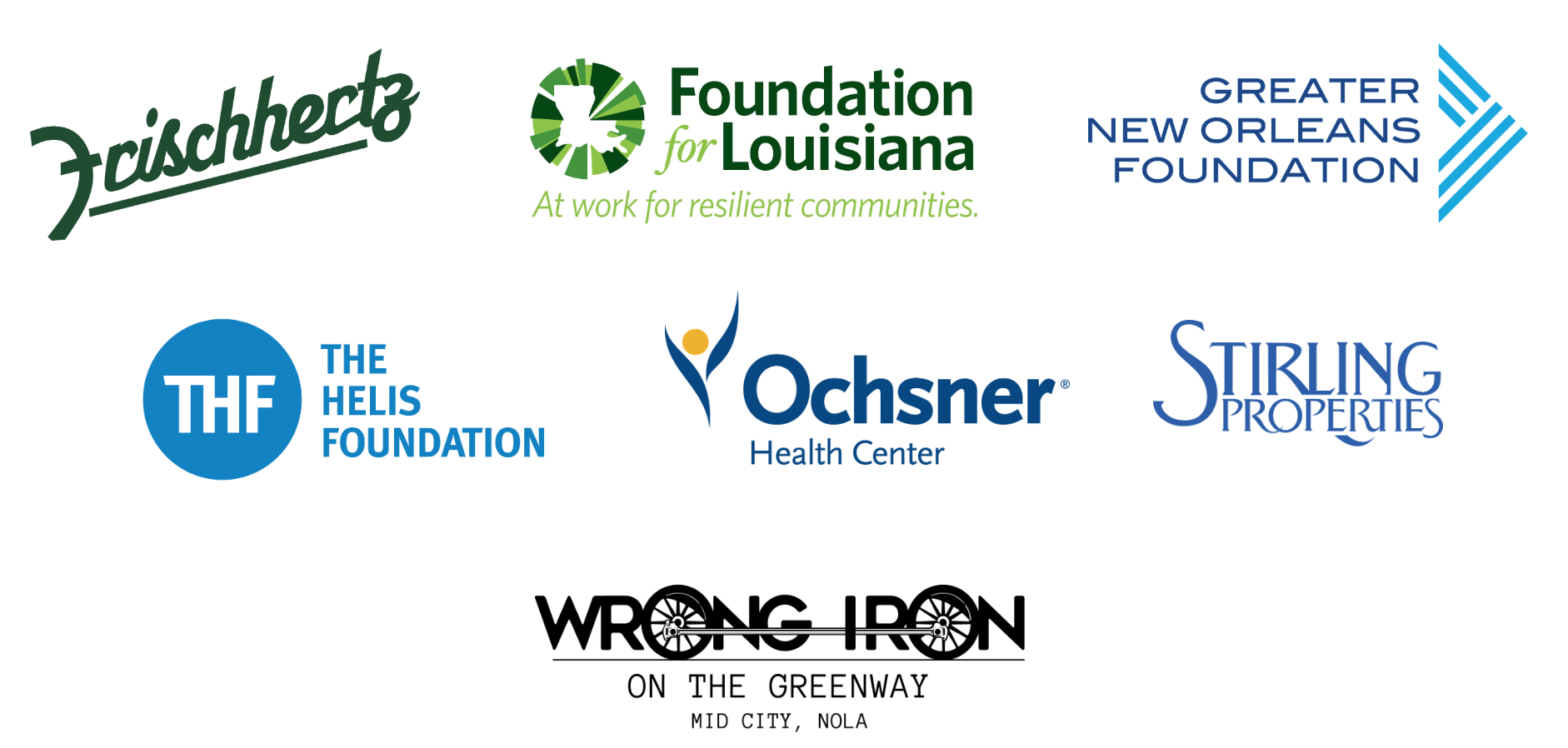 Active Solutions
Basin Street Station
Bayou Beer Garden
Bayou Wine Garden
The Carver Theater
Concordia, LLC
Entergy New Orleans
Eskew Dumez Ripple
Hancock Whitney Bank
IATSE Local 478
Susan & Hervin Guidry
Gulf Coast Bank & Trust Co.
Jones Walker LLP
Mid-City Messenger
PelPrint.com
trepwise


Atlas Greenway Partners
Adam Babich
Henry Bernstein & Jerry Zachary
Sam Buckley
Vivian & Richard Cahn
Kevin Centanni
Rochelle & Andrew Chang
Dana Brown & Associates
Mark Davis
Shaun & Foster Duncan
Amy & Hugh Harris
Cher & Scott Harris
Hey! Coffee Co.
The Holy Ground Irish Pub
Hopper Family Fund
Loan Partners LLC
Louis A and Lillian L Glazer Family Foundation, Inc.
Robert McCabe
Brenda & Michael Moffitt
NFT Group, LLC
Parkway Bakery & Tavern
Rosedale Restaurant
Carla Seyler & Mark Winter
Spackman Mossop and Michaels
Sustainable Handprints, LLC
Trimark Constructors
Urban Properties
Gregory Vorhoff
Mark Wallace
Jennifer & Erich Weishaupt
Willis and Buckley APC

Photos & Artwork
Artwork by Jeffrey Arlyn
Photos by InstaPix Photography