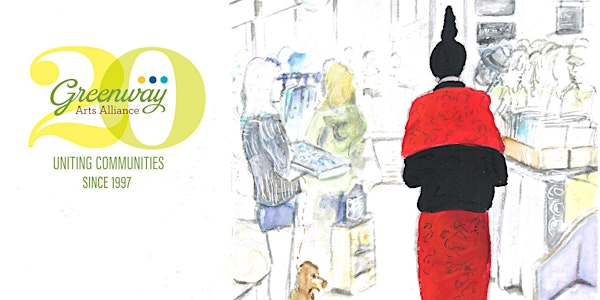 GREENWAY 20TH ANNIVERSARY DONOR BRUNCH AND LIVE MUSICAL TRIBUTE
When and where
Location
Melrose Trading Post at Fairfax High School 7850 MELROSE AVE. LOS ANGELES, CA 90046
Description
GREENWAY CELEBRATES 20 YEARS... Greenway Arts Alliance celebrates 20 years of Uniting Communities with an all day festival, Market Mash, Where Everybody's an Original at the Melrose Trading Post.
Donors & Friends of Greenway can purchase VIP tickets to an elegant rotunda brunch featuring local favorite cuisine, bring the kids to the Tesla Kid Zone and then enjoy Greenway's Live Musical Tribute to its 20 years at Melrose & Fairfax.

Sit and relax in your own eclectic designer living room seating while we toast to the people who have contributed to the success of Greenway's Melrose Trading Post, Greenway Court Theatre and Greenway's Institute for the Arts.
Hosted by Seamus Dever of ABC's hit show Castle, this unforgettable musical event will feature special guest celebrities, civic leaders and student performances. All proceeds directly benefit Fairfax High School student programs.

10:00am-10:30am- Elegant Musical Brunch in the Rotunda
10:30am-Eclectic Designer Living Room Seating Opens
11:00am (sharp)- Live Musical Tribute Begins

The tribute includes a ceremony and performances featuring Greenway's celebrity friends, musicians and honorees

Greenway Court Theatre Honors, Arts Leadership Award: Lisa Richards and Steve Mendillo

Greenway Institute for the Arts Honors: Current and Former Fairfax High School Principals

Melrose Trading Post Honors, Melrose Trading Post's Visionary Award: Shareen Mitchell

12:00pm-5:00pm
Enjoy the Market Mash festival at the Melrose Trading Post with immersive entertainent and pop-up surprises throughout the day!
Can't make it but still want to Donate? 100% of you donation will directly support our programs with Fairfax High School. Click here to make a tax deductible donation to Greenway.
Artwork by Shelleytheartist.com/Inspired by Osker Jimenez http://www.exposurehouse.com/product-category/lava-lady-coffee-table-books-images/