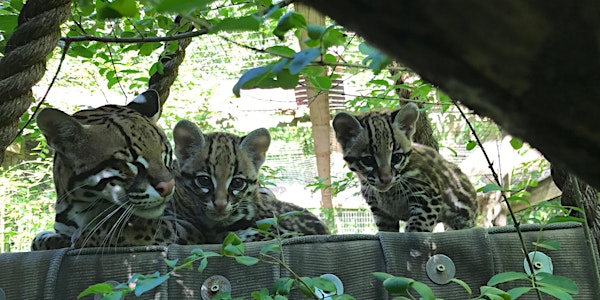 Greenville Zoo Ocelot Kittens Naming Contest
When and where
Location
Greenville Zoo 150 Cleveland Park Drive Greenville, SC 29601
Description
Greenville Zoo Announces Gender of Ocelot Kittens
The Greenville Zoo announced that the pair of ocelot kittens born to Oz and Evita on March 8 are males. Now that the kittens' gender is known, members of the zoo staff have created a list of possible names and are asking the public to vote on their favorite. Voting begins May 24th at 9 a.m.
With a $5 contribution, zoo supporters can cast their vote for one of the pairs of names below. There is no limit on the number of votes that an individual can submit; however, each requires a $5 contribution. Voting will remain open through Monday, June 19 at midnight (EDT).
1. Dale & Junior
2. Pancho & Lefty
3. Stewart & Gordon
4. Clint & Edward
5. Smoke & Outlaw
6. James & Conner
7. Leonard & Sheldon
8. Porter & Stout
9. Barley & Rye
All of the money raised through the name selection will be donated to a conservation program called "Selfies in the Forest" by the Instituto de Pesquisas Ecológicas (IPE). The IPE organization is located in Brazil and conducts research on ocelots, including through the use of camera traps, as a means of monitoring the entire rain forest ecosystem.
The winning names will be announced on Wednesday, June 21, along with the amount of money raised through the voting process.