Greenville RUN for ONE
When and where
Location
Caine Halter YMCA 723 Cleveland St Greenville, SC 29601
Description
Thank Your for Running/Walking in the Greenville RUN for One
"Boston - B-Strong" Game Jersey Auction! Help Us Reach $20,000 Raised for The One Fund Boston!
PLEASE FORWARD THIS WEBSITE TO YOUR FRIENDS so they can consider participating in our commemorative Red Sox jersey auction and aid us in our continued fundraising efforts for the Greenville RUN for ONE!

CLICK HERE for Red Sox "Boston Strong" Jersey Auction

Drive players honored Boston during their June 12th ballgame by wearing commemorative game jerseys with "Boston" across the chest in the Red Sox font, along with a "B Strong" patch on one sleeve. These one-time only jerseys will be auctioned off online and auction proceeds will benefit The One Fund Boston.
Results
Start/finish line management was provieded by Set Up Events.
CLICK HERE FOR GREENVILLE RUN FOR ONE RESULTS
Start Time for 2.62 Mile Run/Walk
Wednesday, June 12, 2013
5:00pm: Run/Walk start at Caine Halter YMCA
7:05pm: Greenville Drive vs. Charleston River Dogs Baseball Game (free to registrants!)
Location of Start/Finish
Start of this run/walk will take place at the soccer fields behind the Caine Halter YMCA on 723 Cleveland St, Greenville, SC 29601. The finish line will be at home plate inside Fluor Field – home of the Greenville Drive.
Course Route
The 2.62 mile course starts behind the YMCA and transitions onto the Swamp Rabbit Trail. Runners will then turn left at Woodland Way, followed by an immediate right back onto the section of Swamp Rabbit Trail that is next to the Dog Park. Runners will continue to stay on the trail; passing under the bridge at McDaniel Ave; then crossing over the new bridge near the Major Rudolf Anderson memorial. The course continues further down the trail until moving onto Howe St. - the road behind the Governor's School and next to Falls Park. After climbing Howe St. runners will turn right onto University St. and then left onto Augusta St. After turning right onto Field St., runners will turn right to enter Fluor Field, where they will round the warning track and cross home plate at the finish line.
Greenville RUN for ONE Participant Shirt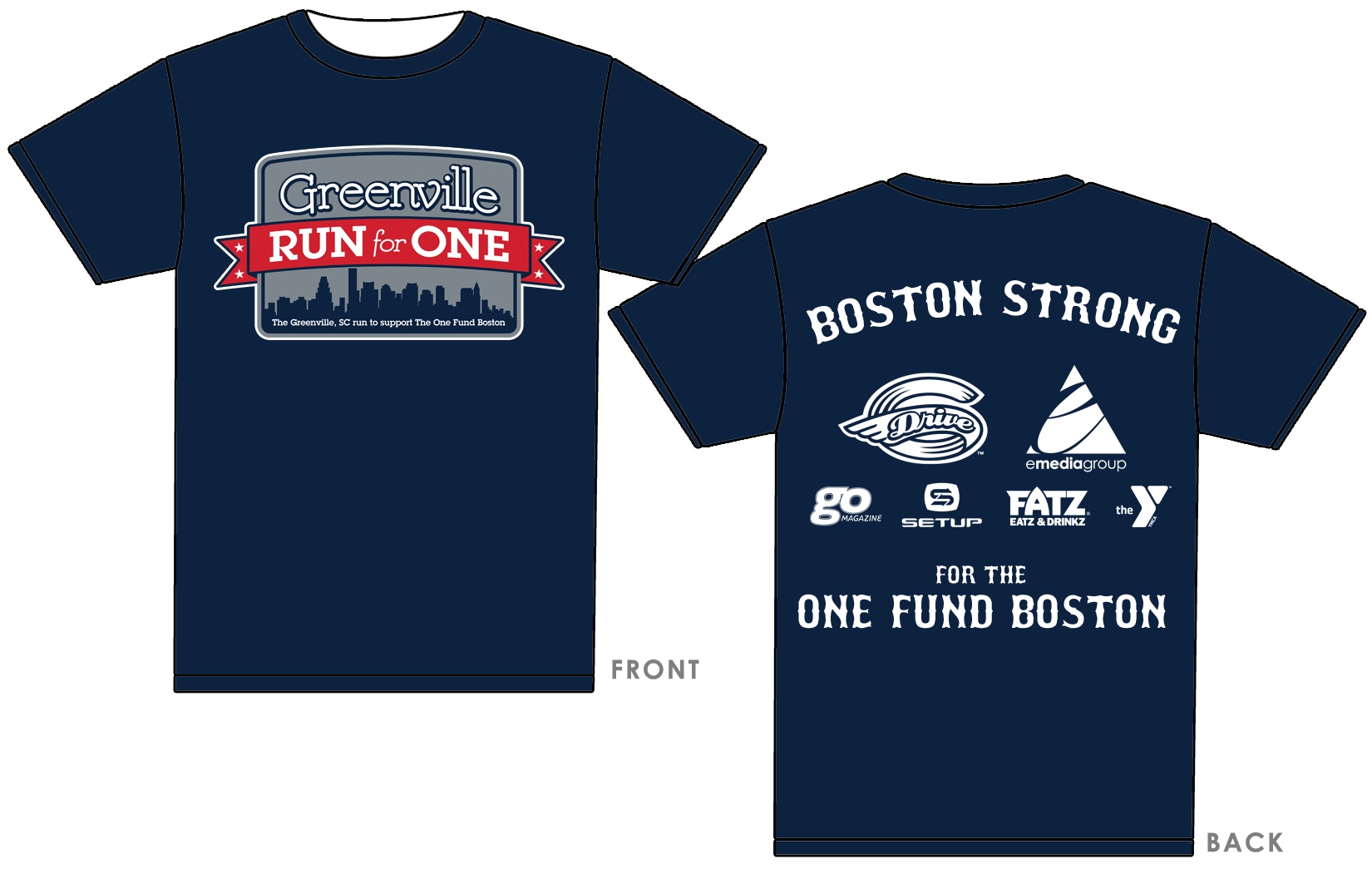 The Greenville RUN for ONE Boston Red Sox Class A Affiliate Greenville Drive and emediagroup, along with the support of Caine Halter YMCA, Go Magazine, Set Up Events, MYLAPS, the Greenville News, and Fatz, collaborated to form the Greenville RUN for ONE to reach out to those in Boston who are in need of our support.
ALL proceeds from the Greenville RUN for ONE will go to The One Fund Boston – formed to raise money to help those families most affected by the tragic events that unfolded during the Boston Marathon. The explosions near the finish line and the events that ensued in Boston in the days thereafter will forever affect those injured, the city, marathon organizers, scores of runners, and many others. We still have an opportunity to show Boston we're here to help them by raising funds in support, as all One Fund Boston claims will be reviewed by June 30, when payments will be distributed to recipients. Let's show Boston that Greenville stands beside them - come out for the Greenville RUN for ONE.
All Greenville RUN for ONEregistrant's will receive admittance to the Greenville Drive's 7:05pm game vs. the Charleston River Dogs.
FAQ's
Will There be Finishing Awards?
Our goal for this event is to raise as much money as possible for The One Fund Boston. As a result we will be excluding the purchase of awards for this event. Overall results and finishing times will be posted by Set Up Events.
Will Restrooms be Available?
Restrooms will be available at both the YMCA and at Fluor Field.
Are Baby Joggers Allowed on the Course?
Baby joggers are allowed, but we would greatly appreciate it if you would register Children aged 3+ under "Run/Walk Registration" for $12.62 so a bib can be placed on your jogger to account for baseball game admission (Greenville Drive admits 2 & under free). Also, for the safety of you & our runners, we ask that you please start behind event runners & walkers at the run/walk start.
Are Dogs Allowed to Run the Course?
For the safety of our runners and because runners will finish inside of Fluor Field, no leashed or unleashed dogs are allowed to run the 2.62 mile course.
Thank You for Partcipating in The Greenville RUN for ONE!