Description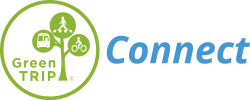 It's here! After years of planning, researching, and collaboration, we're proud to announce the BETA release of a powerful and free new tool: GreenTRIP Connect

Whether you're a community advocate, city staffer, government official, or housing developer, this tool can help you achieve more affordable and sustainable housing for your city. Join us for a free webinar on Thursday, August 25 from 2-3 PM PST to learn more about the tool, and how it can be used.
We will send webinar login details closer to the date. We hope you can join us!
If you have any questions, please contact the GreenTRIP team at GreenTRIPInfo@TransFormCA.org.