Greensky Bluegrass w/ The Infamous Stringdusters at The Pavilion at Pan Am
About this event
DOORS: 6:00 PM, SHOW: 7:00 PM
AGE RESTRICTIONS: ALL AGES
GENERAL ADMISSION, LIMITED SEATING
Important Notice: All tickets are nonrefundable and nontransferable with the exception of event cancellation. Support acts are subject to change.
HEALTH CHECK REQUIRED: Proof of full COVID-19 vaccination or negative COVID-19 PCR test within 72 hours. Face coverings are strongly encouraged for all attendees.
----------------------------
About Greensky Bluegrass:
Since their 2000 formation in Kalamazoo, MI, the quintet—Anders Beck [dobro], Michael Arlen Bont [banjo], Dave Bruzza [guitar], Mike Devol [upright bass], and Paul Hoffman[mandolin]—have unassumingly progressed into a phenomenon on their own terms with the undying support of a devout audience. Rolling back and forth across North America on successive tours, they recently sold out 3 nights at Red Rocks, a feat unheard of in their genre. During 2019, All For Money marked their second #1 debut on the Billboard Top Bluegrass Albums Chart and third straight Top 3 entry. They've also earned critical acclaim from Billboard, Parade, NPR, and Rolling Stone who hailed them as "representing the genre for a whole new generation.
"As always, the band embrace tradition, while ushering bluegrass forward on their eighth full-length offering, Stress Dreams.
"Greensky is and always has been very unique in our world," observes Paul. "We put our love, energy, and focus into what we appreciate about our music. We come together as a band in a way that's organic. We take a lot of pride in how we grow and challenge each other too. We're maturing together. I think we get more Greensky all of the time."
They took advantage of the time to become "more Greensky" in 2020. After touring ceased in the face of the Global Pandemic, the band hunkered down and compiled demos individually at first, sharing emails and voice notes. In July 2020, they got together for the first time in four months, dedicating rehearsals to the development of the new material. Once circumstances safely permitted, they recorded what would become Stress Dreams during a session in Gilford, VT and two sessions in Asheville, NC. The band co-produced with frequent collaborator "and old friend" Dominic John Davis (Jack White's touring and studio bassist) and "wizard engineer" and Grammy winning producer Glenn Brown. They preserved the hallmarks of their sound, while widening its expanse.
"It didn't feel like we were squeezing this project into the schedule," says Mike. "The lack of gigs gave us the freedom to get together solely to work on this. It was a relaxed environment. There wasn't the pressure of time; the songs got space to breathe."
"For all of our records, we always take more time to explore and experiment," Paul elaborates. "We finished ideas and kept going, thinking everything all the way through. We really put energy into each specific song and made it the best it could be."
In the end, the story of Greensky Bluegrass just keeps getting better as well.
"There's a duality to this band," Anders leaves off. "On one hand, we improvise and go outside the box on stage. The studio brings out our artistic side. We grow every time we make a record. I hope you hear and see the evolution."
"We just can't wait to play shows, hug our friends, and play music with other musicians we love and respect," Paul concludes. "Besides, we've got 13 new songs to add to the set list!"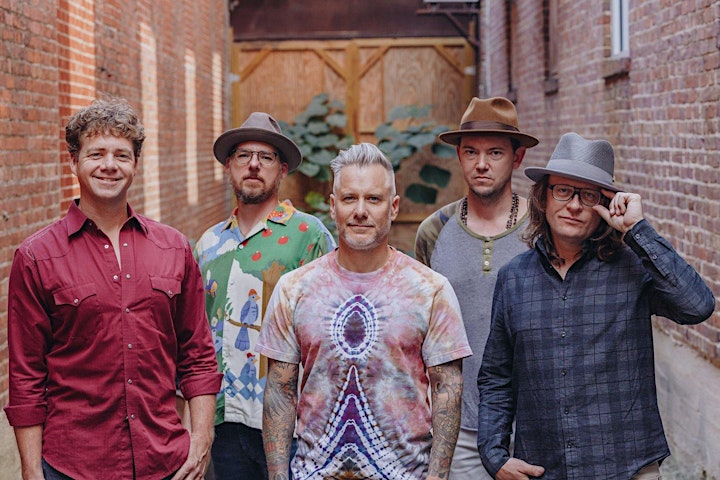 About The Infamous Stringdusters:
After finally being in the same room for the first time in six months, the Infamous Stringdusters seized the moment for their revealing new album, Toward the Fray. Inspired by self-reflection and a strong sense of solidarity, the project documents the Grammy Award-winning group's remarkable growth as instrumentalists as well as songwriters. Released on their own label, Americana Vibes, the collection also firmly establishes the band's stature on the modern acoustic music landscape, where they've built a solid and enduring fan base among traditional and progressive audiences alike.
The five band members – Travis Book (bass), Andy Falco (guitar), Jeremy Garrett (fiddle), Andy Hall (Dobro), and Chris Pandolfi (banjo) -- wrote the songs on Toward the Fray separately, sending simple phone demos to each other during lockdown. Fueled by friendship and a mastery of their instruments, the 13-track collection feels live, but not necessarily loose, due to a synergy that's developed over the last 16 years of playing sheds, clubs, and festival stages across the country.
"With all of our records, we always go into the studio to capture the live energy of our band, so I feel like we were all comfortable just plugging right in and getting started," Pandolfi says. "All five of us have arrived at this point in our careers where we all produce – we produce our own music and some of us produce for others. We knew we could get it done with all that collective intel and know-how. One of the awesome things about being in this band is that everybody is always working on their instrumental game. When we show up for a new tour or a new album, we all get a chance to dig even a little deeper -- and you can hear that part of it. That's always been part of our mantra."
Toward the Fray begins with a somber perspective in songs like "Hard Line" and "I'm Not Alone," even as the arrangements tap into the ambitious, enthusiastic musicianship the band is known for. The point of view in "I Didn't Know" feels especially personal for Garrett.
"For me, it was a heavy time, with the pandemic slowing everything down, but what affected me the most was the death of George Floyd," he says. "I can't say what an impact that had on me personally, being an average American white guy going along through life, not necessarily fully understanding what the other side of the fence was. I took a deep look at myself because of that story. I got inside of my head and wanted to write about it. Several songs on this record come from that vantage point, trying to put more thought into, how can we bridge this gap that has happened? 'I Didn't Know' is about that. I didn't know we had to pay attention to these things. It was a wake-up call for me."
Continuing the conversation, Book adds, "All five of us took that opportunity for our consciousness to evolve, and we took the responsibility seriously. That's what I hear when I listen to this record. The songs are very honest and real, but what other option do we have? There's a responsibility as citizens of this country and as citizens of earth, for all the reasons – ecological and cultural -- to lean in and to turn toward the battle. Everybody brought a lot of conviction with their tunes. Everybody came with a clear idea of what their statement was going to be. I think because of the situation we were all in, a harmonious and collective sound came out of that."
The title track of Toward the Fray finds the narrator making a decision to get involved, rather than just comment on the sidelines. It's a powerful image – and one that required an attention-grabbing visual. Of the cover art depicting a young girl standing firm among the wreckage, Hall says, "When we decided on the album title, I imagined the fray being a city that was on fire or in turmoil. And in juxtaposition of all that destruction happening, there's a child. That's what was happening in the world at the time. There were little kids seeing these protests and all this strife. No one is safe from what's going on, as far as experiencing some level of it. One thing that I like about the artwork is that the child has a strength to her, especially the way she's looking right into the camera. She's got to wear a gas mask and she looks ready to enter into the fray, like, 'All right, I've got to face this.'"
Toward the Fray is also the first Infamous Stringdusters album with drums, with the band deciding that the songs were calling out for it. The band explores other creative directions, too, ranging from the persistent march of "Revolution," to the comforts of home in "Pearl of Carolina." Meanwhile, "Spirits Wild" will be relatable to those who can't help but answer the call of the road. "When Will I Ride Again," a sequel to "Tragic Life" from their first album, is cinematic but also emblematic of their own questions about picking up where they left off. "How Do You Know" and "Through the Floor" are among the band's most vulnerable compositions in a catalog of exceptional material.
"To me, the theme of Toward the Fray is about dealing with your problems head on, rather than running away from them," Falco says. "One of the things that I'm really proud of is that this record is true to all of us. It's a genuine record because it really is about everything that we were all going through. We're talking about the pandemic and all of the chaos, but we're talking about love and other things, too. We were able to reflect and dive deep and look inward during all of this. I hope people who hear these songs will feel like they're not alone. That's what we always hope that people can relate to in our songs -- that we're all in it together."
Organizer of Greensky Bluegrass w/ The Infamous Stringdusters @ The Pavilion at Pan Am