| | |
| --- | --- |
| GreenRoots Presents: BLUE 'n GREEN Songwriter Showcase WEDNESDAY October 27th, 2010. 7:30pm - 11:00pm | |
Event Details

Hello Friends,
It's that time again and we are throwing the third installation of our super intimate showcases held in THOUSAND OAKS on WEDNESDAY, October 27th @ 7:30PM at Mikal Blue's Revolver Studios.   This live music gathering is the third in a monthly series called "BLUE 'n GREEN" to celebrate the opening of Mikal's new studio this summer and is being co-hosted and presented by GreenRoots Presents.
Seating is extremely limited, and in order to attend you need to RSVP to the EVENTBRITE LINK on this page.   We are raising funds for arts education in Los Angeles, so once the "PICK YOUR PRICE" Donation Ticket is purchased, you will be added to the first come, first serve guestlist, so make sure to respond ASAP!  The address will be given to you at the end of the registration process.
We're so excited to present at this month's showcase:
- David Ryan Harris
- Angel Taylor
- Ernie Halter
- Keaton Simons
- Nina Storey
- Makepeace Brothers
- David and Devine
- Brother Sal
- Kathryn Ostenberg
- Omar Cowan (of A Fine Frenzy)
- Melissa Polinar
- Stop Motion Poetry
- The Wellspring
The proceeds will be given to a local east LA middle school music program through the Los Angeles branch of LITTLE KIDS ROCK!, a non-profit dedicated to providing inner city students with free musical instruments and instruction. The school only has enough guitars to serve 1/6th of their music students and needs 10 more acoustic guitars in order for them to accommodate all of their students so they all have access to a musical instruments for this school year.
Sliding donations will be collected at the door for those unable to buy tickets online.
On behalf of the performers, Mikal Blue, GreenRoots and LITTLE KIDS ROCK!, we look forward to another great night of music, community and cameraderie.  See you @ 7:30pm WEDNESDAY, October 27th!
Peace and blessings,
Davey G.
Angelique Sheppard
GreenRoots 
Graphic Design by Twin Town Events.  Photography by Pamela Corey.  Filming by Songwriter's Vantage. 
PR by Red Boot Publicity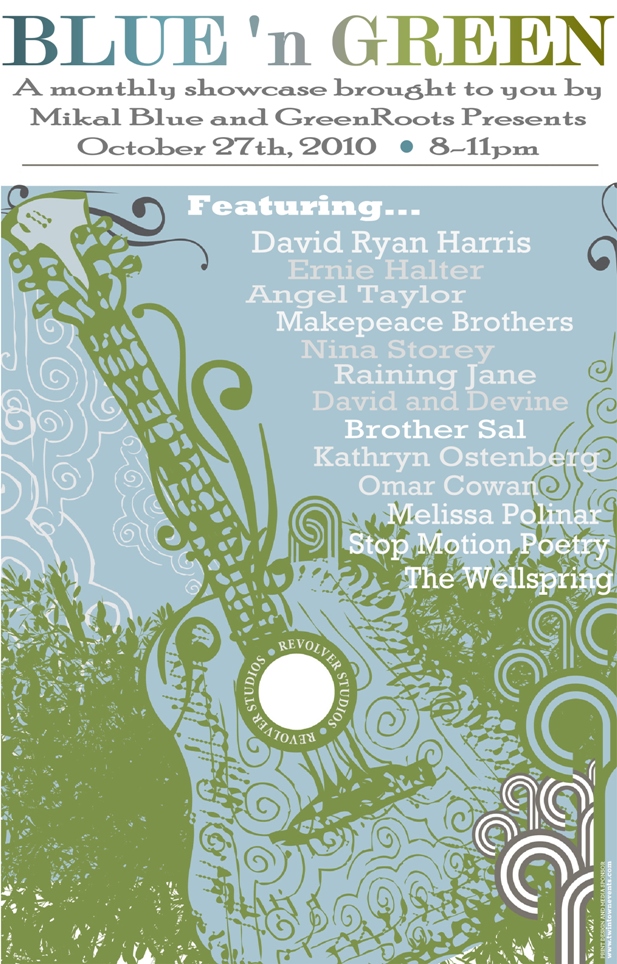 Have questions about GreenRoots Presents: BLUE 'n GREEN Songwriter Showcase WEDNESDAY October 27th, 2010. 7:30pm - 11:00pm?
Contact GreenRoots Presents
Where

Revolver Studios

Thousand Oaks, CA


Organizer
GreenRoots Presents
GreenRoots Presents is a socially conscious production company that has organized live music benefit concerts at premiere venues in Austin, TX, the Bay Area, and greater Los Angeles.  What started with an eco-friendly wedding in Ojai, CA has organically grown to include producing events, commercials, a film and music showcases centered around creating a sense of community within the artists' community and raising funds for different local Los Angeles non-profit causes that support literacy programs for impoverished children, Hope for Haiti Now, inner city arts and music education programs, Gulf Relief and many more.
GreenRoots has put on sold-out concerts with platinum selling artists Bruno Mars and Colbie Caillat, pop sensations Andy Grammer and Allen Stone.  GreenRoots has also presented performers Aqualung, John West, Tony Lucca, Angel Taylor, Allen Stone, Cary Brothers, Rocco DeLuca, Brendan James, Raining Jane, Keaton Simons, Lucy Schwartz, Kina Grannis, Jacob Luttrell, Ernie Halter and showcased to a sold out crowd at SXSW.
Currently, they are producing a television project entitled "The Sound Lab". This is an experiment based upon the belief that if you mix a network of individuals with discerning ears for great sound with a collection of artists with world class talent, you will create a resulting community with the capacity to socially elevate the art of music that transcends labels of gender, class or creed and boundaries of race, culture and age. It will suddenly be about staying connected to one another while staying rooted in the music.
Over the past few years, partners of GreenRoots have included Colette Weintraub, co-founder of the RED campaign w/ Bono, Producers of Emmy Award-winning Current TV, "MAX and JASON", Legendary music producer Mikal Blue (producer for One Republic, Colbie Caillat, Daughtry and Five For Fighting), M.A.M.A. earth, community organization that hosts concerts, events, classes, retreats while working closely with many non-profits, raising money for causes close to their hearts, and Causecast, a forward thinking, socially conscious, online, one-stop philanthropy and volunteerism shop. GreenRoots has built strong partnerships as a result of following the motto of "Creating community, from the roots up".
From intimate parties and documentaries to jam sessions in Venice and sold out concerts in Hollywood, GreenRoots hopes to remind the artists and the audience that the purpose behind the art is participation, locally and globally, because at the end of the day, we're all in this together :)
GreenRoots Presents: BLUE 'n GREEN Songwriter Showcase WEDNESDAY October 27th, 2010. 7:30pm - 11:00pm