GreenRoots Presents: A VALENTINE'S DAY Concert @ Room 5 (Mon. 2/14 @ 8pm)

Monday, February 14, 2011 at 8:00 PM (PST)
Event Details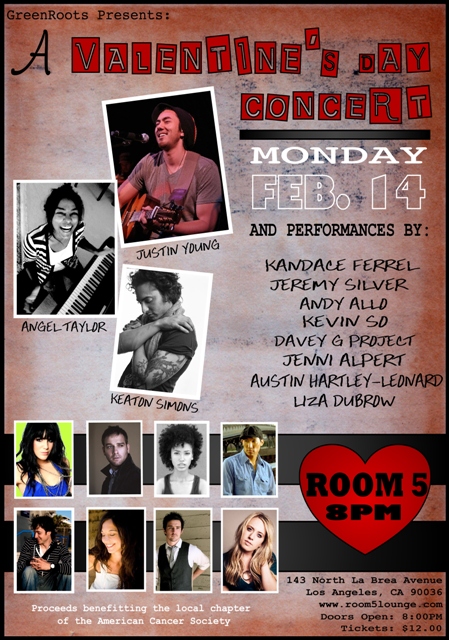 Greetings Everyone,
We're having an intimate concert THIS MONDAY (2.14.11) on Valentine's Day at ROOM 5 in Hollywood.  The evening will be a special celebration of music, love, and life, with proceeds benefiting the local chapter of American Cancer Society. 
The awesome line-up of performers includes:
- Justin Young
- Angel Taylor
- Keaton Simons
- Kandace Ferrel
- Jeremy Silver
- Andy Allo
- Kevin So
- Davey G. Project
- Jenni Alpert
- Austin Hartley-Leonard
- Liza Dubrow
w/ other special guests.
* A limited amount of TICKETS are now available for $10 (presale) here
Tickets will be a $12 donation at the door,
Invite your lover.  Invite your friends.  Invite your friend's lovers, and bring yourself.   We hope to see you at Room 5 on Monday at 8pm. 
Peace and blessings,
Angelique Sheppard
Davey G. Garner
GreenRoots Productions
www.greenrootspresents.com
When & Where

Room 5 Lounge
143 N. La Brea Ave.
Los Angeles, CA 90036


Monday, February 14, 2011 at 8:00 PM (PST)
Add to my calendar
Organizer
GreenRoots Presents
GreenRoots Presents is a socially conscious production company that has organized live music benefit concerts at premiere venues in Austin, TX, the Bay Area, and greater Los Angeles.  What started with an eco-friendly wedding in Ojai, CA has organically grown to include producing events, commercials, a film and music showcases centered around creating a sense of community within the artists' community and raising funds for different local Los Angeles non-profit causes that support literacy programs for impoverished children, Hope for Haiti Now, inner city arts and music education programs, Gulf Relief and many more.
GreenRoots has put on sold-out concerts with platinum selling artists Bruno Mars and Colbie Caillat, pop sensations Andy Grammer and Allen Stone.  GreenRoots has also presented performers Aqualung, John West, Tony Lucca, Angel Taylor, Allen Stone, Cary Brothers, Rocco DeLuca, Brendan James, Raining Jane, Keaton Simons, Lucy Schwartz, Kina Grannis, Jacob Luttrell, Ernie Halter and showcased to a sold out crowd at SXSW.
Currently, they are producing a television project entitled "The Sound Lab". This is an experiment based upon the belief that if you mix a network of individuals with discerning ears for great sound with a collection of artists with world class talent, you will create a resulting community with the capacity to socially elevate the art of music that transcends labels of gender, class or creed and boundaries of race, culture and age. It will suddenly be about staying connected to one another while staying rooted in the music.
Over the past few years, partners of GreenRoots have included Colette Weintraub, co-founder of the RED campaign w/ Bono, Producers of Emmy Award-winning Current TV, "MAX and JASON", Legendary music producer Mikal Blue (producer for One Republic, Colbie Caillat, Daughtry and Five For Fighting), M.A.M.A. earth, community organization that hosts concerts, events, classes, retreats while working closely with many non-profits, raising money for causes close to their hearts, and Causecast, a forward thinking, socially conscious, online, one-stop philanthropy and volunteerism shop. GreenRoots has built strong partnerships as a result of following the motto of "Creating community, from the roots up".
From intimate parties and documentaries to jam sessions in Venice and sold out concerts in Hollywood, GreenRoots hopes to remind the artists and the audience that the purpose behind the art is participation, locally and globally, because at the end of the day, we're all in this together :)
GreenRoots Presents: A VALENTINE'S DAY Concert @ Room 5 (Mon. 2/14 @ 8pm)