Join GreenLight Solutions Foundation for our GreenLight Community Mixer featuring our GreenLight Alum in Water Panel!
About this event
Join GreenLight Solutions Foundation for GreenLight's May 2021 Virtual Community Mixer. We will be featuring a panel of GreenLight alumnus that have gone on to careers in the water sector. Learn about their journeys, insider tips & tricks, and what we can expect to see in the industry in 2021 and beyond. Whether you're a homeowner, a water or sustainability professional, or a student, this panel will give you the inside scoop on water industry conversations. Audience Q&A and networking breakout rooms will be included.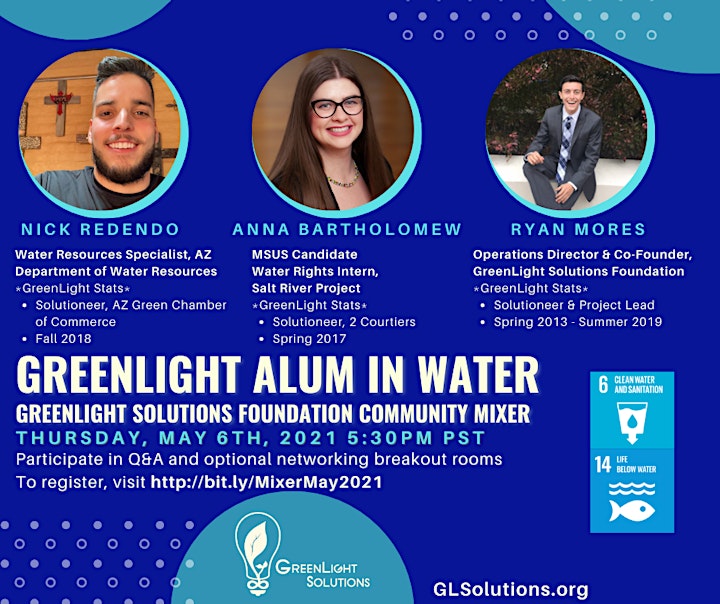 More information about our organization:
GreenLight Solutions Foundation is a 501(c)(3) educational nonprofit that partners college students and professionals with local business leaders to collaborate on sustainability projects. GreenLight's mission is to educate and empower students and business leaders to create positive social, environmental, and economic change through sustainability initiatives.
Our organization started as a grassroots movement at ASU in January 2013, and since then, we've partnered 300+ students with 45+ local businesses, implemented 55+ sustainability projects, and contributed 29,000+ volunteer hours in our community.
GreenLight offers a range of opportunities for organizations to Learn, Strategize, & Implement Sustainability, including our Sustainability Seminar Series, Sustainability Strategy Workshops, & Student-Led Projects. GreenLight provides an innovative, passionate team to help business leaders meet sustainability goals and create a company-wide culture of sustainability.
For students, GreenLight provides an applied learning opportunity and hands-on experience working in sustainability outside the classroom. Students that join GreenLight receive professional development in sustainability project management, including training, curriculum, resources, mentorship, project support, and public speaking opportunities. Students also have exclusive invitations to networking events and our retreats.
Visit GLSolutions.org