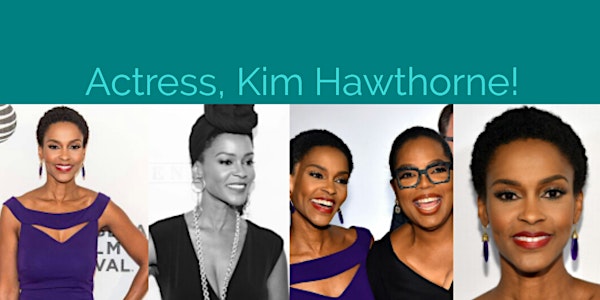 Greenleaf Actress Kim Hawthorne's, Master The Audition, It Starts With You...
Location
Celebrity Actors Studio
1345 Boyd Avenue Northwest
Atlanta, GA 30318
Description
A dream is our calling. When a dream is put in our hearts I believe we are given all the tools we need along the way to see that dream come true. Sometimes it may take 30 years like it did for me, but there is something bigger than us at work that will strengthen and guide us along the way. All we have to do is pay attention, keep the faith and apply ourselves. Part of our calling is building a toolbox along the way that will sustain us during our journey. I have a passion for helping others maximize their potential and am so excited to share what I've learned about making dreams come true with you!
With over 25 years experience as a TV, Film and Broadway actor I've come to know that so much of this business is wonderful but so much is shallow and fleeting. You cannot afford to be that. Let the shifting things around you fall away and off. YOU must stay steady and rooted in the knowledge of who you are and what you bring to the table. This is how you will perservere and move through life with a successful attitude. That attitude, I strongly believe will eventually lead to the success you dream of.
Join me to learn how to safegquard yourself against the outside elements that prevent you from bringing your best perfomances into the audition room. You will learn how to navigate your inner demons, the naysayers around you, and your own self sabotaging habits. You will leave this workshop having a better understanding of, if acting really is for you, what makes you valuable, what are your strengths and weaknesses and how to stay in the game for the long haul.
Visit my website: www.KimHawthorne.space
Sign up NOW. SPACE IS LIMITED!!!
Open to all teens and adults.
FAQs
What can I bring into the event?
Water is allowed. Also bring a notebook and pencil for taking notes! Also bring your headshot and resume.
How can I contact the organizer with any questions?
Please contact Angela Dixie at 404-964-4190 or PinajTalentManagement@gmail.com