| | |
| --- | --- |
| Greening Your Home -- GREENWorking Event | |
Event Details
Join USGBC at one of two locations (different dates) for a unique social experience.  Come learn about the latest products and technologies that can help you live a more sustainable lifestyle and network with like-minded industry professionals with a passion for sustainability.  Registration required.  Lightfare and hors d'oeuvres will be provided.

DATES, TIMES & LOCATIONS
Wednesday, April 10, 2018 7pm -- Miele Experience Center, 4218 Ponce de Leon Blvd., Coral Gables, FL 33146



Wednesday, April 17, 2018 7pm -- Miele Experience Center, 7680 Federal Hwy, Boca Raton, FL 33487
A SPECIAL THANK YOU TO OUR SPONSORS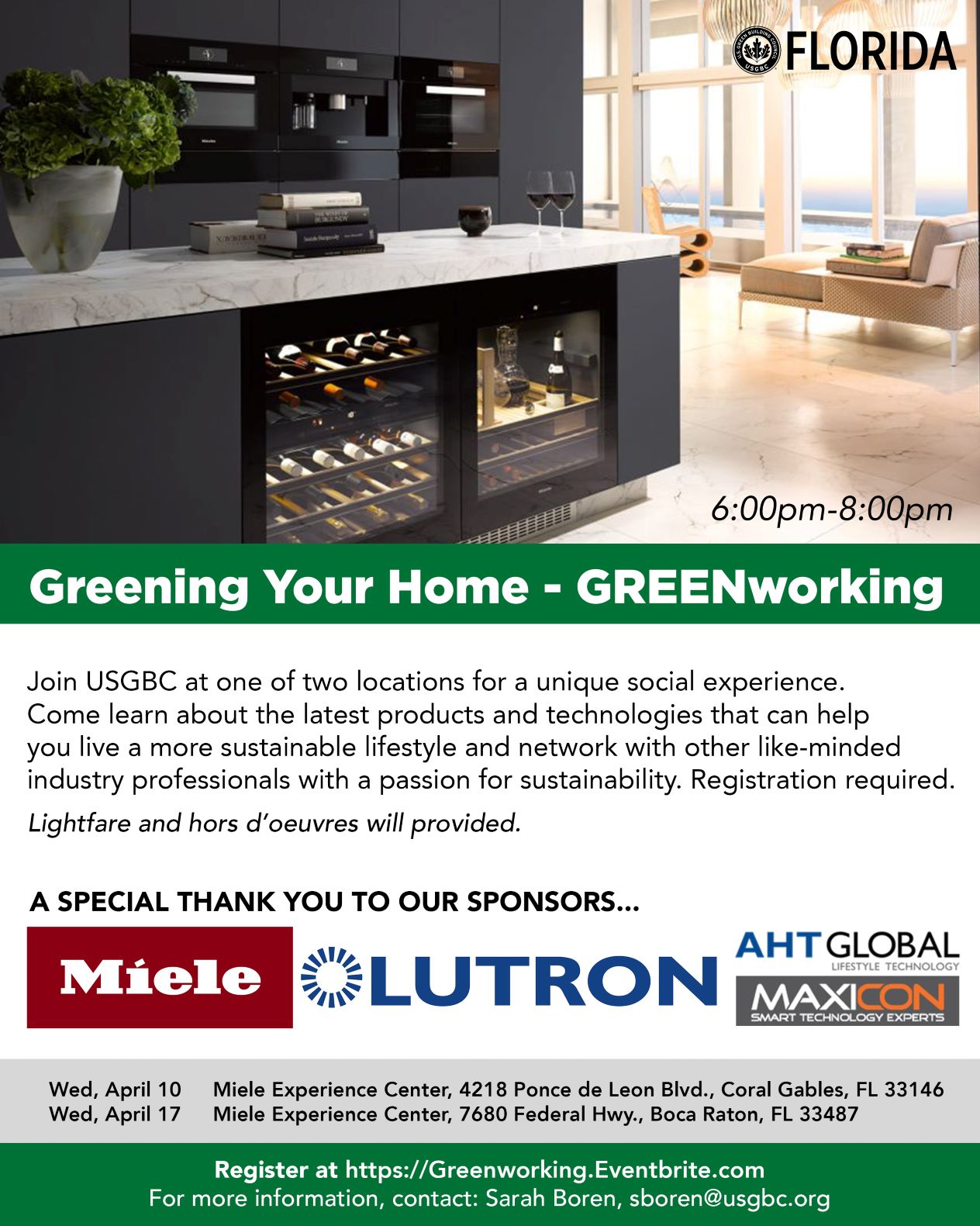 SHARE THIS EVENT
Post this flyer in break rooms, coffee places (Starbucks/Panera -- we are a 501c3 nonprofit), and anywhere else you can think of
Like and share the facebook event for these two greenworking events
Where

Miele Experience Center Coral Gables OR Boca Raton
4218 Ponce de Leon Boulevard OR 7680 Federal Hwy
Coral Gables OR Boca Raton, FL 33146 OR 334


Organizer
U.S. Green Building Council Florida is working to make healthy, sustainable buildings a reality for the Sunshine State within a generation. Our diverse membership is comprised of builders, architects, engineers, environmentalists, nonprofits, corporations, students and individuals, providing our nonprofit organization with not only a remarkable passion for sustainability and green building, but also a wealth of knowledge and industry access at every level.  As part of a large network that is creating sustainable places to live, work and play across the entire country, our amazing volunteers and staff work both collaboratively and independently to fulfill USGBC's mission here in Florida.