Description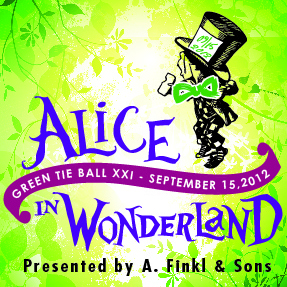 Presented by A. Finkl & Sons Co.

GREEN TIE BALL XXI PREVIEW PARTY

Thursday, June 7th 2012

Hubbard Inn 2nd Floor

110 W. Hubbard St. 2nd Floor

6:00pm - 8:00pm
Complimentary Event
Including Cocktails & Appetizers
......................................................................................
Green Tie Ball XXI Co-Chairs
Corri McFadden, eDrop-Off & VH1 Series, "House of Consignment"
Donald Storino, Fidelity Consulting Group, LLC
Emcees
Val Warner & Ryan Chiaverini, Co-hosts of "Windy City LIVE!"
Board of Directors
Chairman: Tony Abruscato • Vice Chairman: Jeffrey Seigel
Treasurer: Sheldon P. Holzman • Secretary: Jon K. Rodgers
Officers at Large
Howard Alper • Grant DePorter • John Fritchey • Lee Golub
Jonathan B. Landan • David Lissner • Susanna Negovan • Jody Oshita-Bajor
Everett G. Rand • Gerald J. Roper • Timothy Smithe • Steve Traxler
Green Tie Ball Committee
Tommy Choi • Brian Eaggleston • Michelle Glover • Violeta Gudino
Chris Happ • Joel Johnson • Jon Landan • Abby Lesneski
Elizabeth Marino • Ryan Preuett • Joanna Roth • Shadia Sadaqa
Lindsey Stanley • Jackie Tamas • David Traverso • Nishaat Yunus
Hosted by Chicago Gateway Green, a 501(c)3 non-profit organization dedicated to greening and beautifying the city of Chicago. Proceeds from Green Tie Ball XXI fund the Expressway Partnership, a public/private program which creates and maintains beautiful, sustainable landscaped parkways along Chicago's major expressways thereby reducing air and noise pollution and adorning the gateways into the city's communities.

*For additional information, please contact Chicago Gateway Green at 312-540-9930 or info@gatewaygreen.org.

Organizer of Green Tie Ball XXI Preview Party