Join us for a virtual tasting and exploration of green teas from around the world. This seminar includes tea samples and a tutored-tasting.
About this Event
No passport required! Agnieszka (Agnes) Rapacz, president and tea sommelier at TeaGschwendner US, will lead you on a fantastic journey across the globe and guide you through a tutored-tasting of the green teas of China, Japan, Nepal, and Vietnam. Sip along as you brew four teas and learn about their origin, cultivation, and proper brewing methods while exploring the nuances of flavor and aroma of each tea. This seminar is recommended for tea enthusiasts of all levels and will provide an educational and entertaining look at the world of green tea.
Serving 1-2 people, your ticket ($29) for the afternoon tea tasting includes:
• (1) .3oz pouch loose leaf green tea – CHINA LUNG CHING ORGANIC — this organic selection comes from a small tea garden that lies at the feet of the Buddha, "Ru Lai Fo", where cultivation is overseen by the local Tea Research Institute.
• (1) .3oz pouch loose leaf green tea – JAPAN GYOKURO KUKICHA — an excellent Kukicha specialty, this full-bodied, delicate and fruity green tea is a treasure to behold!
• (1) .3oz pouch loose leaf green tea – NEPAL EVEREST GREEN — this outstanding rarity is grown on the gentle sweeping slopes of the world's highest mountain peak.
• (1) .3oz pouch loose leaf green tea – VIETNAM TAM DUONG JASMINE — a mild and floral-fragrant tea with an expressive cup.
• Access to the 60-minute virtual, interactive, and educational seminar guided by Agnes Rapacz, president and tea sommelier at TeaGschwendner US.
Tickets for this virtual experience are limited. Deadline to purchase is 11/23/20 (7:00am). Buy now to guarantee delivery and participation. A sell-out is expected.
Although this virtual class is open to tea lovers nationwide, please note this class will be taking place at 2:00PM EST and will be conducted in English. International shipping is not available for this event. Please refer to the FAQs below for additional information.
This virtual class is presented by the Coffee & Tea Newsletter and TeaGschwender

About the Presenter: Agnieszka (Agnes) Rapacz, president & tea sommelier at TeaGschwendner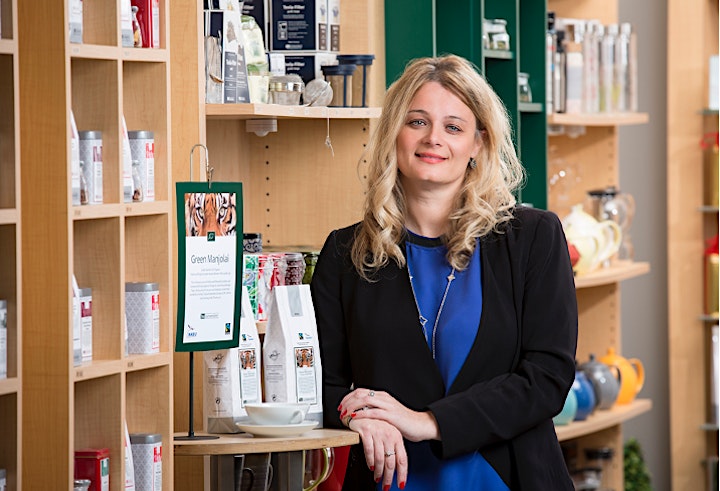 Agnieszka Rapacz was introduced to tea while she was still a baby. Growing up in Poland where the tea is a social beverage, she started exploring the world of tea. But not until she graduated from DePaul and was hired as a Director of Finance at TeaGschwendner did she became a tea snob. This place introduced her to high quality premium loose leaf teas and prepared her to become a Tea Sommelier in 2017.
In 2012 Agnieszka acquired TeaGschwendner US and opened a second store in Lincoln Park, IL. She traveled to Japan, Austria, China, New Zealand, and South Africa to visit and meet the tea producers in person. Now she offers over 250 premium loose leaf teas in the stores, in restaurants and wholesale to other tea shops nationwide. DePaul honored Agnieszka in their annual 40 under 40 most successful graduates. And she is so proud that Chicago Magazine voted her tea shop as The Best in Chicago. Her teas are trusted by Navy Pier, Art Institute of Chicago, Drake Hotel, Christkinldmarket of Milwaukee, Chicago, and Carmel Indiana. Recently she was a guest at BASP Smart Chicago Podcast hosted by Commissioner Escareno.
Agnieszka is also involved in non-for-profit local organizations, former Treasurer at Polish American Chamber of commerce, Director at Chicago International Tea Festival, and founder of Second Chance luncheon. She loves sports and she is proud to represent US team on 3 World Transplant Games as a swimmer and proud owner of over 20 medals. She is a proud mom of 2 daughters.
FAQs:
What is included in the ticket price? All tickets include access to the online event and the tea samples shipped direct to your home. The tea samples (included with this virtual seminar) are perfect for 1-2 people to enjoy.
How will the tea be shipped to me? The tea will be shipped to the mailing address provided at the time of the ticket purchase.
Where do you ship to? We can ship nationwide. No international shipping at this time.
Can you ship to a PO Box? No. To guarantee on-time delivery, shipments can be made to home addresses only.
When will I receive the tea that is included with my ticket? Ticket sales end at 9:00pm on November 19, 2020 to ensure on-time delivery to your home. Tea will arrive 1-3 days prior to the virtual event.
How do I join the online event? Prior to the online event taking place, you will receive a link to the Online Event Page which has the video conferencing link enabling you to join. The seminar will stream via Google Meet.
Can I ask questions during the online event? Yes! We encourage you to ask questions but please do so using the chat feature. This will ensure we avoid people talking over each other and all questions can be answered. The chat feature is typically located in the upper righthand corner of Google Meet.
How will you ensure the online event is a safe environment? We ask that all participants be polite and courteous. Starfish Junction and its sponsors/partners reserve the right to remove any participant from the video conference that is disruptive or behaving inappropriately with no refund.
Do I need to download special software or an app to participate in the video conference? The online event will be conducted via the video conferencing platform, Google Meet. You should be able to click the link provided and access the video conference in any web browser from a desktop computer or laptop. However, you will need to give permission to the browser to use your camera and microphone. If you would like to access the video conference on a smart device (smartphone, tablet, etc.) you will need to download the Google Meet app to the device that you are using to access it. Note, in rare cases you may need to update your browser or computer. Be sure to test your accessibility a day or two before the online event.
What happens if I lose internet connection during the online event? If you lose internet connection and leave the video conference, simply click the link again to re-join.
Can you help me with my technical difficulties accessing the video conference? Yes, please email help@starfishjunction.com. It is important for you to try accessing the video conference before the day of the online event so we can fully assist you as we have some limitations.
Do I need to prepare anything in advance in order to participate? In addition to the tea you will receive for the tasting, the following supplies are suggested to elevate your experience:
o a kettle filled with room temperature water, which will be boiled as needed during the tasting
o a loose-leaf brewer (Gaiwan or tea ball)
o four tasting cups (one for each tea recommended)
o a spoon
o milk and/or sugar (optional, depending on your preference)
Date and Time
Location
Refund Policy