About this Event
Did you know green tea is produced primarily in China and Japan but is not typically drank for its health benefits there like it is in United States? Did you know that green tea varies significantly based on how it is produced?
In this tutored green tea tasting with the co-owners of Brooklyn Tea, Jamila McGill and Alfonso Wright, you will learn about the various green tea growing regions, how green tea is processed, what green teas should taste like, and interesting facts to expand your knowledge. Together, you will also brew and taste four green teas which Jamila and Alfonso will discuss how to brew each tea, the tasting notes each tea will provide, and possible health related benefits that each have been studied to have.
Your ticket ($35 per person) to this virtual tea tasting includes the following:
1oz pouch of loose leaf Hojicha tea
1oz pouch of loose leaf Sencha tea
1oz pouch of loose leaf Dragonwell tea
1oz pouch of loose leaf Superior Gunpowder tea
Direct shipping to your home
Access to the 1hr virtual, interactive, guided tasting with Brooklyn Tea for one participant to be conducted via video conference
Tickets are limited. Deadline to purchase is 8/9. Buy now to guarantee delivery and participation.
Although this virtual class is open to all tea enthusiasts nationwide, remember the class will be taking place EST at 10am and be conducted in English. International shipping is not available for this event. Please refer to the FAQs below for additional information.
This virtual class is presented by the Coffee & Tea Festival, and sponsored by Brooklyn Tea and the Coffee & Tea Newsletter.

About the Presenters: Jamila McGill & Alfonso Wright, Co-owners of Brooklyn Tea
Jamila and Alfonso were fascinated with tea and it's important part of daily life for billions of people around the globe, so they wanted to be a part of that. With Brooklyn Tea, they seek to create an authentic and accessible escape for their customers through their love of tea. Brooklyn Teas are of the highest quality, organic, and fair-trade whenever possible.
Brooklyn Tea is also committed to making a social impact. As a black-owned business, they are committed to supporting and empowering diverse communities especially through expert-level tea education. They also partner with Tahuti Ma'at to provide compost for their community garden in the Crown Heights neighborhood of Brooklyn, New York. Tehuti Ma'at serves as a resource mechanism to foster political, social and economic empowerment through healing, awareness and implementation.
The company has a tea room located in the Bedford-Stuyvesant neighborhood of Brooklyn, New York which features over 60 teas (and espresso).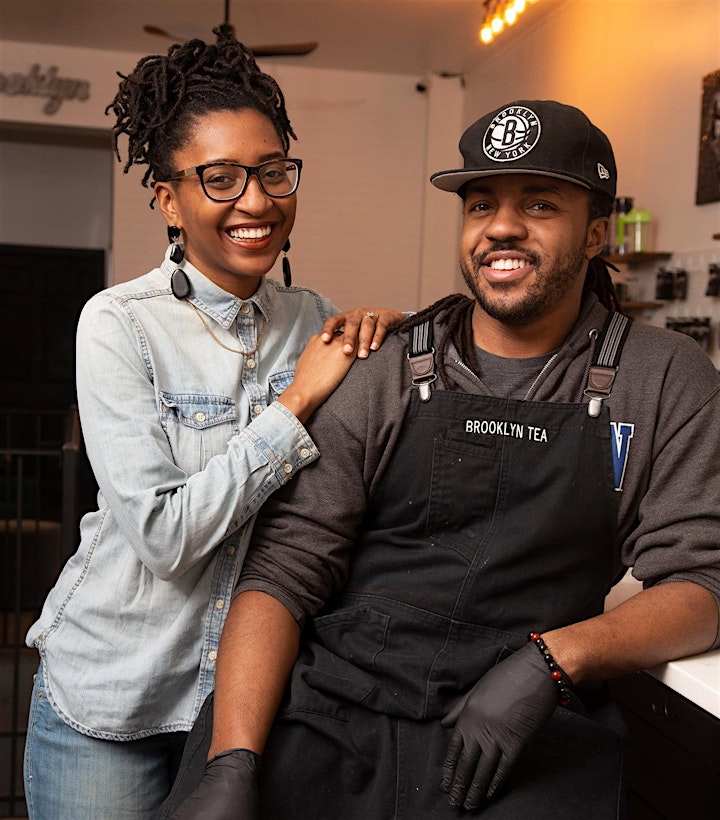 FAQs:
What is included in the ticket price? All tickets include access to the online event, the tea which you will be tasting and direct shipping.
How will the tea be shipped to me? The tea will be shipped to the mailing address provided by the event organizer, Starfish Junction.
Where do you ship to? We can ship nationwide. No international shipping at this time.
Can you ship to a PO Box? Yes. Although it is recommended that you provide your home address as your shipping address so you don't have to leave your house due to current stay-at-home restrictions in select locations.
When will I receive the tea that is included with my ticket? We will close ticket sales on August 9, 2020 to ensure delivery to you on time. Your tea will be delivered between August 17-21 depending on your location.
I missed the cut-off date. Can I still get a ticket for the virtual class? Please contact us using the contact link at the bottom of this page. Depending on your mailing address, we may be able to accomodate you if there is still time. If not, we can discuss the possibility of joining us for the online event only.
How will you ensure the tea gets to me in time? Average shipping times are approximately 2-3 days. We are cutting off ticket sales early due to an influx of support for Brooklyn Tea as a black-owned business. This will help us make sure Brooklyn Tea can prepare your tea and the ticket holder receives their tea before the online event. If we have delivery issues, we will contact you by the phone number provided.
How are damaged packages handled? Starfish Junction nor its sponsors and partners are responsible for damaged packages. Brooklyn Tea takes pride in their packaging and ensuring customers receive the highest quality of products.
I can't make the online event. Can I still purchase a ticket for the tea? Yes. If you can no longer attend the online event or simply are not interested in doing so, you can still purchase a ticket to receive the tea shipped directly to the mailing address provided. Please note that all sales are final and there are no discounts, refunds or exchanges should you not join the online event portion. Note, the video conference will be recorded and a link will be sent to ticket purchasers for later viewing but it will not be available to the public.
Will the online event be recorded? Yes, we will be recording the video conference. After review of the recording, we will send a link out to all ticket purchasers so they can access it and view it at a later date should they be interested in doing so. However, the recording will not be made public.
Can I buy more than one ticket? Yes, each ticket provides access to one individual. If you would like to participate with a friend, multiple tickets must be purchased. Please note, if you purchase multiple tickets all of the tea will be sent to the same shipping address provided unless you make a different order for each ticket purchase.
How do I join the online event? Prior to the online event taking place, you will receive a number of emails reminding you of the date and time. Within these emails will also be a link to the Online Event Page which has the video conferencing link to join.
Can I ask questions during the online event? Yes! We encourage you to ask questions but please do so using the chat feature. This will ensure we avoid people talking over each other and all questions can be answered. The chat feature is typically located in the upper right hand corner of Google Meet.
How will you ensure the online event is a safe environment? We ask that all participants be polite and courteous. Starfish Junction and its sponsors/partners reserve the right to remove any participant from the video conference that is disruptive or behaving inappropriately with no refund.
Do I need to download special software or an app to participate in the video conference? The online event will be conducted via the video conferencing platform, Google Meet. You should be able to click the link provided and access the video conference in any web browser from a desktop computer or laptop. However, you will need to give permission to the browser to use your camera and microphone. If you would like to access the video conference on a smart device (smartphone, tablet, etc.) you will need to download the Google Meet app to the device that you are using to access it. Note, in rare cases you may need to update your browser or computer. Be sure to test your accessibility a day or two before the online event.
Can I take part in the online event by phone only? Yes, a call-in phone number can be provided so you can attend via phone and participate with audio only. Please reach out to help@starfishjunction.com for dial-in details.
What happens if I lose internet connection during the online event? If you lose internet connection and leave the video conference, simply click the link again to re-join.
Can you help me with my technical difficulties accessing the video conference? Yes, please email help@starfishjunction.com. It is important for you to try accessing the video conference before the day of the online event so we can fully assist you as we have some limitations.
Do I need anything besides tea to participate? In addition to the tea you will be shipped for the tasting, you will need a kettle filled with room temperature water, which will be boiled as needed during the tasting. You will also need a loose leaf brewer (Gaiwan or holder, etc.) and tea cup. Alternatively, a cupping set would work. You may want to have a tea towel or any towel on hand for drying too. We also recommend having a power source connected to your computer (or device) that you will be participating in the video conference with.
Date and Time
Location
Refund Policy