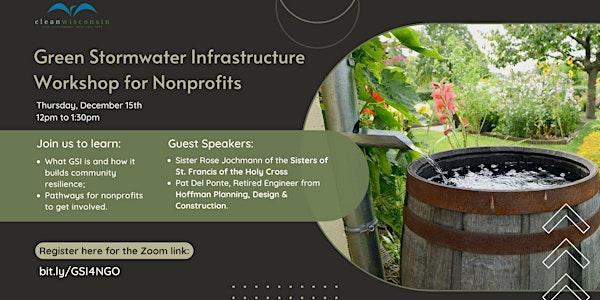 Green Stormwater Infrastructure Workshop for Nonprofits
Learn how non-profits and houses of worship can help build community resilience in Green Bay using green stormwater infrastructure (GSI).
About this event
Nonprofits, houses of worship, and community-based organizations help connect and strengthen communities. These groups can also help build resilience against climate impacts, such as stormwater flooding and extreme heat, in their community by installing GSI practices like rain barrels and bioswales.
In this virtual event, Clean Wisconsin will share how green stormwater infrastructure can help build community resilience against the impacts of climate change and how nonprofits can get involved — from sharing education and resources with their constituency to installing their own GSI projects on-site.
Sister Rose Jochmann of the Sisters of St. Francis of the Holy Cross will speak about their mission and vision for sustainability, and Pat Del Ponte, Retired Engineer from Hoffman Planning, Design & Construction, will share insight about the stormwater management designs that have been implemented at the convent.
Register now to get the Zoom link!
Want to learn more about green infrastructure? Take a look at these short videos:
700 Rain Barrels and Counting: Green Infrastructure in Milwaukee
Learn more about Clean Wisconsin here.