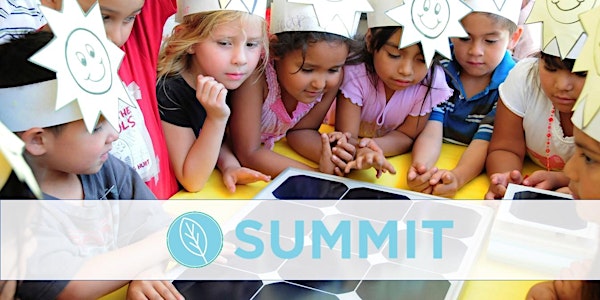 Green School Summit for Educators
Shifting From Crisis Management to Innovation: Teaching for a Sustainable Future
By Center for Green Schools
When and where
Date and time
February 12, 2021 · 8am - February 13, 2021 · 2pm PST
Refund Policy
Contact the organizer to request a refund.
About this event
Learn from and connect with other classroom educators to explore the lessons we have learned from this year of virtual learning and plan practical steps to ensure that those lessons help us to further integrate sustainability education into classroom content and daily practice, engaging students in learning and in making positive change in their communities.
This educational summit is hosted by the Center for Green Schools and the Green Schools National Network.
See the Schedule-At-A-Glance and the Speaker Details for more information.
Friday, February 12th & Saturday, February 13th | 11:00 am – 5:00 pm EST
** The Summit will be repeated on Friday and Saturday so that ALL educators have access to this exciting content.**
Session One: Pandemic Silver Linings and Solutions for K-12 Education
The current disruptions affecting our educational system will no doubt have long-term impact. Recognizing the challenges and positive ramifications, the assembled panel will offer insight, inspiration, and ideas supporting educators to envision a new, more equitable future where education for sustainability becomes a top priority.
Brittany Jayroe (Moderator), Program Director, EcoRise
Adrienne Wiggins, STEM Coach, Empire Elementary School (NV)
William Haithcock , Principal, Harborside Academy (WI )
Renee Byrum, Head Teacher, Zuni Middle School (NM)
Session Two: Rethinking Equity in the Outdoors
Extending the classroom beyond the school walls has become a hot topic in conversations on how to keep schools open. However, offering rich outdoor learning experiences has more often been offered to students and schools of an advantaged demographic. Not everyone has equitable access to learning in a natural setting. Recognizing the health and academic benefits to ALL students, the panel will talk through strategies that lead to opportunity for all. No matter the cultural identity, zip code or family financial situation, well-designed outdoor learning experiences have a dramatic impact.
Aimee Arandia Østensen (Moderator), Professional Learning Facilitator in Education for Sustainability, Shelburne Farms
Heather Hairston, Former educator & EcoRise Board Member
Isabel Anaya, Teacher, Charles L. Kuentz Jr. Elementary School (TX)
James Edward Mills, Freelance Journalist
Session Three: Best Practices for Teaching and Learning Outside
The pandemic has highlighted the value (both academic and health related) of teaching and learning outside. This fact, along with the recognition that many educators have not received effective guidance on best practices related to outdoor learning, exemplifies the value of what this panel will share. With first-hand experience and knowledge, these skilled practitioners will offer tools and resources, leading to high-quality outdoor learning.
Dr. Jay Greenlinger (Moderator), Director of Curriculum and Instruction, Oak Park Unified School District (CA)
Eleva Potter, Graduate Student in Educational Sustainability, University of Wisconsin
Julie Burton, Coordinator of Innovation & Farm Lab Dev, Encinitas Union School District (CA)
Tashanda Giles-Jones, Green Ambassadors Teacher, Environmental Charter Middle School Inglewood (CA)
See the Schedule-At-A-Glance and the Speaker Details for more information.
Need a scholarship to attend? Limited need-based assistance is available. Please write schools@usgbc.org to let us know your circumstances and what assistance you need.
About the organizer
At the Center for Green Schools, we believe that all students deserve to attend schools that value their health, their future, and the future of the planet. Our work aims to ensure that green, healthy schools are accessible to all students no matter their race, status, wealth or where they live. USGBC launched the National Green Schools Campaign alongside partners at the 2007 Clinton Global Initiative, committing to a vision of green schools for every child. That same year, USGBC launched the LEED for Schools rating system, which provided a leadership standard for better, healthier school buildings. After listening to and learning from school leaders around the country, USGBC founded the Center for Green Schools in 2010, broadening its foundational work in the green building movement to encompass topics and issues important to schools and the people in them every day: teachers, students, staff, and parents. Since that time, we have focused on the highest impact opportunities to accelerate a global green school movement.