Description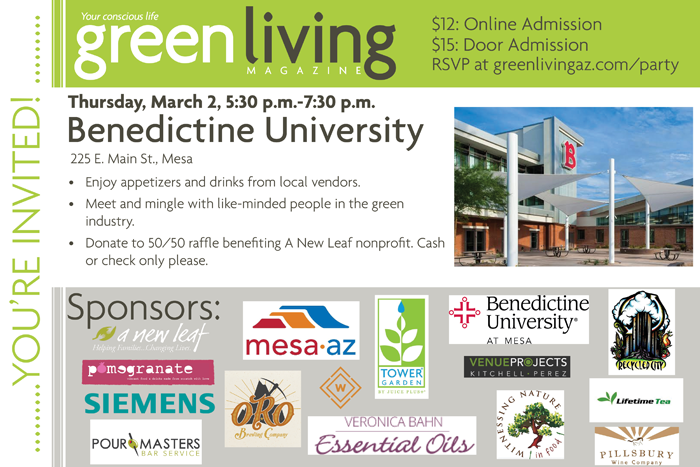 You're invited to Green Living magazine's March issue launch party. Join us at Benedictine University in Mesa for a night of fun and networking!
Host: Benedictine University
Title Sponsor: City of Mesa

Sponsors: Better Days Tower Garden, Lifetime Tea, Oro Brewing Company, Pillsbury Wine, Pomegranate Cafe, Pourmasters, Recycled City LLC, Siemens, Venue Projects, Veronica Bahn Essential Oils, Witnessing Nature In Everything, Worth Takeaway

Nonprofit Beneficiary: A New Leaf

Own or work for a local business? Become a sponsor today! Give us a call at 480-840-1589 or email sales@greenlivingaz.com.

Our parties aren't just to promote the latest issue of Green Living -- they exist to promote community. From advertisers to readers, we love bringing together like-minded individuals to network as a sustainable community. Join us for a night of eco-consciousness, good conversation, and fun!
We will also have art on display from local artist Jaime Glasser, along with an artist doing $5 caricatures!
Parking is abundant in the West and East parking lots right next to Benedictine University. Wear blue with us to celebrate World Water Day coming up on March 22.
Meet and mingle with like-minded people in the green industry, enter to win eco-friendly door prizes and enjoy appetizers and drinks from local vendors. Donate to our 50/50 raffle benefiting a local nonprofit.
We'll see you there!