Description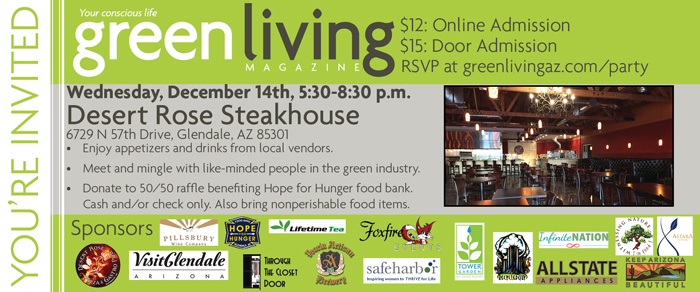 You're invited to Green Living magazine's December issue launch party. Join us at Desert Rose Steakhouse for a night of fun and networking!
Host and Title Sponsor: Desert Rose Steakhouse and Visit Glendale
Sponsors: Allstate Appliances, Astara Skincare, Carey Conley - Infinite Nation, Foxfire Events, Keep Arizona Beautiful, Lifetime Tea, Peoria Artisan Brewing, Pillsbury Wine Company, Recyled City, Safe Harbor Consulting, Through the Closet Door, Tower Garden, Witnessing Nature in Everything
Nonprofit: Hope for Hunger food bank
Own or work for a local business? Become a sponsor today! Give us a call at 480-840-1589 or email sales@greenlivingaz.com.
Our parties aren't just to promote the latest issue of Green Living -- they exist to promote community. From advertisers to readers, we love bringing together like-minded individuals to network as a sustainable community. Join us for a night of eco-consciousness, good conversation, and fun!
Meet and mingle with like-minded people in the green industry, enter to win eco-friendly door prizes and enjoy appetizers and drinks from local vendors. Donate to our 50/50 raffle benefiting a local non-profit. Please also bring your nonperishable food items to donate to Hope for Hunger.
We'll see you there!