Description
ESPANOL MAS ABAJO
Tuesday, March 7th - Be a part of the campaign to win equal access to driver's licenses for immigrant NY!
Join the Green Light NY: Driving Together coalition for a day of action in support of driver's license access for ALL NY residents, regardless of immigration status! Hundreds of coalition members and allies from across New York will come together at the State Capitol to show our support for immigrant NY. We will march, rally, and speak with our legislators, to ensure the our elected officials understand that passing driver's licenses must be a priority to protect immigrants, improve public safety, and strengthen our state economy.
THE DAY WILL INCLUDE:
Teach-in on Legislative Advocacy and Green Light NY

Campaign Story Sharing and Testimonials

Green Light NY Rally/March and Press Conference

Legislative Meetings and Rapid Fire Office Visits
REGISTER TODAY:

Register on eventbrite to let us know that you plan to join us by bus or car: https://greenlightny.eventbrite.com
Reserve a seat on the bus for $5 - Scholarships are available for individual or families facing financial hardship.
Transportation available from: Suffolk, Queens, Westchester, Orange, Ulster, Syracuse, and Rochester
Departure time for busses will differ and be based on travel time from each region to arrive in Albany by 11:00 am.
Please plan ahead and bring a brown bag lunch.
T-shirts will be available the day of for $10 - indicate on eventbrite if you want to reserve one.
ALLIES WITH A DRIVERS LICENSE & CAR:

- If you are willing to drive yourself and others to Albany with your own vehicle, please indicate so in the eventbrite registration form.
- If you are willing to help transport community members to and from the local bus pick-up/drop-off locations, please indicate so in the eventbrite registration form.
INFO & MATERIALS:
Familiarize yourself with the legislation and supporting materials:
Assemblymember Moya and Ramos have sponsored new driver's license legislation:
- Bill A4050: Read the Legislation Here
Two new reports were released on the benefits of drivers license accss in NY:
- NYC Comptroller Scott Stringer NYC impact report: Read his report Here
- Fiscal Policy Institute statewide impact report: Read their Report Here
General Campaign Fact Sheets:
- About the Coalition: Here
- About Drivers Licenses Campaign: Here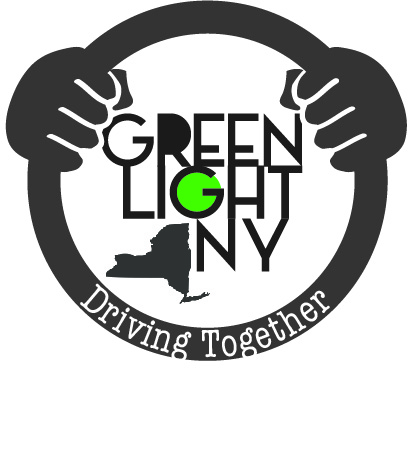 Únase a la coalición "Luz Verde NY: Manejando Juntos" para un día de acción en apoyo al acceso a licencias de conducir para TODOS los residentes de NY, ¡sin importar su estado migratorio! Cientos de miembros de la coalición y aliados de todo Nueva York se reunirán en el Capitolio del Estado para demostrar nuestro apoyo a los inmigrantes de Nueva York. Marcharemos, nos reuniremos y hablaremos con nuestros legisladores para asegurar que nuestros funcionarios elegidos entiendan que las licencias de conducir deben ser una prioridad para proteger a los inmigrantes, mejorar la seguridad pública y fortalecer nuestra economía
EL DÍA INCLUIRÁ:
• Enseñanza de la Defensa Legislativa y "Luz Verde NY"

• Compartiremos la historia de la campaña y tendremos testimonios

• "Luz Verde NY" Rally / Marcha y Conferencia de Prensa
• Reuniones y Visitas Legislativas
REGÍSTRESE HOY:
Regístrese aquí para dejarnos saber si puede unirse a nosotros en bus o en carro: https://greenlightny.eventbrite.com
Reserve un asiento en el bus por $5 - Hay becas disponibles para individuos o familias que enfrentan dificultades financieras.
Hay transporte disponible desde: Suffolk, Queens, Westchester, Orange, Ulster, Syracuse y Rochester
El horario de salida de los buses será diferente al igual que la duración del viaje de cada región para llegar a Albany a las 11:00 am.
Por favor planee y traiga su almuerzo.
Camisetas estarán disponibles ese día por $10.
ALIADOS CON UNA LICENCIA DE CONDUCIR Y CARRO:
- Si usted está dispuesto a conducir su propio vehículo y a transportar a personas a Albany, por favor, indiquelo en el formulario de registro.
- Si está dispuesto a ayudar a transportar a miembros de la comunidad a los lugares de recogida de buses locales, indíquelo en el formulario de registro.
INFORMACIÓN Y MATERIALES:
Familiarícese con la legislación y los materiales de apoyo:
El asambleísta Moya y Ramos han patrocinado una nueva legislación sobre las licencia de conducir:
Bill A4050: Lea la legislación aquí
Dos nuevos informes fueron publicados sobre los beneficios del acceso a licencias de conducir en Nueva York:NYC Contralor Scott Stringer NYC informe de impacto: Lee su informe aquíInstituto de Política Fiscal informe de impacto estatal: Lea su informe aquíHojas Informativas de Campaña General:Acerca de la Coalición: AquíAcerca de la campaña de licencias de conductores: Aquí
MEDIOS DE COMUNICACIÓN SOCIAL:
Siga la campaña en facebook: https://www.facebook.com/GreenLightNY/Siga la campaña en twitter: https://twitter.com/GreenLightNYDT
#GreenLightNY #LuzVerdeNY
#ImmigrantNY #OurNY