Green Leagues: EFCL Solar and Energy Efficiency Program
Description
Are you interested in making Edmonton more energy efficient? The Green Leagues Program is an opportunity to help your community make the transition to green living.
The Green Leagues: EFCL Solar and Energy Efficiency Program is a partnership between the City of Edmonton and EFCL that aims to promote the adoption of solar PV and energy efficiency upgrades in community league buildings, while increasing the awareness of the benefits of these upgrades to community league members and community champions. Community league members can attend to learn more information about solar energy and gain applicable knowledge about how to implement energy efficiency in their own communities.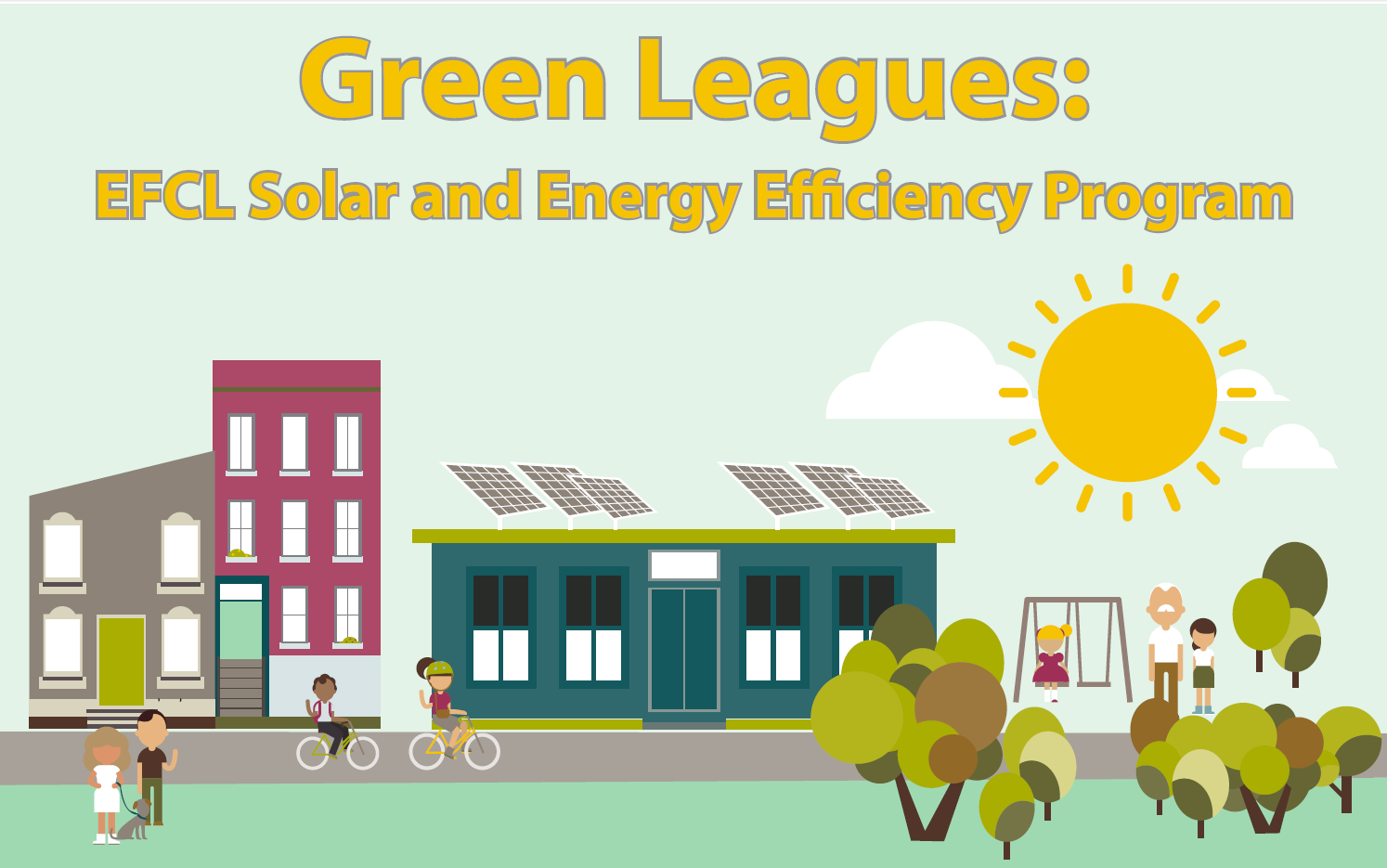 Interested individuals and league members will be encouraged to attend a four part workshop series, starting Tuesday September 27, in which the following topics will be covered:
Oct 4: Here Comes the Sun: The Basics of Solar PV
The second workshop in the series will serve as an introduction to the renewable energy technology and how it could be implemented in a league building or household. This session will cover a basic introduction to how the solar technology works, the economics behind the investment and connecting then selling power to the grid system in order for the system to remain sustainable.
Oct 11: Saving Energy, Saving Carbon, Saving Money: An Introduction to Energy Efficiency
Session three will facilitate discussion all about action community leagues can easily adopt to improve energy efficiency and how to benchmark a building's energy efficiency to track improvements. This workshop also contains information and potential benefits of the energy audits that are being offered to the leagues.
Oct 18: Paying for Your Dreams: Funding Your Energy Transition Project
The fourth and final workshop is all about community leagues funding their energy transition projects. A variety of different funding sources and their application processes will be discussed. This workshop will be hands on with an opportunity for a limited number of community league representatives to receive assistance with the funding application process.
There will be an opportunity at the first workshop for leagues to register their interest to invest in a broader program component that would include discounted solar site assessments and energy efficiency audits.. Additional program partners are being sought to make this a reality. Updates to come.
For more information on the program please go to: edmonton.ca/greenleagues
Interested community members will benefit the most by attending all four sessions.
Any questions about the Green Leagues: EFCL Solar and Energy Efficiency Program or the workshops can be directed to program organizer Robyn Webb at Robyn.Webb@Edmonton.ca.
Date and Time
Location
Alberta Avenue Community League
9210 118 Ave NW, Edmonton, AB
Edmonton, Alberta T5G 0N4
Canada