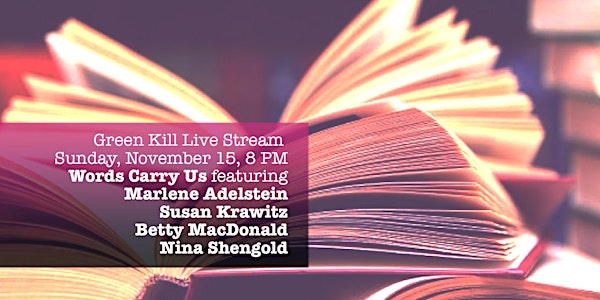 Green Kill Livestream, Sunday, November 15, 8 PM, Words Carry Us
Green Kill Live Stream presents Words Carry Us, Sunday, November 15, 8 PM.
Refund Policy
Contact the organizer to request a refund.
Eventbrite's fee is nonrefundable.
About this event
Green Kill Live Stream presents Words Carry Us, Sunday, November 15, 8 PM on Youtube featuring the authors Marlene Adelstein, Susan Krawitz, Betty MacDonald, and Nina Shengold, hosted by Betty MacDonald.
To gain access, click the "Tickets" link
We are all living with this new normal. The economic impact on the performing artist community has been devastating. Green Kill live streaming events are accessed by making a donation here. The eventbrite system requires that you contribute a minimum of 1 dollar. All proceeds are divided equally between the performers and Green Kill. Green Kill is able to bring this live stream to the public at great personal cost. Please help us to keep this quality program going. 
Marlene Adelstein
Marlene Adelstein's debut novel is the USA Today Bestseller, Sophie Last Seen. She's had personal essays published on Longreads, Manifestation, Talkingwriting, and Rewireme and has been awarded residencies to Yaddo, The MacDowell Colony, The Wurlitzer Foundation and others artist colonies.
She is a former film development executive. Currently Marlene is a freelance book editor specializing in novels, memoirs, and screenplays. She is at work on a new novel and memoir in essays. 
Susan Krawitz
Susan Krawitz's debut middle grade children's novel, Viva, Rose! was named a National Jewish Book award debut fiction finalist, a Sydney Taylor manuscript award winner and Sydney Taylor Award Honor Book, and a Western Writers of America Spur Award Juvenile fiction finalist. She's a freelance writer and editor who's won awards for short fiction and essays, published work in a variety of anthologies and publications, and for the last 23 years has written a monthly column for a local newspaper called The BlueStone Press. 
Betty MacDonald
Writer/actor Betty MacDonald contributed to the writing of and performed in TMI's "What To Expect When You're Not Expecting." Her essay "Before Roe v. Wade" appears in the anthology Get Out of My Crotch!  Her work is included in the anthologies 80 Things To Do When You Turn 80, Open Houseand the soon to be released Better With Age. Betty has read frequently at Spoken Word, a monthly gathering of writers and readers in Kingston, NY, and at TMI Project events in Rhinebeck, Woodstock, Kingston, NY. She presented her essay "First Love" for 650Read at the Cell Theatre in New York City, and at Vassar College. Her essay "Daughter of Twins" is on video for 650Read's Mother's Day presentation. Her essay "Not Jewish Enough" will be presented on video for 650Read's forthcoming event, Jew-ish. Betty hosts Words Carry Us, a series of Livestream readings from Green Kill in Kingston, NY. 
Following her early career as radio personality Tiny Lee, she became a sculptor working in Porcelain. For many years she was a correspondent for the travel industry. Unfortunately, she's a homebody and finds travel uncomfortable and exhausting. For over 30 years, storytelling has influenced her work as a performer with Community Playback Theatre, an improvisational acting company in the Hudson Valley.
Nina Shengold
Nina Shengold's books include Reservoir Year: A Walker's Book of Days; Clearcut, a novel; and River of Words: Portraits of Hudson Valley Writers, with photographer Jennifer May.  She won the Writers Guild Award for her teleplay Labor of Love and the ABC Playwright Award for Homesteaders.  A longtime Ulster County resident, Shengold is a founding member of Actors & Writers, Hudson Valley Writers Resist, and Word Cafe.  She teaches creative writing at Vassar College and lives near the glorious Ashokan Reservoir.