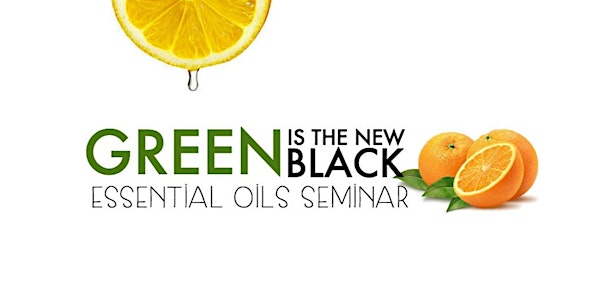 Green is the New Black: Essential Oils Seminar #switchtosafer
When and where
Location
Riverhouse Convention Center 2850 Rippling River Court Bend, OR 97702
Refund Policy
Contact the organizer to request a refund.
Description
"Green Is the New Black" is an essential oils lifestyle seminar, dedicated to educating and empowering consumers in switching to safer products for their homes, their families, and their pets. We believe that wellness begins at home, and that simple changes in the products we use every day can have a profound positive impact on our families and our world. Come learn how to be Essentially Savvy, Frugal, Fit, Clean, Glam, Calm & Rewarded.
We have amazing giveaways and raffle prizes from Young Living as well as from local companies, stores, and artisans (ticket proceeds will benefit the YL Foundation), and special holiday and new YL products will be available for sale on-site with no shipping charges.
There will also be an optional VIP Red Carpet complete with NingXia Red shots, reserved seating, pre-purchase, and photos on the red carpet! Grab a VIP ticket ASAP since these are expected to sell out early!
9:30 - 10:00am: VIP Registration* & pre-purchase
10:00 - 10:30am: General Registion & pre-purchase
10:30 - 12:30pm - Green is the New Black Presentation
12:30 - 1:30pm - Purchases & Photo Booth
1:00 - 1:30pm - *Optional: Love It/Share It! How to share Young Living lifestyle with others - presentation with Clifford Whetten, Western Regional Leadership Manager, Young Living Corporate
*Bring your EventBrite ticket to the event to earn a free raffle ticket, and speed up your registration!
Raffle Tickets Pricing (cash or card):
EVENT DESCRIPTION: Sadly, we live in a toxic world. You may have already heard that 200 chemicals are found in an infant's cord blood at birth, with over 180 that cause cancer, and over 200 that are toxic to the brain and nervous system. Pollution comes from everyday products and activities. You may already know or guess that products marketed as 'green' on health food store shelves are not as 'clean' as you might hope. This isn't new news; toxin awareness is now mainstream. We know we live in a corporate-protective society rather than a consumer-protective society, so it's up to us to vote with our dollar and make the safest choices possible to protect our families.
It may surprise you to learn the science behind the efficacy and safety of essential oil-infused products, and how SIMPLE it can be to green your home by adopting the Young Living lifestyle. Ditch the rubber gloves and join us for an afternoon of education and excitement, and learn how small changes can ADD UP to big results with Young Living Essential Oils, and how simple, economical, and enjoyable it can be to
#switchtosafer
for a healthier home. You'll also learn how to
#givethegiftofwellness
this holiday season with gorgeously packaged gift sets or simple, fun DIY recipes for a festive, homemade touch.
And there will be TONS of giveaways and a fantastic raffle with dozens of prizes; 100% of all proceeds from raffle tickets go directly to our charities Sole Hope, African Hearts, Project Uganda, the Maestral Orphanage in Croatia, feeding children in the slums of India, and sponsoring students at the YL Academy in Guyaquil, Ecuador.
• Essentially Savvy: The top 10 harmful ingredients that are being used in commercial cleaning, personal care, and nutrition products, and the science behind the safety and efficacy of essential oil-infused products
• Essentially Frugal: How to save money by
#SwitchingToSafer
household products you already use everyday
• Essentially Fit: How to enhance athletic training, performance, and recovery as well as promote healthy weight and energy and vitality
• Essentially Calm: Self-Care tips for the holidays
• Essentially Glam: tips to reduce chemical exposure and turbo-charge your skincare and whole-body beauty and cleansing regimen with essential oils and botanicals
o How the Seed to Seal process sets YL from all other companies
o How your household purchases can benefit humanitarian efforts and save children's lives in Ecuador, Croatia, Africa, and India
o How to earn 'green' while living green: how to share the YL mission of oils in every home in the world, while getting your products paid for, or earning part-or full-time income or more
This event is organized and taught by Young Living Independent Distributors. Young Living Corporate will be on site to handle product sales. This information is for educational purposes only and has not been evaluated by the FDA. They are not intended to diagnose, treat or prescribe. It is your responsibility to address your health needs with your physician and seek professional help when you need it.