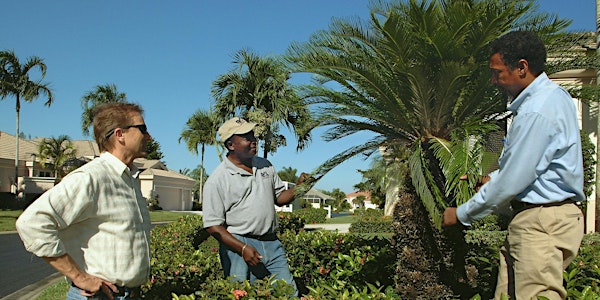 Green Industries Best Management Practices (GI-BMP) ENGLISH
Location
UF/IFAS Citrus Research and Education Center
700 Experiment Station Rd.
Ben Hill Griffin Jr. Citrus Hall
Lake Alfred, FL 33850
Refund policy
Contact the organizer to request a refund.
Eventbrite's fee is nonrefundable.
The GI-BMPs are a science-based educational program for lawn & landscape professionals. Pre-requisite for the fertilizer certification.
About this event
This training will be held in-person on Thursday, August 4, 2022, from 8:30 AM-4:00 PM at the UF/IFAS CREC Ben Hill Griffin Jr. Citrus Hall in Lake Alfred.
About this Event
This class provides the training and exam to obtain a Limited Certification for Urban Landscape Commercial Fertilizer (LCULCF) also known as the Fertilizer License.
Lunch will be provided.
What are the Green Industries Best Management Practices?
GI-BMPs teach environmentally safe landscaping practices that help conserve and protect Florida's ground and surface waters and natural resources. This science-based educational program for Green Industry professionals is brought to you by the UF/IFAS Florida-Friendly Landscaping™ program and the Florida Department of Environmental Protection.
Is the GI-BMP Training Mandatory?
YES! Florida law states that all commercial fertilizer applicators must have a certificate from the Florida Department of Agriculture and Consumer Services (FDACS) by January 1, 2014 (s. 482.1562, F.S.). To get this certificate, each commercial applicator must be trained in the GI-BMPs and receive a certificate of completion from UF/IFAS and FDEP. Local ordinances may require this certification sooner, or require that non-commercial applicators also be trained.
Who benefits from the GI-BMP Training?
Supervisors and employees in the lawn care, pest control, or landscape industries
Municipal parks and recreation facility supervisors and employees
Irrigation industry workers
Commercial property managers
City and county planning department staff
City and county environmental department or water quality staff
City and county commission staff
Builders and developers
Landscape designers and architects
Golf course employees
Anyone working in the areas of water quality, urban development, or environmental issues
CEU's available for Pesticide and/or Fertilizer Licenses (maximum of 4):
487 or 482 General Standards Core - 2
Commercial L & O - 2
Limited L & O - 2
Limited Urban Fertilizer - 2
O & T - 2
Limited Commercial Landscape Maintenance - 2
Private Applicator - 2
FNGLA- 6
For questions, contact Julie Schelb at 863-519-1068 or j.schelb@ufl.edu or Luis Rodriguez Rosado at 863-519-1049 or lrodriguezrosado@ufl.edu.
***Cancellation Policy***:
Programs, workshops, and events are subject to cancellation if a minimum number of attendees are not registered.
Cancellations will be posted on Eventbrite and an email will be sent to registrants.