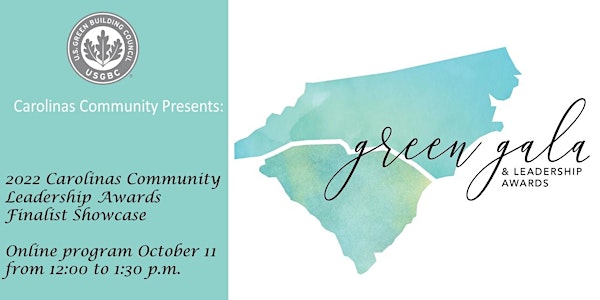 Green Gala Community Leadership LEED Project Finalist Showcase
Join USGBC Carolinas to Learn from our 2022 Community Leadership Project Finalists
Refund Policy
Contact the organizer to request a refund.
About this event
DESCRIPTION
Learn about our award finalists LEED projects before winners are announced at the Green Gala. Get more information and tickets at www.CarolinasGreenGala.com. This is a great way to inform your People's Choice Vote!
LEED Fellow award judges scored certified LEED projects based on:
How Project Scope and Goals demonstrate a sustainable leadership approach.
Strategies that push the envelope of sustainability, health & wellness, resilience and/or equity.
Project challenges resolved with an integrative process and innovative solutions.
Data shows the completed project performs at a high standard and measures ongoing performance.
Project demonstrates excellence and/or unique lessons learned within a specific location, market, sector or building use type.
LEARNING OBJECTIVES:
Beyond the project, understand the impacts the LEED and green strategies have on stakeholders.
Describe how was the integrative process was applied, and what was the greatest benefit gained.
Articulate the project teams motivations to pursue LEED certification and how it influenced the project.
Illustrate best practices employed through LEED building project examples.
SPEAKERS & PROJECTS: more project detail at www.CarolinasGreenGala.com
A. Elizabeth Nooe and Priscilla Williams- Raleigh Union Station
B. Laura Eubanks- Raleigh Law Enforcement Training Center
C. Kurissa Vialet-CMPD Independence Division Station
D. Elizabeth McMillan- Ally Charlotte Center
E. Michael Giovanni- Volvo Car University
F. Ryan Johnson – Fitts-Woolard NC State
G. John Majernik – Wake Tech Community College Bldg J
H. Steve Coe- Hilton Head Fire Station No.2
CONTINUING EDUCATION : 1 GBCI General CEU and 1 AIA LU/HSW
REGISTRATION DETAILS : Advance registration is required. Login instructions with the Zoom link will be emailed to registered attendees 1-2 days in advance of the session. You may also pose questions you'd like to discuss related to this topic in the registration! USGBC Big South is inviting you to a scheduled Zoom meeting.
Topic: USGBC Carolinas GG LEED Finalists Project Showcase
Time: Oct 11, 2022 11:30 AM Eastern Time (US and Canada)
Join Zoom Meeting
https://us06web.zoom.us/j/88085980945
Meeting ID: 880 8598 0945
QUESTIONS? Diane Coleman, dcoleman@usgbc.org
Ticket Refunds provided with 24 hour advance notice.