Green Experts Academy San Diego: Public Policy, Green Jobs and the Green Economy, 2012. January 31, 2012

Tuesday, January 31, 2012 from 5:30 PM to 9:00 PM (PST)
Event Details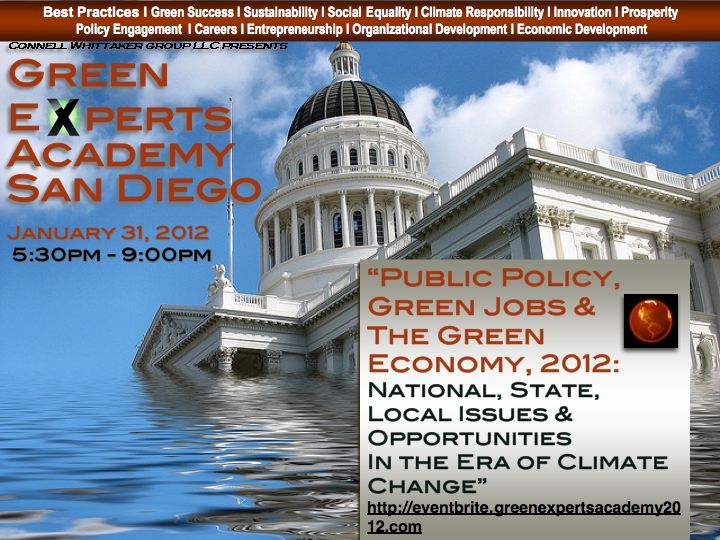 Register now, for advance discount: Green Experts Academy San Diego: Public Policy, Green Jobs and the Green Economy. Tuesday, January 31, 2012 from 5:30 PM to 9:00 PM (PT), San Diego, CA. $20 + $2.09 Eventbrite fee, in advance.  $25 at the door. Free appetizers, parking and proceedings. Registration/Full Agenda http://greenexpertsacademy2012.eventbrite.com 
Featured Presenters: Lane Sharman, Founder, Solana Energy, takes on the solar rate fee debate with a game-changing new organization. He speaks about "Is There a Business Case for a New "San Diego Energy District"? 
 Hon. Lori Saldana, co-sponsor of AB 32 in the California Assembly, is running for Congress. A sustainability expert by trade, Lori addresses "Perspectives on San Diego's Green Policy, Green Jobs and The Economy:  Lessons Learned In The State Assembly. Policy Prospects in Washington D.C... 2012 and Beyond" 
Mark Reynolds, Executive Director of the national Citizens Climate Lobby takes global warming on in Washington DC.  Mark will report on thier 2011/2012 visits to Congress, and discuss thier climate policy objectives, and impacts on the Green Economy and Green jobs in San Diego and Beyond. 
Kathleen Connell and the CWG Group LLC, Founder Green Experts Academy will lead a real-time policy "Greenstorm", and the results will be shared with the Office of the Mayor of San Diego, by special arrangement. 
Join us and grow your knowledge, career, network, business, organization, the Green community, and mitigate climate change!  

Location:

   Venue Sponsor, Cricket Communications, Inc. (Corporate Headquarters), 5887 Copley Drive, Training Room, 1st Floor, San Diego, 92111
 About The Event
The Green Economy is very integrated with public policy, and in many areas, is policy-driven.  Our stellar experts will give you breaking information about this arena, as we move into the election year and beyond. Gather timely information and valuable contacts as we grow our Green economy, together.  The time to get engaged is now, as destructive and disruptive climate change is moving at an ever faster pace.   Please join us.  Thank you. 
Discover, Engage and Transform! 
- Kathleen Connell and The Green Experts Academy, San Diego Team
 Thanks to our generous Venue Sponsor, Cricket Communications, and The Cricket Green Team. The event is being held in the new Cricket LEED-certified Headquarters. 

AGENDA
         5:30-6:00pm:   Sign In, Networking, Appetizers
               6:00-8:00pm
      Part I – Green Public Policy, Green Jobs and Economy Briefings from State, Local & Federal Leaders:
       National Outlook:  Mark Reyolds, Executive Director, Citizens Climate Lobby
      Dr. James Hansen, the renowned NASA climate scientist who first warned Congress of global warming, says of Citizens Climate Lobby: 
     "Most impressive is the work of the Citizens Climate Lobby, a relatively new, fastgrowing, nonpartisan, nonprofit group with 46 chapters across the United States and Canada. If you want to join the fight to save the planet, to save creation for your grandchildren, there is no more effective step you could take than becoming an active member of this group."
                             - Dr. James Hansen, head of Goddard Institute for Space Studies, NASA

 Citizens Climate Lobby will report on their 2011 visits to Congress, and discuss their climate policy objectives, and the impact on the Green Economy and Green    Jobs.  Founded in the San Diego region, CCL is a national group to watch on the climate policy front.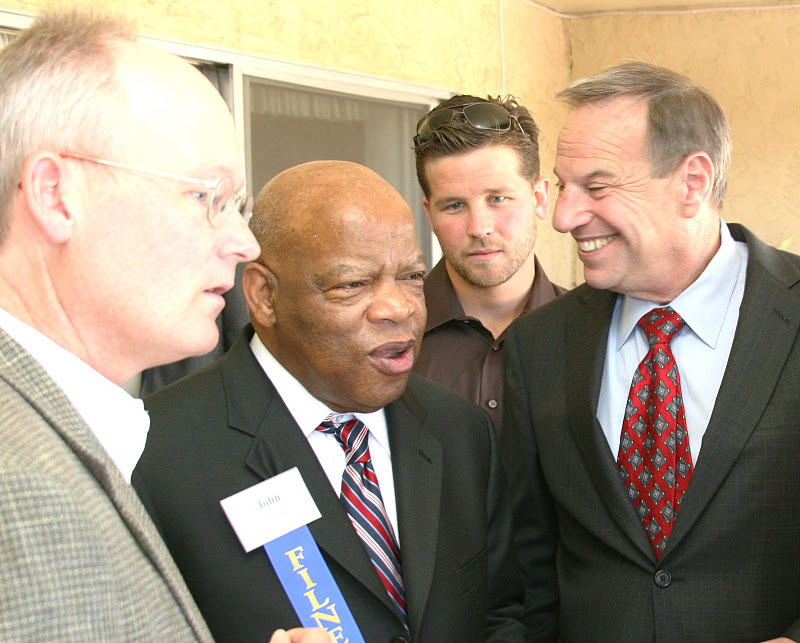 Mark Reynolds, left, Rep. John Lewis, Rep. Bob Filner
______________________________________
     State of California and Federal Policy Perspectives:  Honorable Lori Saldana, Former representative, California State Assembly District 76, College Professor, Water Quality Expert, Candidate for Congress in the  52nd District of the  San Diego Region.
    "Perspectives on San Diego's Green Policy, Green Jobs and The Economy:  Lessons Learned In The State Assembly & Policy Prospects in Washington D.C. in 2012 and Beyond"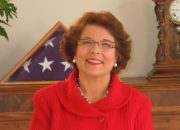 Lori's accomplishments in sustainability include:
      Lori co-authored California's Global Warming Solutions Act (AB32) to reduce  CO2 emissions. Her Million solar roofs initiative put thousands to work while improving the environment. She also authored AB 1103, creating thousands of jobs doing building retrofits for energy efficiency. 
      In addition, Professor Saldana Lori earned her BA and MA from San Diego State University. She became an Information Technology Professor and Dean of Service Learning at Mesa Community College, then an Environmental Policy Research Fellow at UCSD. Lori Chaired the Mayor's Wetlands Advisory Board, Chaired the San Diego Sierra Club, and was appointed by President Clinton to the Border Cooperation Commission. 
       Professor Saldana is currently a  candidate for Congress in the new   52nd District of the San Diego region. 
  
________________________________________________________
 Local Issues/Business Solutions: Lane Sharman, Founder, Biozoil International & Managing Partner, Solana Energy. Sharman founded Solana Energy to negotiate the development of solar farms throughout the Southwest and in 2009 Solar Energy became a local equity partner of the Solarpack Development Corporation headquartered in Madrid, Spain.
"Is There a Business Case for a New "San Diego Energy District"?  What are the Green Jobs and Economy Implications of this Proposal?"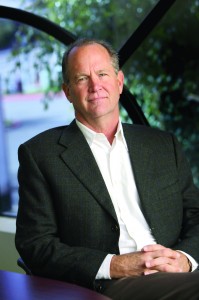 As a serial, social, renewable energy entrepreneur, Lane Sharman and his team believe that the proposed solar rate fee and other factors call for a new, innovative entity to aggregate, distribute and manage regional energy in San Diego.  Is this disruptive innovation that will change the energy playing field?  Hear Lane discuss his latest innovative concept, which is creating waves in the San Diego Green energy sector. 
_______________________________________________
8:00-9:00pm 

      Part II & III " Green Public Policy Strategies and "Greenstorm": Brainstorming Workshop
      Kathleen Connell, Principal, Connell Whittaker Group LLC, Sustainability expert,  Social Entrepreneur, former NASA Public Policy & Program executive/congressional advisor, former Policy Director, Aerospace States Association (Governors and Lt. Governors' group), Founder, Green Experts Academy. 
      Whether from the community or in the the highest reaches of NASA and  government, Kathleen has pursued and executed many successful policy-related initatives during her career. Kathleen is a public policy, strategy, business development, strategic communications & advocacy consultant and educator, in both the sustainability and space/aerospace industries, and a Principal of The Connell Whittaker Group, LLC.  She is known for being a thought-leader and innovator throughout her career with NASA and other government agencies at the local, state, and federal levels, non-profit organizations, and the private sector.  Her pioneering work in many cutting-edge research- and technology-based organizations has resulted in groundbreaking new programs and billions of dollars of revenue, economic development, grants, financing and benefits to society.
Her deep and long-standing expertise in sustainability policy, research and technology includes pathfinding-work in advanced ecological closed-loop life support systems, earth sciences, multi-disciplinary science and policy, remote sensing, bio-info-nano, renewable energy, agriculture, livable communities, model research parks, virtual organizations,  information societies as systems, and economic development.   She will share lessons learned from the trenches of constructive policy creation and strategy. 
    __________________________________________________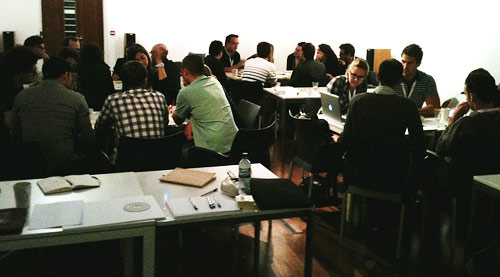 Kathleen and Green Experts Academy staff will facilitate a first: a discussion and brainstorm on public policies you would like to see implemented in the City of San Diego.  Producers have made special arrangements with the Mayor's Office staff to review the best ideas presented. 
      This is a rare opportunity to be heard directly on Green public policy by    decision makers. Bring your most innovative and feasible ideas, or work in a "Greenstorm" group at the workshop to suggest top level concepts or improvements to existing programs that you think would enhance sustainability.  In addition, working in small groups, you will get to know other attendees and grow your Green network, so bring lots of business cards.
      We will sign your name as a participant in the Greenstorm, with your permission, so gain visibility with the key staff in city government who will review our work.     
 ___________________________________________________
Refund policy: Due to event costs and very low ticket prices for a high-quality event, we cannot offer refunds.  However, we will send you any presentation materials made available to attendees. Thank you for your support of the Green Experts Academy.  Questions?  Contact us at the "contact the host" link on the Eventbrite Green Experts Academy event page for this event.  Thank you. 
Have questions about Green Experts Academy San Diego: Public Policy, Green Jobs and the Green Economy, 2012. January 31, 2012?
Contact Green Experts Academy
When & Where
5887 Copley Drive
Training Room, 1st Floor
San Diego, 92111


Tuesday, January 31, 2012 from 5:30 PM to 9:00 PM (PST)
Add to my calendar
Organizer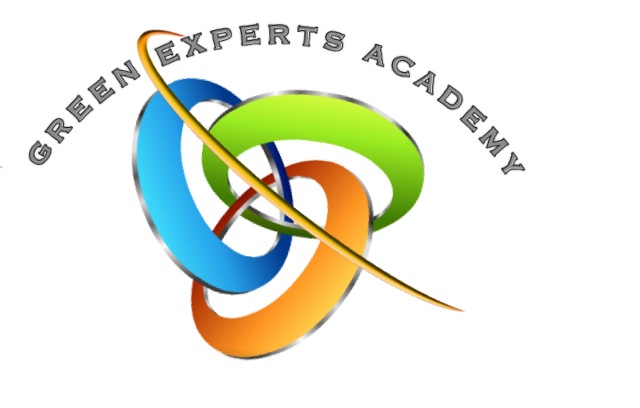 Building Green Jobs, Green Careers, A Green Economy and Green Public Policy. Discover, Engage and Transform with us.
Green Experts Academy provides empowering, cutting-edge seminars, forums workshops and products for the new Green citizen, expert, career seeker, entrepreneur, public official and anyone interested in the Green economy and Green public policy. Science demonstrates we must rapidly mitigate climate change. We are dedicated to building  sustainable prosperity shared by all. Led by Prof. Kathleen Connell, entrepreneur, sustainability expert, educator and advocate, with an extensive NASA background in science, technology and public policy. Kathleen is a Principal of The Connell Whittaker Group LLC.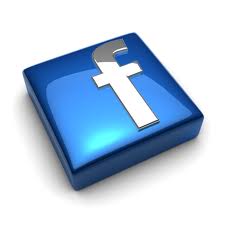 Please like us on Facebook, and get our updates. Thank you. 
http://facebook.com/GreenExpertsAcademy