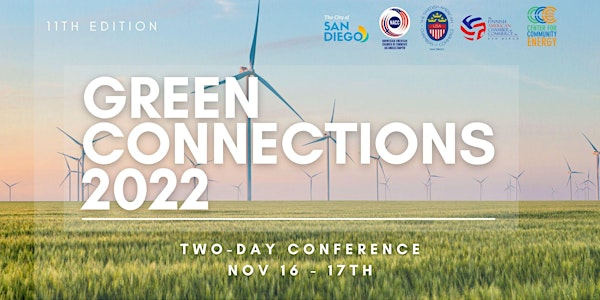 Green Connections 2022
Day 1 Energy Storage, Day 2 Emerging Innovation.
About this event
Green Connections invites visionaries, experts and decision makers from Southern California and the Nordic nations to exchange knowledge, ideas and technologies regarding renewable energy. This year Green Connections is arranged as a virtual conference November 16-17th.
​We are pleased to present to you the 11th annual Green Connections conference organized by the Swedish and Finnish Chambers of Commerce in San Diego (FACC) and in Strategic Partnership with the Norwegian Chamber of Commerce in LA (NACC) and Center for Community Energy.
DAY 1 ENERGY STORAGE
The higher demand for renewable energy has resulted in a bigger need for Energy Storage. Energy storage has an essential role in the transition to greener and cleaner energy. It reduces greenhouse gas emissions, increases grid reliability and reduces costs. Join us on the 16th of November at Green Connections to step up the efforts to address climate change.
DAY 2 EMERGING INNOVATION
Technology and innovation are an important part of the transition toward a more sustainable economy, we want to focus on Emerging Innovation during our second day of Green Connections. CleanTech Innovation and entrepreneurship is needed to transition from a fossil-fuel economy to a sustainable economy that is powered by renewable energy. The high demand for sustainable solutions has resulted in the growth of new jobs. We are seeing more and more scientists, technologists, and entrepreneurs going into the CleanTech industry to address these problems. Join us on November 17th to hear more about sustainable tech solutions!
VIEW OUR SPEAKERS BELOW