Green Building Speaker Series: Alternative Building Materials
CCGBC & Ventura College Arch Dept. presents monthly, virtual, hour-long presentations by professionals within the realm of green building.
About this event
The Central Coast Green Building Council (CCGBC), Ventura College Architecture Department, and AIA Santa Barbara are teaming up to present virtual, monthly, hour-long presentations by professionals within the realm of green building. Join us during this presentation from 6:00pm-7:00pm on June 30th, 2021, where CCGBC board member Amanda Martin-Behrendetsen of Renewal Revolution will be discussing alternative materials and their role within green building.
AIA Members: This event is PENDING 1 LU/HSW Unit if you attend for the full hour. When registering, sign up as an AIA Member & enter your member number.
Event Description: Showcasing that we have many options to build with intention. Options that reduce waste, lower carbon footprints, utilize clean energy in the built environment, maintain structural integrity for sustainable longevity, more economically sound, disaster-resilient; and introduce gentler quality materials and techniques that will benefit builders, occupants, and neighbors on microbial/endocrinological levels in both short and long term.
Points:
Deconstruction & Rendered Recycled Materials
Hemp, Bamboo, Cork, & Rendered Natural Grown Materials
Sod, Living Walls, Rammed Earth, & Rendered Materials from the Earth
Learning Objectives: Building with Intention
Environment Resilience
Disaster Mitigation
Durability and Sustainability
Health and Medical Benefits
Go to the CCGBC Calendar & Speaker Series Page to find our future events!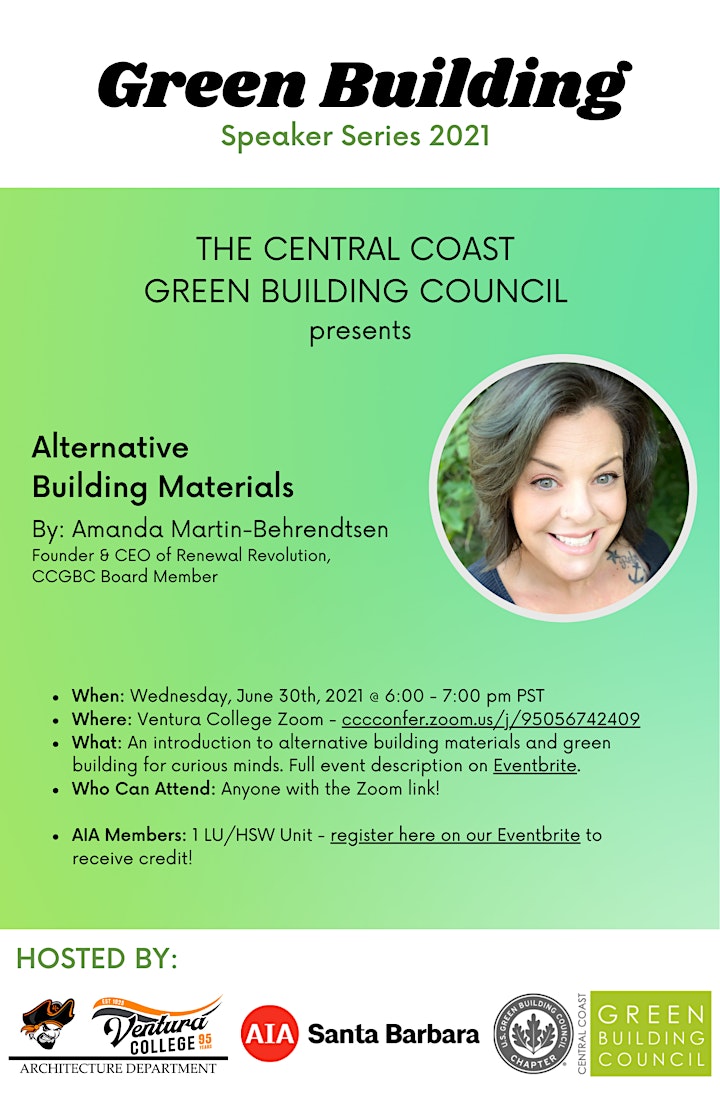 Organizer of Green Building Speaker Series: Alternative Building Materials