Description

GREEN AMBASSADORS INSTITUTE 2017-18 : How can K-12 teachers and students engage in local environmental policy in this time of national upheaval?
National politics got you down? We have good news. Real policy change is happening at the local level. Join us for concrete examples of statewide, county and city initiatives related to climate change, clean energy and water quality. Leave with inspiration, information and tools to help you and your students engage in meaningful, local policy change.



TUESDAY, NOVEMBER 21, 2017 - Let's Talk Politics. How Acting Local Can Lead to Big Change.
8:00am - 3:00pm, networking event to follow
Hear from environmental and political experts why local policy change should be our best friend. Get inspired by student-led projects that have influenced policy change and leave with ideas on how to get your students involved in meaningful and relevant action in your community.

FRIDAY, FEBRUARY 2, 2018 - Tools for Policy Change. Deep Dive For Engaging in Policy.
8:00am - 3:00pm, networking event to follow
The GAI 2017-18 Cohort will spend the day in a deep dive using tools for engaging in policy with students like:
"How to influence your local policymaker from your phone"
"Presenting Powerful Public Testimony"

SATURDAY, MAY 12, 2018 - Walking the Halls. Showcasing Youth-Led Policy Change.
9:00am - 3:00pm, networking event to follow
See how students and teachers took action on environmental issues across LA. Students, educators and community leaders from across Southern California will gather to share ideas and work with policy movers and shakers to take them to the next level.

APPLY FOR A MINIGRANT - Applications due December 10, 2017
Join a cohort of like-minded educators and receive support in visioning, planning, implementing and sharing an environmental action project with your students and community. Accepted applicants will receive $300 immigrant to help you implement your project as well as personalized coaching and tools to help you succeed in effecting change. Need ideas? See last year's projects here.
BACKGROUND
The Green Ambassadors Institute — the learning lab and professional development incubator of Environmental Charter Schools — invites K-12 educators, university partners, community leaders and policymakers to the first of three daylong summits that explore best practices in environmental education, service learning and urban sustainability.
Experience our living campuses, engage in collaborative curriculum planning, explore relevant environmental issues across Los Angeles and walk away with partnerships and tools to take back to your colleagues! Through collaborative workshops, curriculum and hands-on field trips, educators and community leaders from across Southern California will get support throughout the year to co-create youth-led environmental sustainability solutions. Read about last year's series.
WHO CAN ATTEND
The Green Ambassadors Institute is open to K-12 classroom teachers, out-of-the-classroom and outdoor educators, university and community college professors, pre-service teachers, instructional coaches, curriculum specialists, policymakers, business leaders, nonprofits, grassroots organizations, and school administrators. Sub costs will be reimbursed for K-12 classroom teachers. Participants are eligible for $300 minigrants to support an environmental service learning project with students.
LOCATION
Environmental Charter High School (unless otherwise noted)
16315 Grevillea Ave, Lawndale, CA 90260
QUESTIONS?
Contact Sammy Lyon sammy_lyon@ecsonline.org.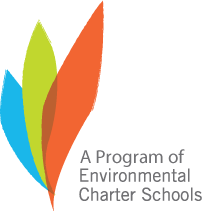 Green Ambassadors Institute is the learning lab of Environmental Charter Schools, offering professional development for educators and organizations looking to implement hands-on sustainable education.
FACILITATORS
Jessica Diaz

Environmental Charter High School

Environmental Science Teacher & Instructional Coach

Lindsey Jurca

Environmental Charter Schools

Strategy Consultant

Sammy Lyon

Environmental Charter Schools

Environmental Service Learning Coordinator

Betsy Rivera

Environmental Charter High School

Green Ambassadors Teacher