Greece: Mythical, Historical, Beautiful

Friday, September 18, 2009 at 6:00 PM

-

Sunday, September 27, 2009 at 4:00 PM (EDT)
Event Details
Greece: Mythical, Historical, Beautiful
September 18 to 27, 2009
---
A Greek Island Adventure to Santorini and Mykonos
And the Acropolis in Athens
Ahhh, the Greek islands. So many to choose from, so little time.
Combining Mykonos and Santorini, extravagant island exploration.
Add Athens and the Acropolis, the symbol of western civilization.
Inviting you to an awesome Greek adventure:
* Round trip flights NYC - Athens included !!
* 3 nights Santorini
* 3 nights Mykonos
* 2 nights Athens
* All transfers
* Breakfast daily
* Flights and ferries between Athens and the Greek Islands
* Host services in Athens & the Islands
Booking Details / Pricing:
$1,995 - make deposit by May 15:
$2,095 - make deposit by June 15:
$2,195 - make deposit by July 15:
$2,295 - make deposit by August 15:

- Deposit / downpayment: only $500 to hold your spot:
- This trip sells out EVERY year !!
- Land only price starts at $1,195 (limited offer)
Questions / RSVP: igorbass@dynamicoutdoors.com
Pictures of Greece 2006: http://dynamicoutdoors.com/gallery/v/international/album102/
The Itinerary:
Friday, September 18
New York, JFK - Depart for Athens, Greece: Flight at 4.30 pm
Saturday, September 19
Arrive in Athens and transfer/connect to your flight for Santorini: 1.15 pm
Upon arrival, transfer to your hotel. Enjoy dinner and nightlife in beautiful town of Thira (Fira).
Sunday, September 20 - The Island of Santorini
Discover Plato's lost city of Atlantis in Thira...
Full day exploring the island and it's beaches and shore lines.
Take the local bus to Kamari, a black pebble beach.
Perissa Beach is also popular, a black sand beach with cute tavernas.
Akrotiri - the Red Beach - just a short hike from the bus stop.
Optional water sports and activities available on all beaches.
(Snorkel, Swim, Surf, Hike, etc...)
Monday, September 21 - The Island of Santorini
Start the day with a cruise around the breathtaking Island of Santorini.
Board the motorized sailing boat "Pegasus" and sail to the island of Nea Kameni.
Hike up to the still active volcano for a view of the Caldera.
The cruise will then continue to the island of Palea Kameni, your opportunity to swim
in the warm waters of the bay.
Continue to the island of Therasia, where you may choose to ride a mule to the village of Manolas.
Later, Return to the port of Athinios in Santorini, passing by the beautiful cliffs of Oia.
Watch the sun set over Oia as the city lights illuminate...
Concluding the day with a traditional Greek dinner.
Tuesday, September 22 - A day at sea, on way to The Island of Mykonos
Transfer to the port for your ferry to Mykonos.
Arrival and transfer to your hotel.
Spend the remainder of the day exploring the island and town.
Immerse yourself in the Mediterranean feel of the pirate town of Mykonos.
Wednesday, September 23 The Island of Mykonos
After breakfast, take a water-taxi ride to The Beaches.
First stop the infamous and somewhat scandalous Paradise Beach.
Then jump back on the boat further east to Super Paradise Beach.
Diving Option: Get off at resort Psarou Beach and go for a dive.
Other water activities: water skiing, windsurfing and jet skis (all for rent).
** Diving and snorkeling options on Mykonos **
Thursday, September 24 - The Island of Mykonos
Travel back in time: Half day hike, exploring the ruins of the ancient town of Delos.
Sail from Mykonos to the island of Delos, which was once the religious center of the Aegean and Cyclades.
Visit the Sacred Harbor, and the regal Sacred Way, flanked by stone lions leading to the temples dedicated
to Apollo and Artemis.
Visit the museum housing archaeological artifacts found on the island.
Remainder of the day at leisure - shopping/exploring - back in town.
Friday, September 25 - On way to Athens
Transfer to port. Boat ride to the port city of Piraeus.
Transfer from Piraeus to Athens.
Arrive and transfer to your hotel.
Remainder of day at leisure, visit downtown, "investigate" the city.
In the evening, enjoy dinner in a typical Greek taverna in Plaka, under the Acropolis.
Saturday, September 26 - Athens
After breakfast, take a morning hike to the top of the Acropolis.
Trek through the city and visit its museums, Panathenian Stadium, Temple of Zeus,
and the Tomb of the Unknown Soldier.
Shop the old market place and end the day with a farewell party in the evening.
Sunday, September 27 - Athens
After breakfast, transfer to the airport for our departure flight to New York at 11.10 am
Arrives NYC / JFK 2.55 pm
Questions / RSVP: igorbass@dynamicoutdoors.com
---
Flight Itinerary: Flying with Olympic Airlines
Direct/ Non-Stop to Athens (advantage: no layover in Europe)

Departure: Friday, Sep 18 - JFK 4.30 pm Arriving Athens: 9.00 am
Connecting: Saturday, Sep 19; Athens 12.25 pm Arriving: 1.15 pm in Santorini !!!

Return: Sunday, Sep 27: depart Athens 11.10 am - Arriving JFK 2.55 pm
* * *
FLIGHT ITINERARY:
OA412/18SEP JFKATH HK26 1630-0900
OA552/19SEP ATHJTR HK26 1225-1315
SURFACE
OA411/27SEP ATHJFK HK26 1110-1455
* * *
---
Information/ Pictures of our Hotels:
Our hotel for 3 nights in Santorini (or very similar):

Our hotel for 3 nights in Mykonos (or very similar):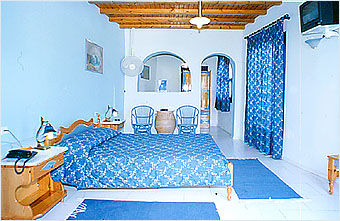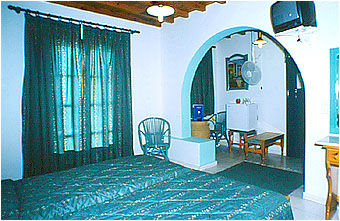 Mykonos/ Hotel Facilities:
Restaurant, Bar, 24 hour Front Desk, Terrace, Non Smoking Rooms, Continental Breakfast,
Soundproof-rooms, Design Hotel, Luggage storage, Shops at hotel.
Activities: Swimming pool, Fishing, Windsurfing, Walking, Diving, Snorkeling
Services: Room-service, Meeting/Banquet Facilities, Business Centre, Laundry, Dry Cleaning, Viproom facilities,
Internet services, Currency exchange, Souvenirs/GiftShop, Tour desk, Fax/photo-copy, Ticket service
Location: Beach, Country-side, Panoramic view, Harbour.
Room Facilities: Mini-bar, Shower, Safe Deposit Box, Pay-TV, TV, Telephone, Airconditioning, Balcony, Radio,
Working desk, Fan, Satellite TV.

---
Cancellation Policy:
If you cancel 45 days or more prior to the day of travel, $450 cancellation fee applies
If you cancel within 45 days prior to the trip, $995 cancellation fee applies
If you cancel within 10 days of trip, no refund, sorry
(Please look into travel insurance for possible coverage in case of emergency: www.Travelex.com)
***
When & Where

Athens & the Islands


Greece


Friday, September 18, 2009 at 6:00 PM

-

Sunday, September 27, 2009 at 4:00 PM (EDT)
Add to my calendar
Organizer
We are an energetic and friendly club dedicated to offering the best outdoor adventures. All of our events are designed to ensure that everyone is involved and has a great time. Whether it is hiking in a lush forest, canoeing down a crystal clear river or galloping on horseback along the sandy beaches, we offer a personalized approach so that you gain the most out of each trip. Our goal is to provide a simple, convenient way to escape the concrete jungle for a day of fresh air, fantastic views and memorable interaction with other like minded individuals who share a passion for the outdoors.