Greater Washington Black Chamber of Commerce Launch Celebration and Awards...
Description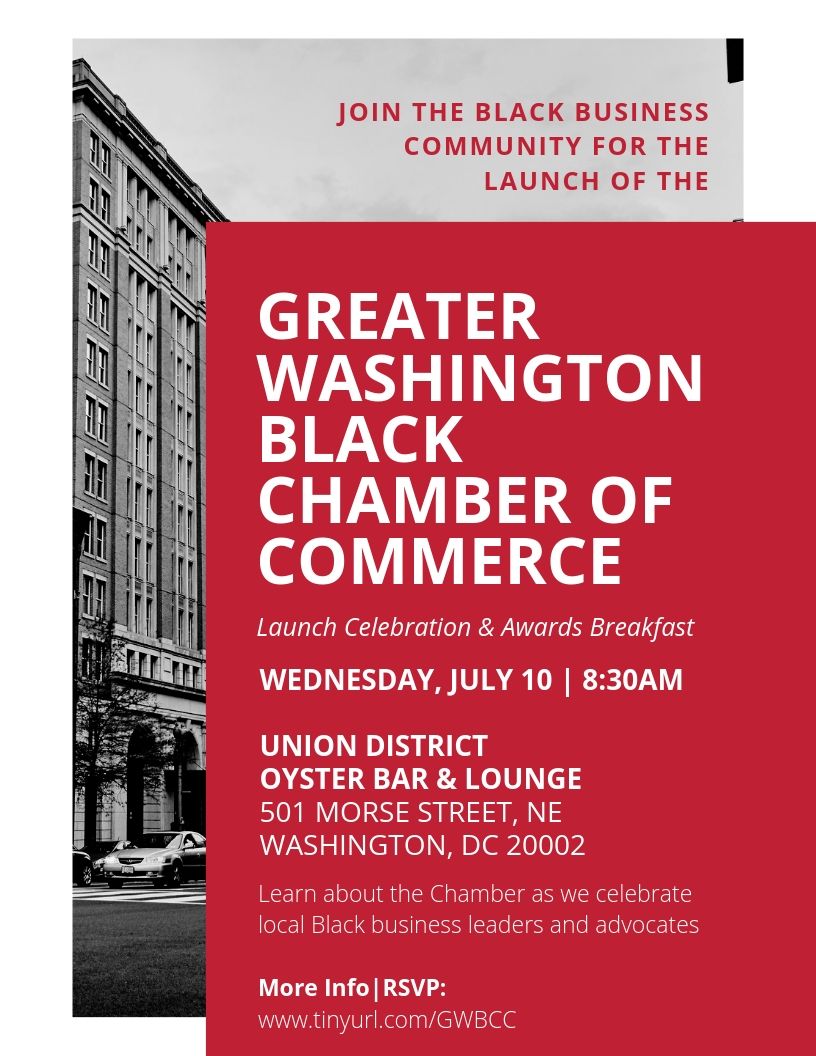 Join us for the "Launch Celebration and Awards Breakfast" of the Greater Washington Black Chamber of Commerce (GWBCC) on Wednesday, July 10th, 8:30 AM. This event is expected to attract more than 100 black business owners to support the establishment of the GWBCC.

The GWBCC's goal is to become the leading voice for black business and, more importantly, to ensure that black owners are afforded the revenue-generating opportunities needed to continue to grow their respective businesses and create jobs.

Specifically, the Chamber's strategic goals are to:
• Increase black-owned business revenue in the District of Columbia
• Encourage growth in the number of black-owned businesses in the District of Columbia
• Promote greater black-owned business participation in local and federal government contracting
• Represent black-owned businesses in an ethical and transparent manner
• Advocate on behalf of the common business interests of our membership
• Recruit the largest professional membership of black-owned businesses
• Track, Monitor and Disseminate data related to black-owned businesses
• Facilitate access to capital and bonding for black-owned business in the District of Columbia

We welcome your voice, presence, and actions towards this mission.

We hope that you are available to attend. The event will be held on July 10th at Union District Oyster Bar & Lounge (501 Morse Street, NE), a local, black-owned restaurant. The event begins at 8:30 AM and ends at 11: 00 AM.
Warmest regards-

Board Members of the Greater Washington Black Chamber of Commerce
PURPOSE
The Greater Washington Black Chamber of Commerce – Supporting the need for economic development in the black community through education, enterprise, and entrepreneurship.

ABOUT
The Greater Washington Black Chamber of Commerce, Inc. ("GWBCC") was founded by successful business owners Antwanye E. Ford (Enlightened, Inc.), Aimee D. Griffin, Esq. (The Griffin Firm, PLLC) and B. Doyle Mitchell, Jr. (Industrial Bank). The Chamber is committed to promoting black business growth in the District of Columbia by providing resources through advocacy, education and the facilitation of networking opportunities. Our vision is to be a conduit for all interests as the leading organization and market empowering black businesses for success.

Through membership, the Chamber invites individuals, churches, government organizations and other business entities whose commitment to the advancement and economic development in the Greater District of Columbia region is paramount. Through the collaborative efforts of our members working together, the GWBCC will create strength of unity in its resources and purpose