Description
Christ United is expanding the Greater Unity Program to include a monthly breakfast series. The purpose of this series is to gather the Plano and Collin County community, break bread together, and build relationships based on mutual understanding, trust, and respect for each other.
Once a month, speakers will engage the audience in a meaningful and informative presentation and discussion about unity. Topics might include interfaith understanding, poverty in Collin County, community race relations, homelessness in Collin County, and others.
On November 17, our speaker, Randy Mayeux, will share a review and discussion about the book and movie, 'Same Kind of Different as Me.' Participants are encouraged to see the movie before the breakfast so that discussion is meaningful, productive, and inspiring.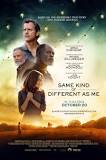 Breakfast will begin at 6:45 AM in Trinity Hall at Christ United, and the program will start at 7 AM. Randy will speak for about 45 minutes, followed by a short question and answer discussion at each table. Participants who need to leave for work can do so during the break; those who would like to stay and brainstorm ideas to address issues identified are welcome to stay until 9 AM.
Cost for breakfast is $5.
For more information, contact Cathy Sweeney at cathy@cumc.com.