Greater Newark Mini Maker Faire 2017

Saturday, May 6, 2017 from 10:00 AM to 5:00 PM (EDT)
Event Details
FAQs:
What day(s) and hour(s) will the Greater Newark Mini Maker Faire be open to the public?
Gates open at 10:00AM and the event ends at 5:00PM.
Why are tickets so much cheaper for Museum Members?
Great Question! A membership to the Newark Museum has many benefits, including great deals for our events. Membership is FREE for Newark Residents and just a modest investment for everyone else.
Learn more and become a member here.
Where can I park?
Attended on-site parking, provided by S&P Parking, an independent operator, is available (for a nominal fee) in the Museum parking lot. The entrance is located at Washington Street.
*Subject to availability. Additional parking for special events is available in the 33 Washington Street Parking Lot (University Ave. and James St.) or the Edison Parking Lots (Central Ave. between Washington and Broad St.)
NOTE: Visitors may be required to leave their car keys with the Parking Attendants. 
Where is the handicap parking located?
Designated spaces are available in the parking lot close to the entrance for visitors with disabilities.
Is public transportation available?
Of course! The Newark Museum is just 3 blocks south of Broad Street Station with NJ Transit service for the Gladstone branch, the Morris & Essex Line, and Montclair-Boonton Line. We are also just across Washington Park from the Newark Light Rail with connections to Broad Street and Penn Stations. Newark Penn Station serves NJ Transit's Northeast Corridor Line, the North Jersey Coast Line, and the Raritan Line as well as PATH train, and Amtrak's regional trains.    
Will you have bike parking?
We would love it if you rode your bike! Because of that, the Museum has a bike rack.
Can I bring my dog?
For the safety and well-being of our pets and guests, please leave pets at home. There may be loud noises, moving parts, fire, and large crowds, all of with may be harmful to pets. We do not allow pets inside of the Museum. Service dogs only.
What if it rains?
The show will go on! Bring rain gear to keep you dry when walking outdoors. Fortunately, we will have many indoor exhibits plus over 80 galleries to keep you, your friends, and family dry.
Will the Museum's exhibits be open?
Yes, in addition to the Maker Faire activities, admission also includes access to the Museum's permanent collections and exhibits. Pleae note that an additional fee is required for Planetarium shows. Planetarium tickets can be purchased on-site the day of the event on a first-come basis.
What can I expect?
To have a fantastic time! You'll be surprised, inspired, and intrigued with around every corner.
Ticket Use Release of Liability
This contract limits the liability of Maker Media, Inc. ("MM"), Newark Museum Association ("NMA"), and their affiliates. You acknowledge that Maker Faire exhibits and activities are inherently hazardous, and that risks to you as a Maker Faire attendee include physical injury and property damage. You are solely responsible for supervising/controlling the behavior of the children in your party for your/their safety. By using this ticket and/or participating in Maker Faire exhibits and/or activities, you assume all risks to you and/or your children of such, including damage, loss, harm, injury and death to your person(s) and all risks resulting from negligent instruction or supervision, and you release MM and NMA from all corresponding liability to you and your successors. Your rights are waived to any images and/or recordings you may appear in while at Maker Faire and any/all related promotional or documentary materials.
Rain or Shine. No Refunds/Exchanges. Tickets cannot be replaced.
 
The Greater Newark Mini Maker Faire is independently organized and operated under license from Maker Media, Inc.  
I understand that by registering here,  Maker Media may provide me with updates and information about Maker Faires, other events, and products of interest to the maker community.  I understand that I may opt out of these communications at any time.
When & Where

Newark Museum
49 Washington St
Newark, NJ 07102


Saturday, May 6, 2017 from 10:00 AM to 5:00 PM (EDT)
Add to my calendar
Organizer
About Greater Newark Maker Faire:
About Maker Faire:
Maker Faire is the Greatest Show (and Tell) on Earth—a family-friendly showcase of invention, creativity and resourcefulness, and a celebration of the Maker Movement. It's a place where people show what they are making, and share what they are learning.
Makers range from tech enthusiasts to crafters to homesteaders to scientists to garage tinkerers. They are of all ages and backgrounds. The aim of Maker Faire is to entertain, inform, connect and grow this community.

The original Maker Faire event was held in San Mateo, CA and in 2015 celebrated its tenth annual show with some 1100+ makers and 145,000 people in attendance. World Maker Faire New York, the other flagship event, has grown in four years to 600+ makers and 80,000 attendees. Detroit, Kansas City, Atlanta, Milwaukee, Orlando, Pittsburgh, San Diego, Silver Spring, Ottawa, Lisbon, Paris, Rome, Berlin, Newcastle, Hannover, Oslo, Trondheim, Seoul, Singapore, Taipei, Tokyo, and Shenzhen are the home of larger-scale, "featured" Maker Faires. In addition, over 120 community-driven, independently organized Mini Maker Faires are now being produced around the United States and the world—including right here in Greater Newark.
Maker Faire is supported by Make: magazine and Maker Media.
About Make: Magazine: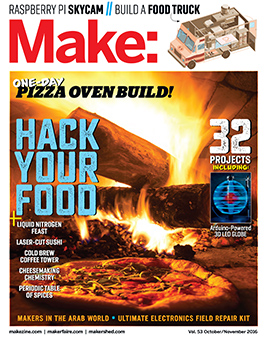 Make: is the first magazine devoted entirely to Do-It-Yourself (DIY) technology projects.
Make: unites, inspires, informs, and entertains a growing community of resourceful people who undertake amazing projects in their backyards, basements, and garages. Make: celebrates your right to tweak, hack, and bend any technology to your will.
Besides the magazine and the faire, Make: and Maker Media is: