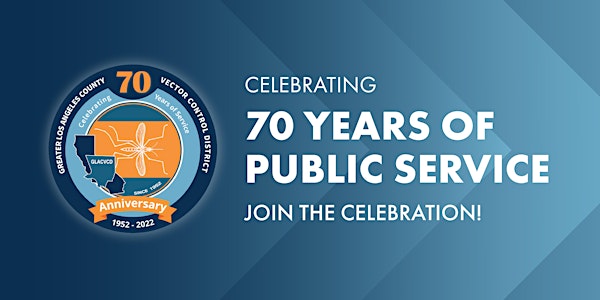 Greater LA County Vector Control District's 70th Anniversary Celebration
Location
South Gate Park
4900 Southern Ave
South Gate, CA 90280
Celebrating the District's 70th Anniversary of public service and commemorating its first facility in the city of South Gate in 1952.
About this event
Please join us for the District's 70th Anniversary Celebration on Saturday, August 20th from 9am to 11am at South Gate Park, area 1-4. There will be special guests, food, music, giveaways, and much more!
Event registration is not required, but highly recommended.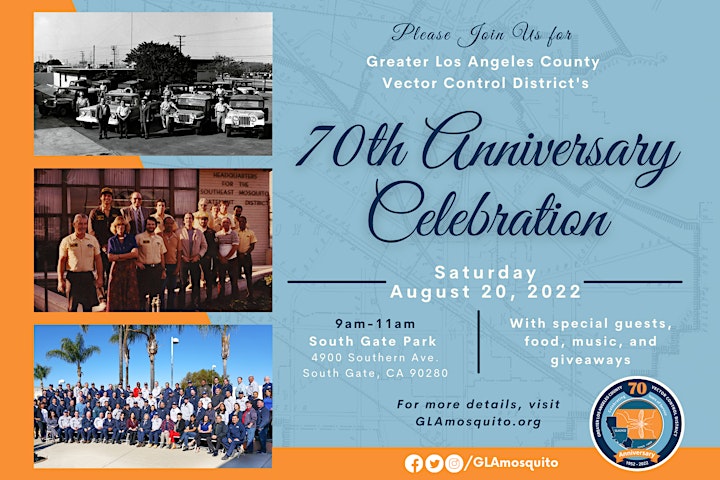 February 25th, 2022 marked the 70th anniversary of the Greater Los Angeles County Vector Control District, the largest mosquito and vector control district in Los Angeles County. For seven decades, the District has provided essential public health services by protecting cities and communities from mosquito-borne diseases through surveillance, mosquito control, and public education to the six million residents within its jurisdiction.
For more information, please contact the District at 562-944-9656, or online at www.GLAmosquito.org.