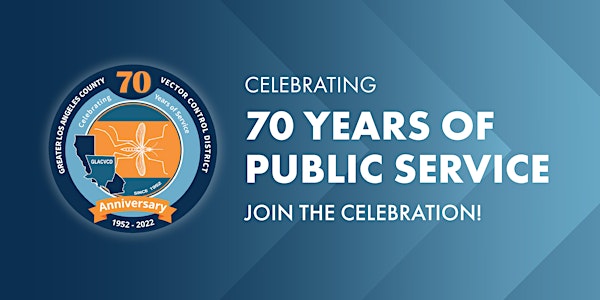 Greater LA County Vector Control District's 70th Anniversary Celebration
Event Information
Location
Greater Los Angeles County Vector Control District Headquarters
12545 Florence Avenue
Santa Fe Springs, CA 90670
To honor its 70 years of public service, the Greater LA County Vector Control District invites the public to their anniversary celebration.
About this event
Please join us for the District's 70th Anniversary Celebration on Saturday, April 16th from 10am to 2pm at its Santa Fe Springs headquarters. There will be special guests, food, music, giveaways, and much more!
Event registration is not required, but highly recommended. When you register, you will automatically be entered into our raffle.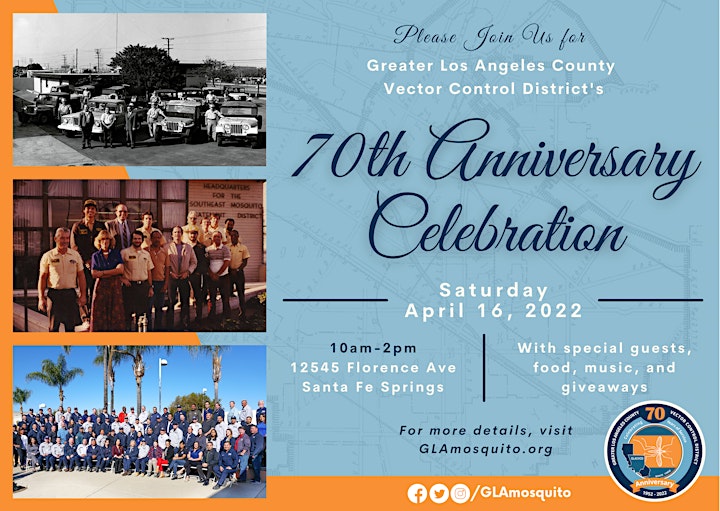 February 25th, 2022 marked the 70th anniversary of the Greater Los Angeles County Vector Control District, the largest mosquito and vector control district in Los Angeles County. For seven decades, the District has provided essential public health services by protecting cities and communities from mosquito-borne diseases through surveillance, mosquito control, and public education to the six million residents within its jurisdiction.
For more information, please contact the District at 562-944-9656, or online at www.GLAmosquito.org.
Date and time
Location
Greater Los Angeles County Vector Control District Headquarters
12545 Florence Avenue
Santa Fe Springs, CA 90670