Greater Danbury Career Fair 2019

Thursday, June 27, 2019 from 5:00 PM to 9:00 PM (EDT)
Event Details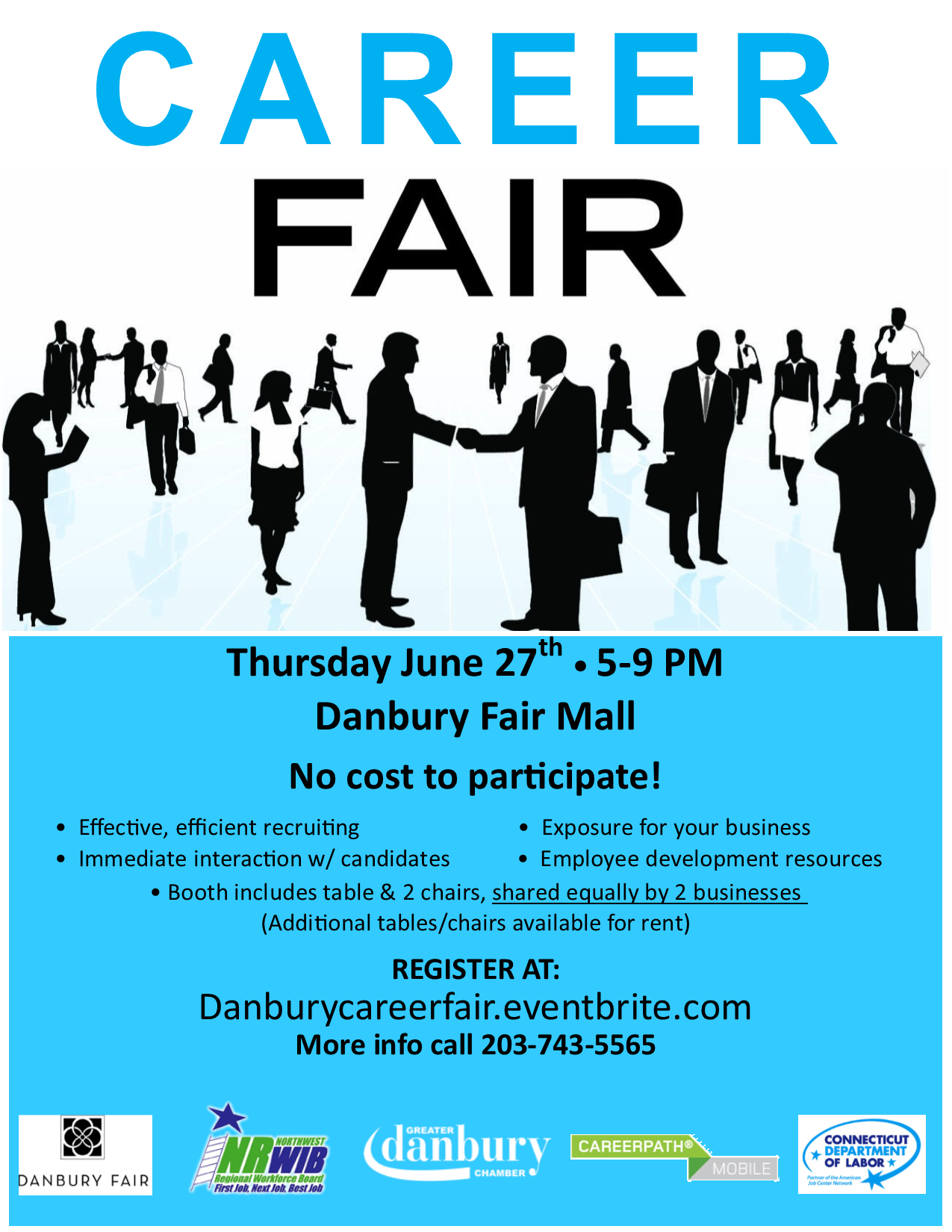 The Greater Danbury Chamber of Commerce, in collaboration with the Northwest Regional Workforce Investment Board (NRWIB), CareerPath Mobile, and the Danbury Fair Mall invite your company to participate in the Greater Danbury Career Fair 2019.
Current list of Employers Attending:
ABC Supply                                           Kay Jewelers
Adam Broderick Salon & Spa                Kitchen Magic
All Pointe Care                                      Leonardo DRS
All Star Transportation                           Lesser Evil
American Job Center/CRI                     Living Innovations
Arthur Murray Dance Studio                  Macy's
Avon                                                      Maplewood Senior Living
Bankers Life                                          Mary Kay Cosmetics
Barnum Financial Group                       MCCA
Belimo Americas                                   McIntyre Group
Brooks Brothers                                    Memry Corporation
CareerPath Mobile                                Microsoft
Cartus                                                   Nations Changers
Chick-fil-A                                             Nesco Resource
Comcast                                               New York Life
Companions & Homemakers, Inc.        Norbert E. Mitchell Co., Inc.
CP Unlimited                                        Northwestern Mutual
CT Army National Guard                      Norwalk Police Dept.
CT Dept. of Labor                                 Primamerica
CT Nursing Services                            Professional Nursing Service
CT Nursing Services                            Prospector Theater
Easterseals Regional                           YMCA of Western CT
Edward Jones                                      Schaeffler Aerospace USA Corp
Emerest Health of Connecticut            ScribeAmerica
EPICS Career Finder                           Spectrum
ESS (Educational Staffing Solution)     Stanley Engineered Fastening
Express Employment Professionals     The Rizzo Companies
GDCC                                                   The Workplace Platform to Employment
Girl Scouts of CT                                  Townsquare Media
GNC                                                      U.S. Army
Goodwill of Western & Northern CT      US Census Bureau
Hamilton Connections                           US Navy
Home Care Advantage US Navy          Victoria's Secret
Home Depot Victoria's Secret               Visiting Angels
Home Instead Senior Care                   Webutekk
Insite Street Media Webutekk               Weeks Auto Group
Integrated Deicing Services                  Westchester Publishing
ITech Consulting Partners, LLC 
Kanthal
There is no cost to participate so, why not take advantage of this opportunity!
For Employers:
       •  Effective, efficient, inexpensive recruiting
·    •  Face-to-face immediate interaction with candidates
·    •  Visibility/exposure for your business

•  Access to available employee development resources
For Job Candidates:
•  Resume preparation
·    •  Interview skills
·    •  Headshot photos for LinkedIn, etc.
•  Dress for Success  
·    •  CareerPath presentation  
·    •  Access to employers and resources
Booth Cost: Complimentary
• Booth consists of one skirted table and one chair

• Additional tables/chairs, etc. available through Convention Enterprises. 
**CONTACT THE CHAMBER FOR AN ORDER FORM**
• Listing in "Companies Participating"
**MUST BE SET UP BY 4:30PM
Save This Event
When & Where

Danbury Fair Mall
7 Backus Avenue
Danbury, CT 06810


Thursday, June 27, 2019 from 5:00 PM to 9:00 PM (EDT)
Add to my calendar