Greater Bangor Real Estate, Housing & Land Use Conference - Program Ads

Thursday, October 31, 2013 at 8:00 AM

-

Friday, November 1, 2013 at 2:30 PM (EDT)
Event Details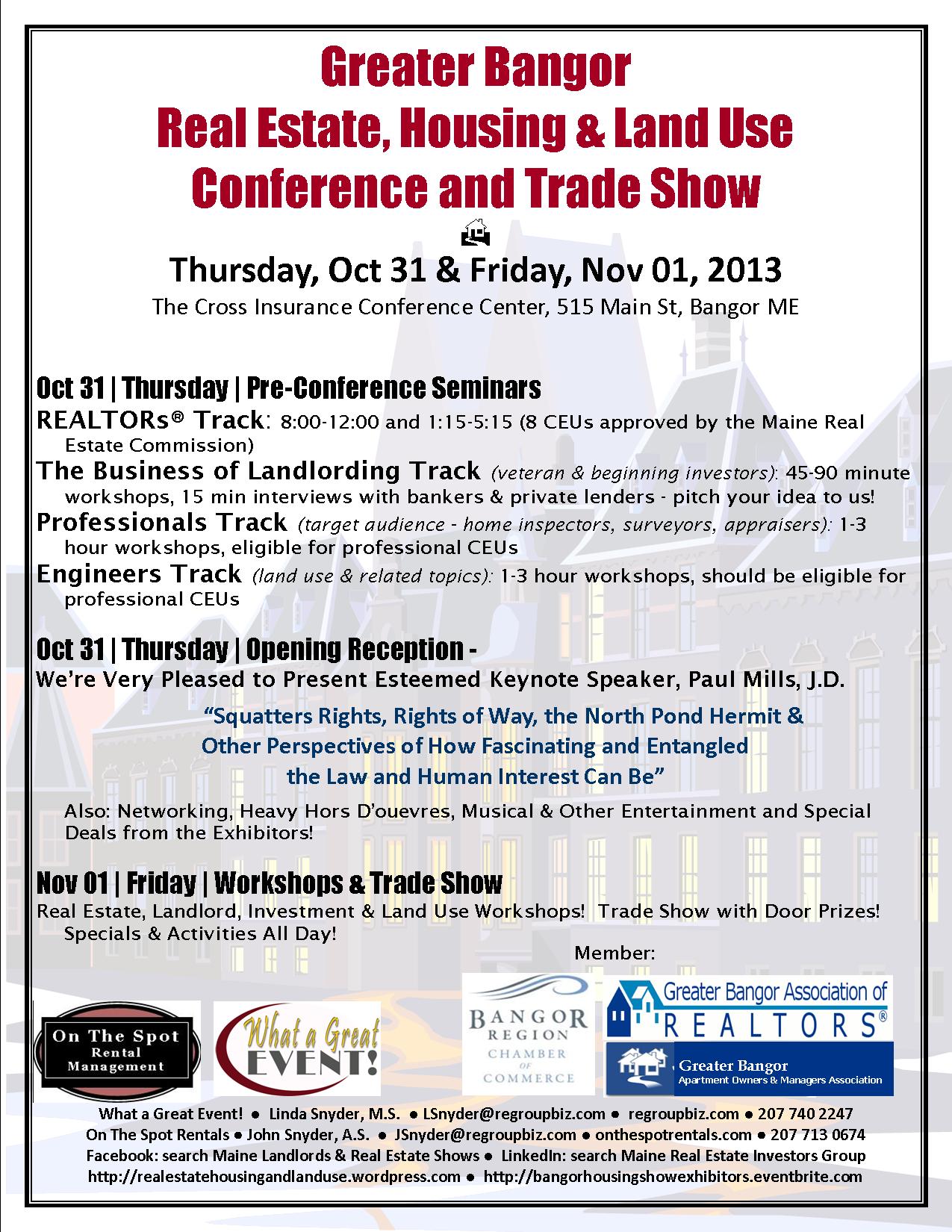 When & Where

Cross Insurance Conference Center
515 Main St
Bangor, ME 04401


Thursday, October 31, 2013 at 8:00 AM

-

Friday, November 1, 2013 at 2:30 PM (EDT)
Add to my calendar
Organizer
What a Great Event! designs, develops, organizes and produces our own events and those for our clients.  
Our primary areas of interest are
real estate, 

engineering, 

animal & pet, 

romance & relationships, 

small business and 

social services related events, 
but for the right consideration, we would tackle any task within our expertise.
Have an idea for a show?  Does your organization need someone to handle project management and/or event planning?  Let's talk!  
What a Great Event! is a division of R H Enterprises, Inc. which provides small business marketing, consulting and back office operations services.  R H Enterprises, Inc, is owned by Linda Snyder, M.S.
 ~ ~ ~ ~ ~ ~
Linda Snyder, M.S.
President, R H Enterprises, Inc.
a project management, marketing & events firm
… divisions …
ReGroup! Business Solutions  ●  What a Great Event!
All initial consults at no cost. 

On her mother's side, Linda Snyder is the 7th generation of her family to live in Maine, and the 5th on her father's side.  Originally from Oxford County, Linda is a Maine girl through and through.  She grew up on a small farm with vegetable gardens, hayfields and all the assorted farm animals, and learned the value of hard work as a child.

Over the years, Linda has had a great, challenging career that's spanned earning her undergraduate degree in Psychology (with Education & Sociology minors), a Master's degree in Administration of Adult Education Programs, and working as a trainer & educator, a mental health policy consultant for the state, housing developer & grant-writer for a non-profit, a REALTOR®, a radio & social media marketing administrator, and as the CEO of an $8.7M company.
Linda has owned a Maine-made products gift store, an espresso café and was once a member of a farmer's market cooperative, selling vegetables & baked goods to the public.  She has also been a real estate investor/developer, at one point owning 50,000 square feet of commercial office space and over 2 dozen residential units, as well as a property management company.
Linda has won several awards for business development and for three decades has been active as a community, municipal and state government volunteer. She served on the board of the Androscoggin Chamber for 6 years and the Bridgton Chamber for two, was President of the Auburn Business Association for two years, and has served on the boards of LA Arts, the Lewiston Downtown Advisory Board, and the Mayors' Joint Services Commission (appointed by the two mayors of Lewiston-Auburn to explore collaboration/consolidation between the cities), among many others.
In May of 2009 Linda was appointed by then-Governor John Baldacci to the Maine Regulatory Fairness Board, which was charged by the Legislature with listening to citizen complaints about unfair and aggressive tactics by state regulatory agencies.  She served as Vice Chair of that board until it was disbanded by the current administration.  In 2010 Linda joined the City of Auburn's Citizen Advisory Board; she was appointed to the City of Auburn's Ethics Panel on April 1st, 2013.
Now married to her 7th grade sweetheart, Linda and husband John live in Auburn with their wire-haired dachshund Buddy (Mr. Budro), knuckleheaded little thief & terrier mix Rudi Roo, Miss Millie Mouse, a rescue from Georgia, and an assortment of foster dogs for two animal rescue groups.  Between them, John and Linda have 4 adult children, of whom they are very proud.
In their spare time, Linda & John are pursuing a new venture: the non-profit "AARF - Animal Activist & Resource Fund" which will match funds to small rescues & animal shelters with emergency needs, and provide a legislative voice for animals.
Whether she's acting as your organizational consultant or as your event   planner, Linda brings a lifetime of intensive business experience, as well as enthusiasm, a detail-oriented style and a genuine interest in her clients.