Greater Bangor Real Estate, Housing & Land Use Conference - Attendees

Thursday, October 31, 2013 at 8:00 AM

-

Friday, November 1, 2013 at 2:30 PM (EDT)
Event Details
10/28/2013.  :(  The email "blackout" described below really hit us below the belt and as a result we've scaled back the conference to concentrate on ONE area - Thursday's "Environmental Awareness" seminars, which will provide 8 CEUs for REALTORs.
Here's the schedule: 
If you're in the real estate, housing/landlord or land use engineering field - or if you provide products or services to professionals working in any of those jobs - this two day conference will offer GREAT networking, learning (including CEUs) and fun!  Why would you want to miss it? (You don't!)
10/18/2013.  UPDATE and ARGH!!  Yesterday we learned that a significant percentage - as high as 50% or more - of the thousands of emails we've sent out every couple of weeks regarding the conference never made it to the intended recipients - and that the problem is widespread throughout the Bangor area, and perhaps even beyond.  Phone calls to dozens of people yesterday confirmed this, and we've been asked to please re-send the information on the Bangor Area conference.  (We have no idea if this is confined to the Penobscot area, or if it's hitting further south and east.)  

As a result, so many people have not only missed the Early Bird Rate, but haven't gotten anything from us, that we're redoubling our efforts to get the information out to everyone.... AND we're reducing our prices.  Ordinarily the Early Bird Rate would be long gone by now, but we're reinstating it until October 24 at midnight.  And we've reduced the Last Minute Ticket pricing to our regular price rather than the higher rate needed to cover last minute expenses.  This seems the only fair way to handle such a difficult situation.

So if you see inconsistencies in our prices anywhere, please make allowances - it's an awful lot of work to go back and find all the changes that must be made, especially during the final few weeks leading up to a conference.
Thanks for understanding!
The Conference Team 
 The Greater Bangor Real Estate, Housing & Land Use Conference with Trade Show!
Thursday & Friday, October 31st & November 1st, 2013  |  
The Cross Insurance Center, 515 Main Street, Bangor ME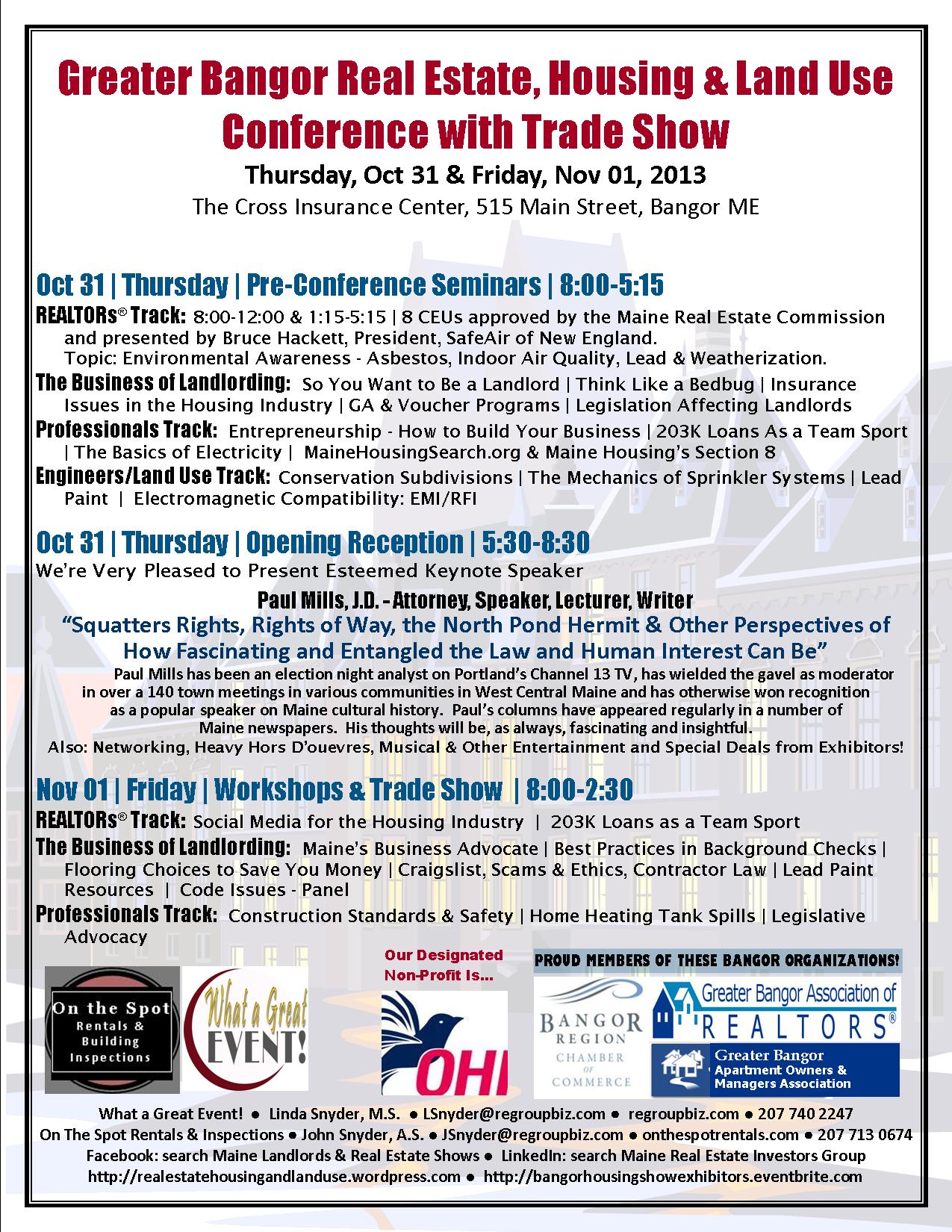 ~ ~ ~ ~ ~ ~ ~ ~ ~ ~ ~ ~ ~ ~ ~ ~ ~ ~ ~ ~
 For info on sponsorships or exhibiting, call Linda at 207 740 2247 or email LSnyder@regroupbiz.com 
To present a seminar, workshop or activity, call John at 207 713 0674 or email JSnyder@regroupbiz.com
For your social media marketing and information in the Show Program, email
Jessamyn at JHopkins@regroupbiz.com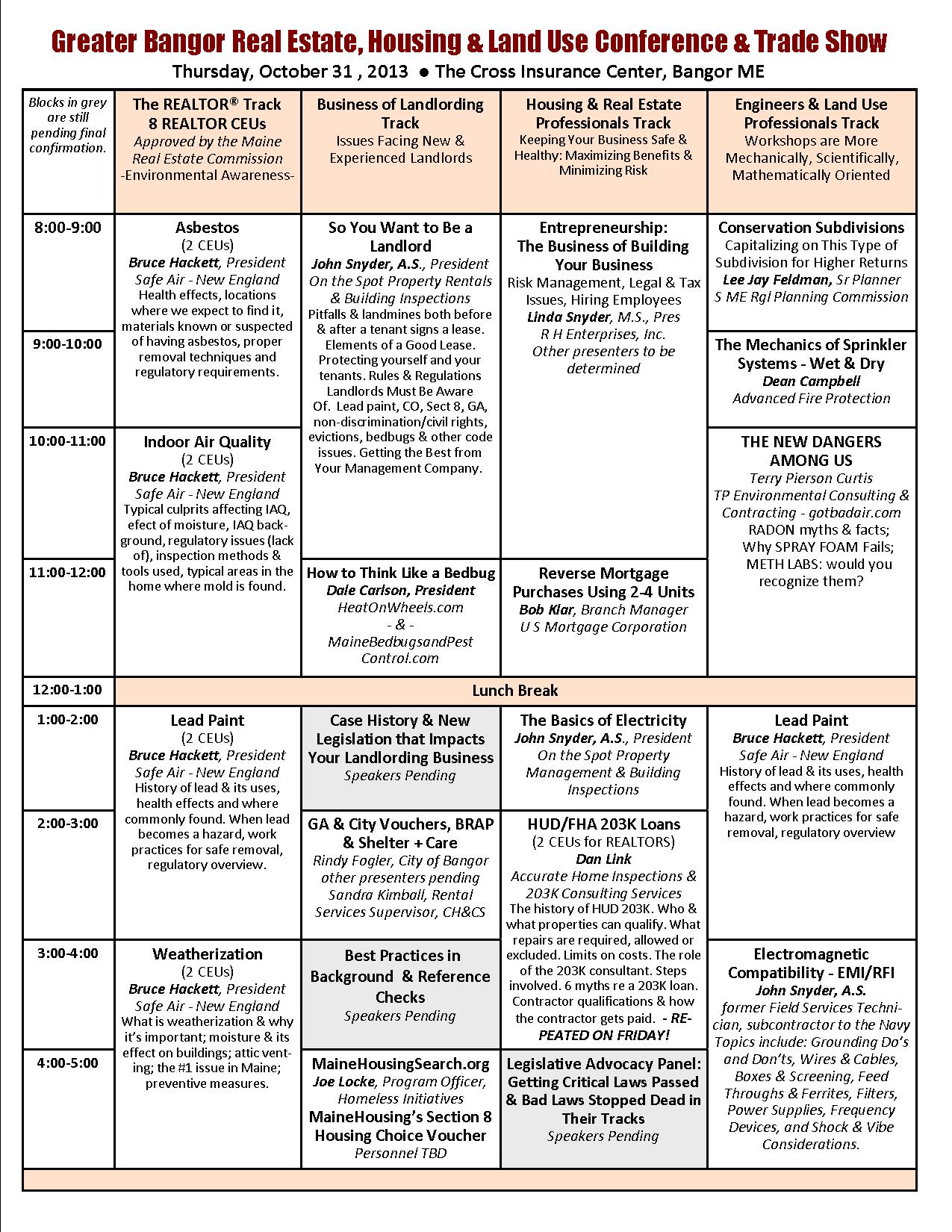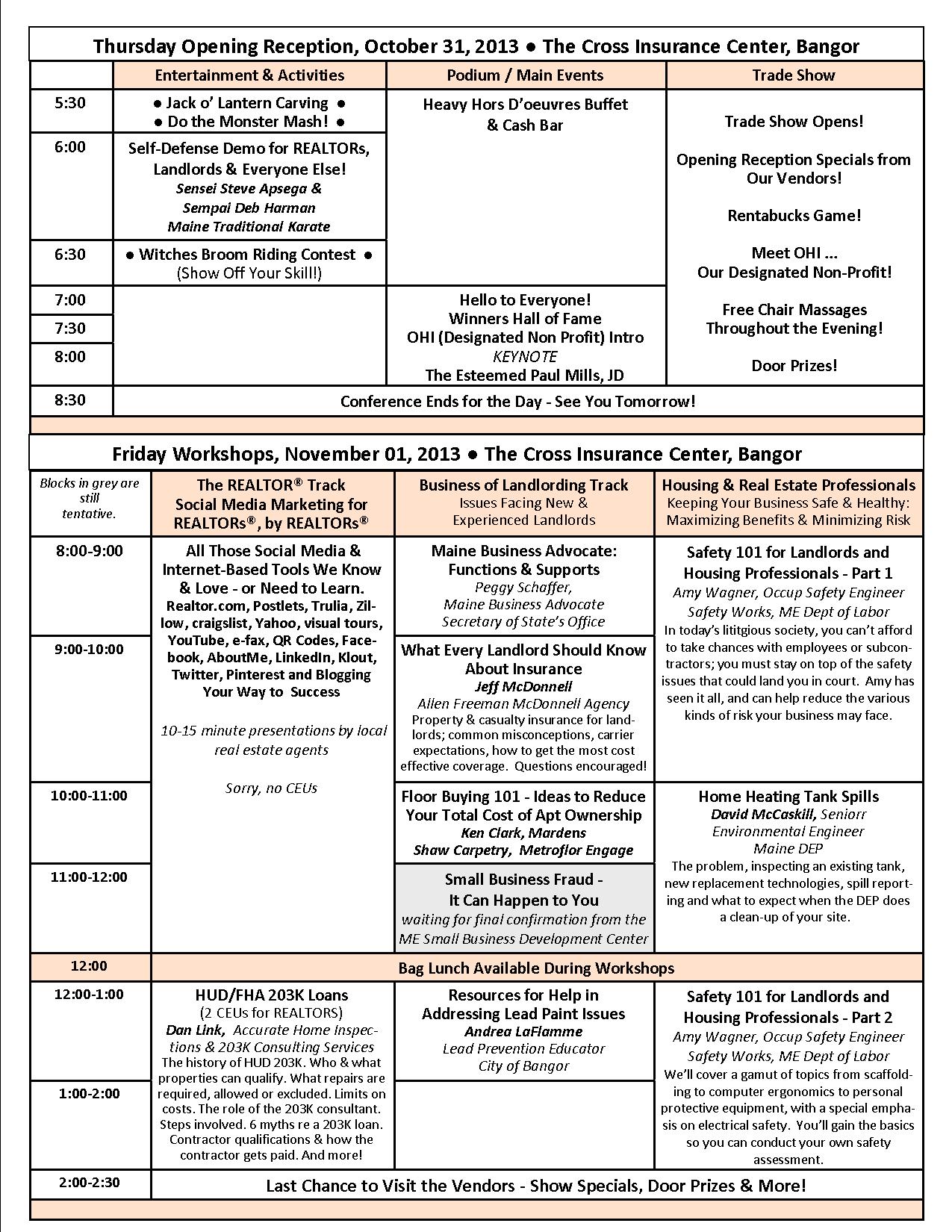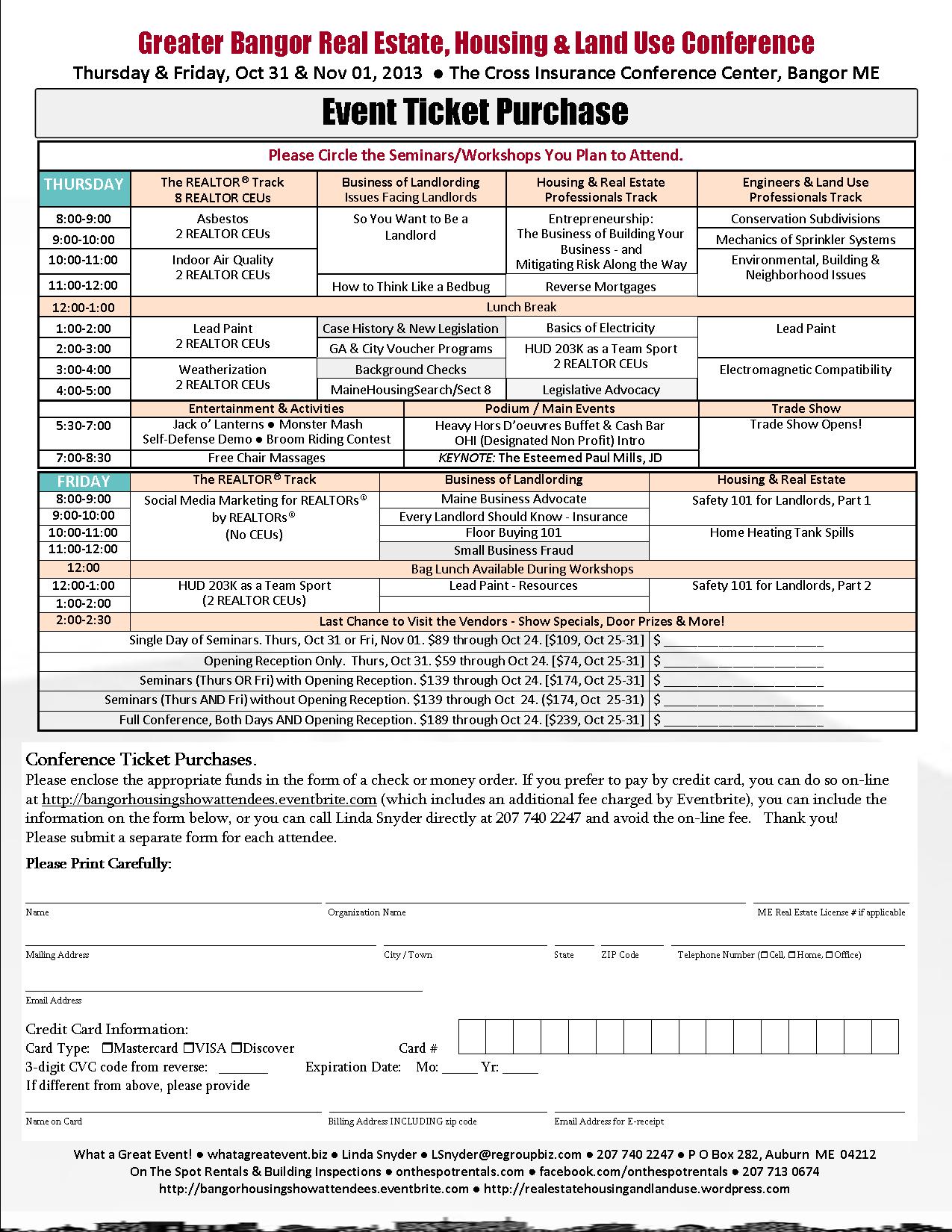 Welcome!
We're thrilled to invite you to the Greater Bangor Real Estate, Housing & Land Use Conference with Trade Show, being held at the new Cross Insurance Center - in the Grand Ballroom - on October 31st & November 1st, 2013.
During the day on Thursday, you can attend Pre-Conference Seminars offered in four separate tracks:  a CEU track for Realtors, the Business of Landlording track for landlords & those interested in getting into the business, the Professionals track for information on growing your real estate & housing related business, and the Engineers/Land Use Track which offers CEUs for professionals.
Thursday evening's Opening Reception will feature a self defense demo with Sensei Steve Apsega & Sempai Deb Harman of Maine Traditional Karate, goofy Halloween-themed activities such as the Monster Mash and Broomstick Riding Contest, keynote speaker Paul Mills, JD, offering his thoughts on "Squatters Rights, Rights of Way and the North Pond Hermit", an hors d'oeuvres buffet, cash bar, networking games, and specials from our trade show vendors.
On Friday, we'll offer 45-90 minute seminars all day until 2:30pm, along with the trade show, which will be free and open to the public.
The Greater Bangor Real Estate, Housing & Land Use conference will be a great opportunity for sponsors, exhibitors, advertisers and workshop presenters from the following disciplines:
... mortgage brokers, appraisers, bankers, title attorneys, housing inspectors, insurance agents, REALTORs®
... plumbers, electricians, kitchen & bath contractors, pest control agents, movers, flooring & window treatment professionals, landscapers, accountants, lawyers
... property managers, real estate investment groups
... private investors & money lenders
... community development programs, abatement & code enforcement professionals, and more!
Exhibit booths and sponsorships are priced to be affordable for most organizations; more details are available in the Exhibitors Manual.
The show is produced by What a Great Event! (education & training, and events management firm) in tandem with On the Spot Property Management & Building Inspections. The presidents of both organizations (my husband John and I) have extensive experience as residential and commercial landlords & property managers, and are excited to offer this great event!

As with all What a Great Event! conferences, the Greater Bangor Real Estate, Housing and Land Use Conference with Trade Show offers many opportunities for non-profit organizations to fund-raise via ticket sales, volunteering (we donate $10 per approved volunteer hour to the exhibiting non profit of their choice), and through other means.
We would be pleased to speak with you about your possible role in this show!
With Best Regards,
Linda & John Snyder
Linda Snyder, M.S., President, What a Great Event!
207 740 2247  |  LSnyder@regroupbiz.com
John Snyder, A.S., President, On the Spot Rentals
207 713 0674  |  JSnyder@regroupbiz.com
P.S. In March 2013, I (Linda) celebrated my 30th year as a landlord and real estate investor - it's been quite an adventure!
When & Where

Cross Insurance Center
515 Main Street
Bangor, ME 04401


Thursday, October 31, 2013 at 8:00 AM

-

Friday, November 1, 2013 at 2:30 PM (EDT)
Add to my calendar
Organizer
What a Great Event! is an exciting company doing exciting things - and with great events planned for the future!

We produce our own events as well as events for others.  These have included open houses, fundraisers and a Safe School/Healthy Students Family Resource Fair for the Lewiston-Auburn School Departments (Oct 2011).

Among our own events coming up in 2013 are:

May 09-10:  The Greater Androscoggin Landlords & Real Estate Investors Conference and Trade Show at the Ramada Inn & Conference Center.

September 21-22: The Androscoggin Pet Expo at the Lewiston Armory on Central Avenue.

October 19-20: The Greater Bangor Area Pet Expo at the new Cross Insurance Arena.

October 31-November 01: The Greater Bangor Landlords & Real Estate Investors Conference and Trade Show, Cross Insurance Arena, Bangor.

November 8: The Greater Androsocggin Real Estate, Housing & Land Use Conference at the Ramada Inn in Lewiston.

If you're a non-profit looking to raise money or awareness for your organization, give us a yell.

If you're a business needing a project completed (conference, company picnic, new product roll-out, employee recognition event), give us a yell.

If you have a facility that wants to bring in more income by booking meetings or events, give us a yell.

If you want want a theme wedding (my own pirate themed reception is still being talked about!), give us a yell!

Linda Snyder, 207 740 2247, or LSnyder@regroupbiz.com.