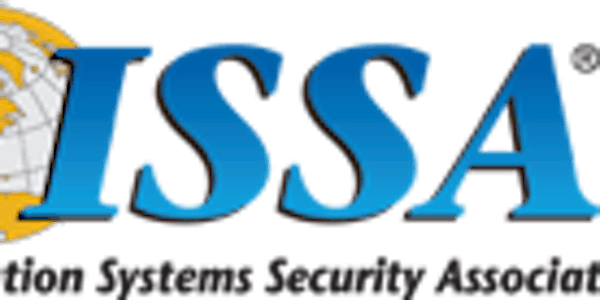 Greater Augusta ISSA Public Meeting featuring Doug Burks
When and where
Location
Augusta University - Summerville Campus 2500 Walton Way University Hall - Room UH170 Augusta, GA 30904
Description
The Greater Augusta ISSA invites you to join us for our next meeting on June 12, 2017 featuring Doug Burks!
Doug will discuss the Elastic stack (Elasticsearch, Logstash, and Kibana) and its integration into Security Onion:
http://blog.securityonion.net/2017/06/towards-elastic-on-security-onion.html

About the Speaker
In 2008, Doug Burks started a free and open source software project called Security Onion to help folks peel back the layers of their networks and make their adversaries cry. Today, Security Onion has over 400,000 downloads and is being used by organizations around the world to help monitor and defend their networks. In 2014, Doug started Security Onion Solutions LLC to help those organizations by providing commercial support and training. Doug is a CEO, public speaker, teacher, former president of the Greater Augusta ISSA, and co-founder of BSides Augusta, but what he really enjoys the most is catching bad guys.
About the Greater Augusta ISSA
The ISSA is an international organization of Information Systems Security Professionals. Read more about the Global ISSA at http://www.issa.org. The Greater Augusta Chapter of the ISSA meets quarterly. We invite you to attend our meetings to meet with other local security professionals, to network, share ideas, receive technical training, and to have fun while you earn CPE's.
Members receive exclusive benefits such as discounts on training and social "meet and greet" opportunities with some of the industry's celebrities. The discounts on a single course can pay for your membership for the year! If you're not a member already, please see http://augusta.issa.org/p/membership.html.
Follow us on Twitter! https://twitter.com/augustaissa
Where
The presentation will be at Augusta University in University Hall room UH170. For a map showing the location of University Hall, please see the parking pass (which you'll need to print and place on your dashboard):
https://drive.google.com/file/d/0BzQ65xrcMwNEMzRoQUFFRG1MclE/view?usp=sharing
When
Pizza will be served at 6:30PM and the meeting will start at 7:00PM.
6:30 Pizza and networking
7:00 Opening remarks
7:05 Featured speaker
This is a FREE public meeting, but you must register to reserve your seat.
Thanks to the Augusta University Cyber Institute and Hull College of Business for providing the meeting space!
Thanks to Security Onion Solutions for sponsoring pizza!