Greater Androscoggin Real Estate, Housing & Land Use Conference Program Ads

Friday, November 8, 2013 from 8:00 AM to 5:00 PM (EST)
Event Details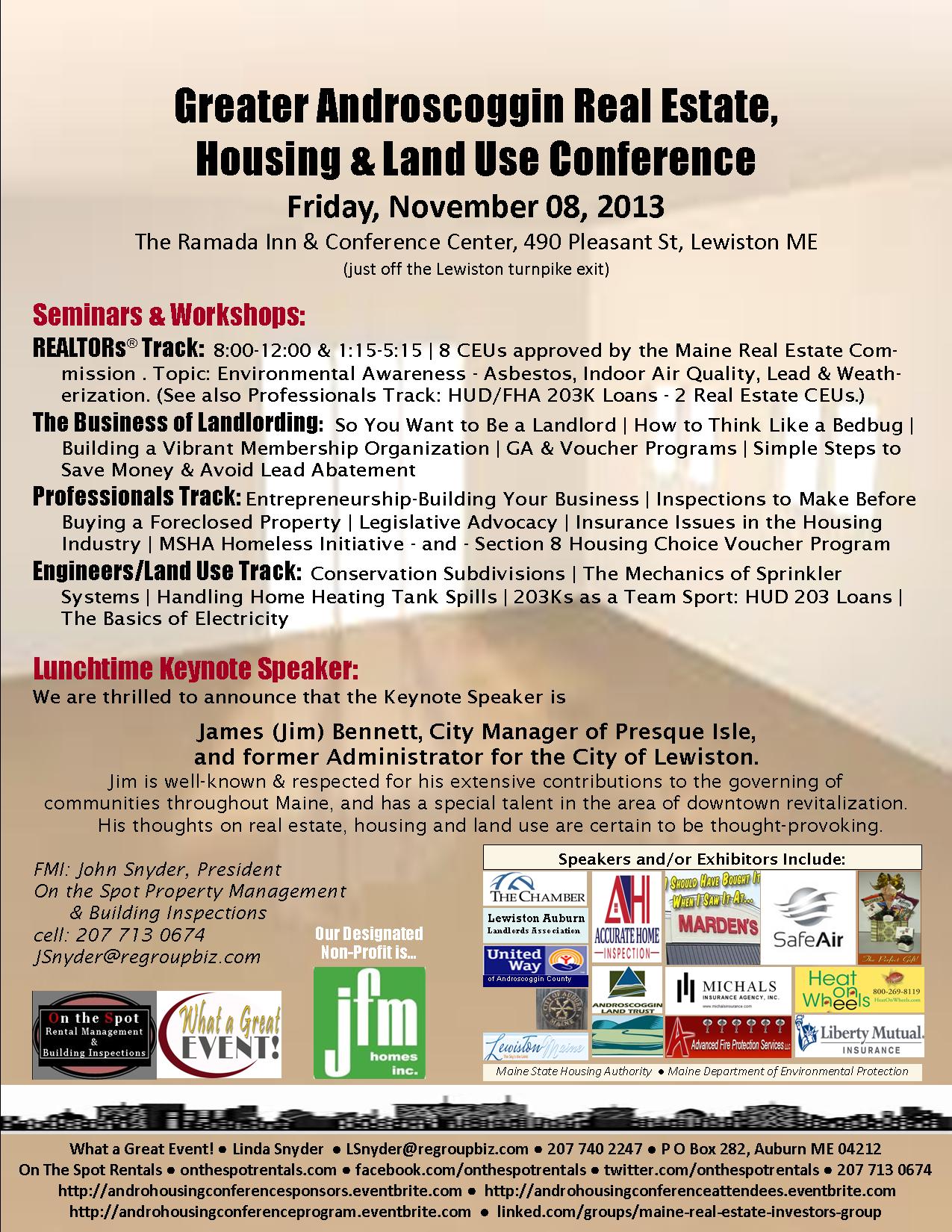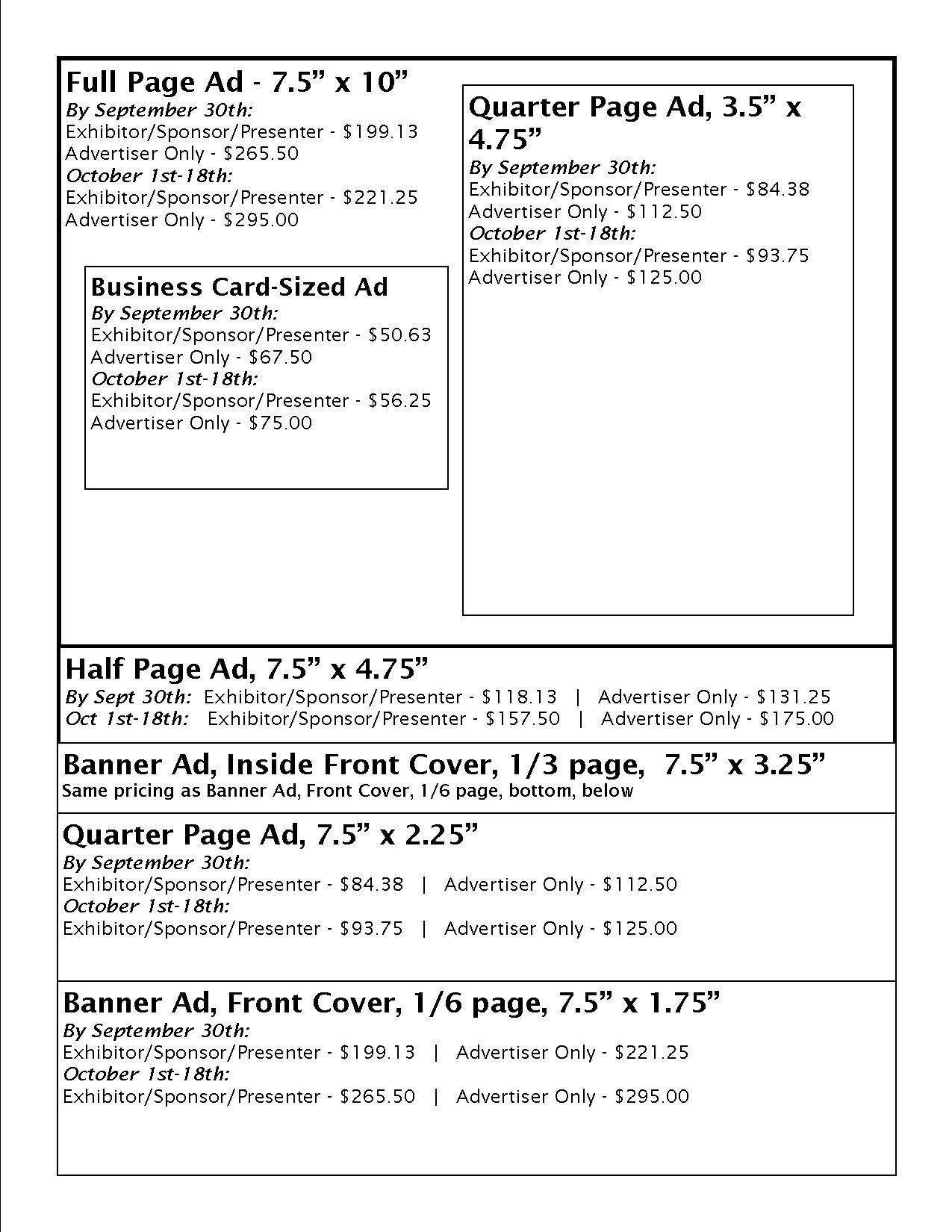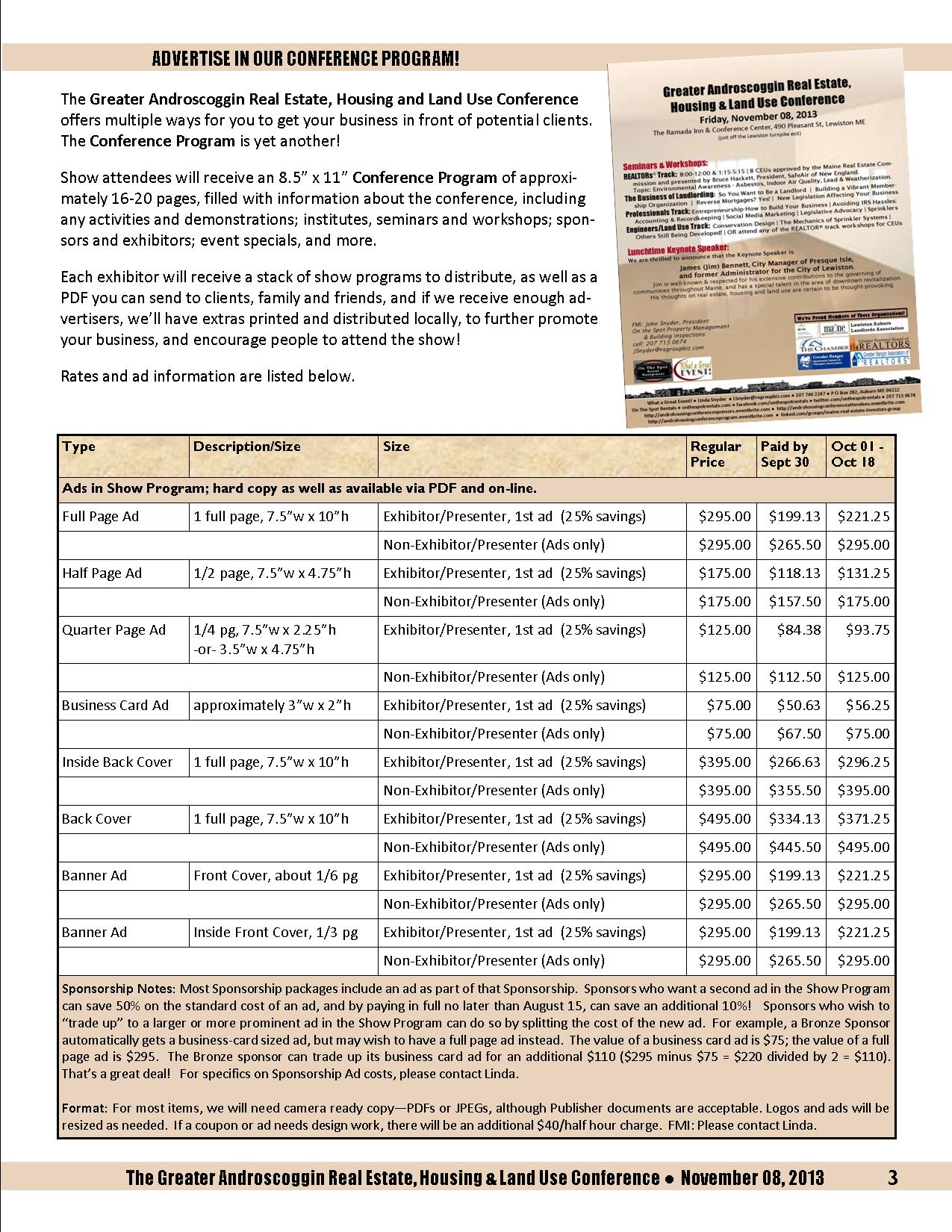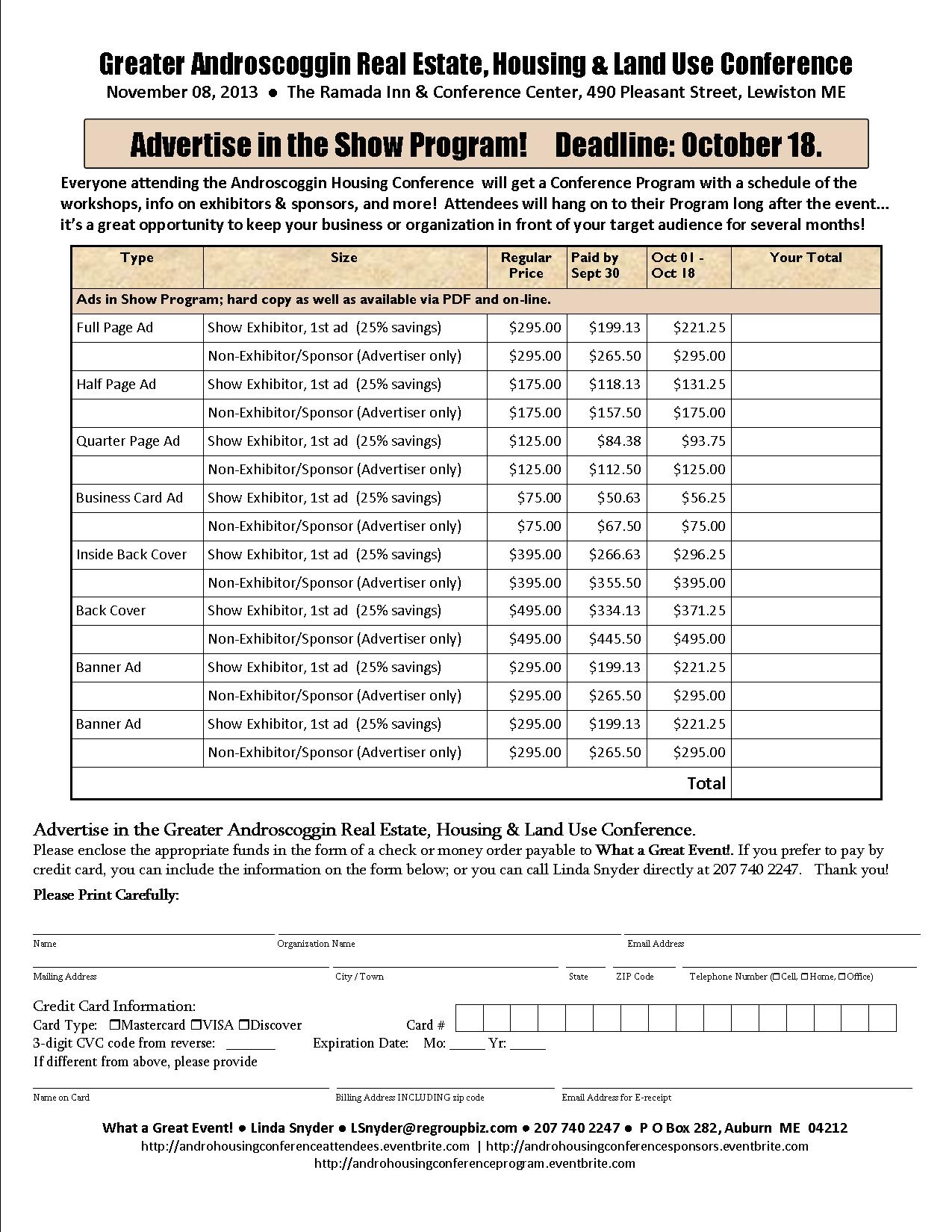 Greater Androscoggin
Real Estate, Housing & Land Use Conference
Friday, November 08, 2013  
The Ramada Inn & Conference Center, Lewiston ME
Sections & Information Below:
09/29/13, Welcome Letter
09/29/13, Frequently Asked Questions 
09/01/13, Do You Like to Write on Real Estate & Related Topics?
WELCOME LETTER & INTRODUCTION. 
Welcome!
We're thrilled to invite you to the Greater Androscoggin Real Estate, Housing & Land Use Conference this November 8th at the Ramada Inn and Conference Center.
You can choose from some very exciting workshops or seminars, many of which offer professional CEUs!  There are 4 real estate related seminar tracks:
v  REALTORs track, offering 8 CEUs approved by the Maine Real Estate Commission
v  The Business of Landlording, for investors & future investors, owners, landlords, & property managers
v  Professionals Track, for building inspectors, surveyors, appraisers, and others
v  Engineers Track, for land use engineers & other professionals. 
A yummy lunchtime buffet will include a thought-provoking keynote presentation by Jim Bennett, City Manager of Presque Isle, and former City Administrator for Lewiston, networking and a chance to meet with sponsors and micro-exhibitors.
This is a great opportunity for sponsors, exhibitors, advertisers & presenters from the following disciplines:
... mortgage brokers, appraisers, bankers, title attorneys, housing inspectors, insurers, REALTORs®
... plumbers, electricians, kitchen & bath contractors, pest control agents, movers, flooring & window treatment professionals, landscapers, accountants, lawyers
... property managers, real estate investment groups
... private investors & money lenders
... community development programs, abatement & code enforcement professionals, and more!
Sponsorships, advertising and micro-exhibit spaces are available for nearly any budget; just ask - we'll gladly give you the details! (Very gladly!)  Note: As of September 27, the micro exhibit spaces are sold out.
The show is produced by The Professional Skills Group/What a Great Event! in tandem with On the Spot Rentals & Building Inspections. The presidents of both organizations (my husband John and I) have extensive experience as residential and commercial landlords & property managers, and are excited to offer this great event!

We would be pleased to speak with you about your possible role in this show!
With Our Best Regards,
Linda & John Snyder
P.S. In March 2013, I (Linda) celebrated my 30th year as a landlord and real estate investor - it's been quite an adventure!


Frequently Asked Questions! 
Are there ID requirements or an age limit to enter the event?
There are no ID or other advance requirements to attend, although if you want to earn professional CEUs you must complete the registration form in advance, so we can submit the information to the instructors.  That way they can have your certificates ready for you when the seminar or workshop has completed.

To get a copy of our specific registration form (posted below), you can
go to https://www.facebook.com/groups/AndroRealEstateLandlordExpo/ and download it (you'll have to ask to become a group member first, which isn't a bad thing!)

sign up for our eletter, which has all sorts of interesting and very important (!) ideas, information, updates and links - just send an email to LSnyder@regroupbiz.com with "Housing Eletter Signup" in the subject line

email JSnyder@regroupbiz.com and ask for a copy of the registration form.

When & Where

Ramada Inn & Conference Center
490 Pleasant St
Lewiston, ME 04240


Friday, November 8, 2013 from 8:00 AM to 5:00 PM (EST)
Add to my calendar