Great Wines of Italy 2020: San Francisco Grand Tasting
About this Event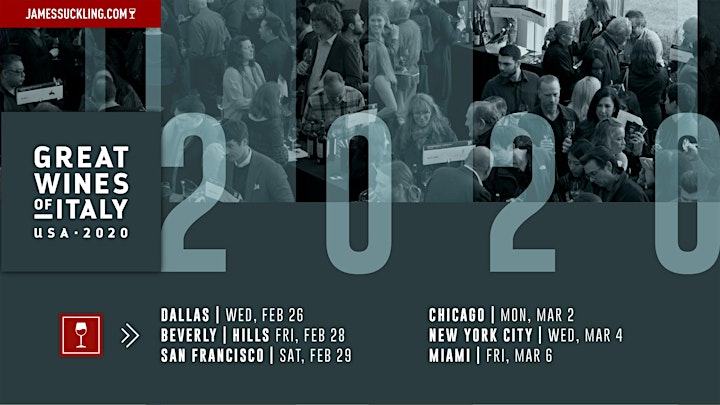 Great Wines of Italy USA 2020 - San Francisco Grand Tasting
Taste Italy's best wines with internationally acclaimed wine critic James Suckling at the exclusive, one-evening-only walk-around wine tasting extravaganza!
. . .
The Grand Tasting
Saturday, February 29, 2020; 3 p.m. to 6 p.m.
@ Presidio Golden Gate Club
. . .
TASTE THE BEST WINES FROM ITALY!
The annual wine tasting extravaganza is San Francisco's largest premium Italian wine event, with more than 90 top-tier Italian producers on showcase.
The walk-around, interactive wine tasting will present a handpicked selection of Italy's most sought-after wines from prestigious and renowned top brands as well as chosen premium boutique wineries.
From Brunellos and Barolos to Super Tuscans and Barbarescos, to Amarones and Chianti Classicos, the 200+ wines on pour are all of superb quality, and many appear on wine critic James Suckling's list of the Top 100 Italian Wines of 2019. Owners and winemakers will be present, showing two of their latest releases – all wines being poured have scored a minimum of 92 points or above!
GRAND TASTING TICKETS
Taste Italy's best wines with internationally acclaimed wine critic James Suckling! 
+ Taste 200+ Italian wines with top scores of minimum 92 points and above!
+ Meet renowned Italian producers and internationally acclaimed wine critic James Suckling himself
+ Receive complimentary Great Wines of Italy guidebook
+ SAVE with special ticket offers such as Early Bird ($125 only, reg. $145) and 2-For-1 Combo Deal ($200 for two)
+ Members of wine trade are invited to register for the Trade Ticket option (identification required).
+ SPECIAL OFFER FROM OUR FRIENDS AT WINE.COM
Enjoy a special offers from Wine.com who have put together a selection of wines featured at the Great Wines of Italy! Check it out at Wine.com/gwi before, during or after the event with our exclusive deal for 15% off when you buy 6+ bottles. Use code "GWITALY" at checkout. You can download the Wine.com app before the event so that you can save, rate and shop for your favorites!
************************************************************************************
For inquiries, contact our team at eventsUS@jamessuckling.com !
************************************************************************************
SHOWCASING WINERIES
Alberto Voerzio, Altesino, Amantis, Andretta-Vitanza, Baracchi , Barone Ricasoli, Bellavista, Bertinga, Bibi Graetz, Bovio, Brancaia, Caiarossa, Campo alla Sughera, Canalicchio di Sopra, Cantina Santadi, Cantina Tramin, Caparzo, Casale del Giglio, Castellani, Castello Banfi, Castello di Bossi, Castello Tricerchi, Cavalli Tenuta Degli Dei, Cecchi, Cesari, Ciacci Piccolomini d'Aragona, Collemassari & Grattamacco, Colterenzio, Cusumano, Dal Cero, De' Ricci, Domini Veneti, Enrico Serafino, Famiglia Cotarella, Fontanafredda, Fonzone, Franz Haas, Frescobaldi, I Giusti & Zanza, I Greppi, Il Borro, Jermann, Kurtatsch, La Lecciaia, Livio Sassetti, Loredan Gasparini, Maddalena Cordella, Marchesi Antinori, Mauro Molino, Mazzei, Michele Satta, Monteverro, Nals Margreid, Orma, Padelletti, Pecchenino, Petra, Piaggia, Piazzano, Piccini, Pieropan, Pietradolce, Pio Cesare, Poggio al Tesoro, Poggio Antico, Poggio La Noce, Renato Ratti, Roberto Voerzio, Rocca delle Macie, Ronchi di Manzano, Ronco dei Tassi, San Fabiano Calcinaia, Sella & Mosca, Silvio Nardi, Siro Pacenti, St. Michael-Eppan, Tassi, Tenuta Buon Tempo, Tenuta Sette Ponti, Torre Mora, Torre Rosazza, Tua Rita, Uccelliera, Umani Ronchi, Valdicava, Vallepicciola, Ventolaio, Villa Saletta, Viticcio and Zorzettig.
Visit our official website www.JamesSuckling.com for further information & details.