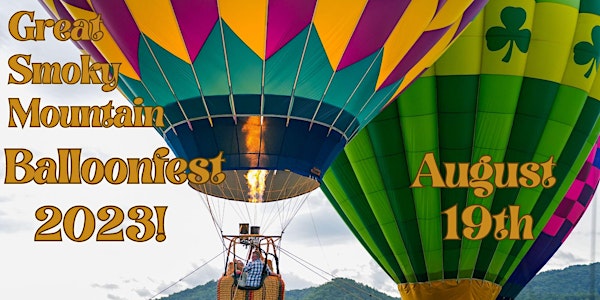 Great Smoky Mountain Balloonfest 2023
Hot air balloons will fill the sky with tethered rides, balloon glow and photo ops! Lots of food, music, crafts and games for all ages!
By Townsend Cades Cove Gateway Alliance
Date and time
Saturday, August 19 · 3 - 9pm EDT
Location
Townsend Visitors Center 7906 East Lamar Alexander Parkway Townsend, TN 37882
Refund Policy
Contact the organizer to request a refund.
Eventbrite's fee is nonrefundable.
About this event
Join us for a summertime spectacle, as professional balloonists light up the evening sky with a beautiful balloon glow. The sky will be filled with a spectrum of color like never before, against a backdrop of a breathtaking Tennessee sunset.
Gates open at 3:00 pm and tethered rides will begin at 4 PM, weather permitting.
Admission $5.00 per guest.
Children 10 and under are free!
Advance Parking Package with 2 free passes is $20.00 .
Parking passes are offed on this website under tickets.
Day of Festival parking is $25 at gate.
Guests parking in private lots or dropped off will pay a nominal $5.00 admission fee.
Tethered rides are now available for Pre sale orders! Tickets are $25.00 per rider, ages 8 and up. No riders under 8 years of age are permitted. Weather permitting, rides will begin at 3 pm.
There will be craft vendors, axe throwing, food trucks and lots of activities for children.
This VIP package includes parking, Tented Seating for shade and viewing enjoyment, a Tour through the balloon by a balloonist , Tethered Balloon Ride, commemorative swag, a catered meal at your leisure, Adult beverage tickets and unlimited non-alcoholic beverages, accompanied by musical entertainment. Chat with the balloonists, enjoy the ride and take advantage of the many photo opportunities! There are only 300 tickets priced at $175/VIP ticket. This special ticket is listed at the top of the ticket page. 
THIS IS A RAIN OR SHINE EVENT.
Refund Polices: Pre Purchase refunds are available until August 1, 2023, less the administrative fee charged by Eventbrite.
NO REFUNDS will be issued after August 1st for any pre purchased items
NO REFUNDS will be issued the day of or after the event, due to weather or inability to attend the festival regardless of cause. We are a non profit organization and appreciate your support of the Townsend Community. Proceeds last year were given to the Volunteer Fire Department, The Hearts and Hands Scholarship fund, The Townsend Elementary School, and The Railroad Museum. This is a summer time, rain or shine event.
Refunds WILL be available after the event, for pre purchased tether rides only, in the case of cancellation by the GSM Balloon Festival, if the balloons are not able to rise on the day of the event.
For VIP ticket holders, in the event the balloons are not able to rise, your account will be refunded for the cost of the tethered ride, $25.00.
In hopes to decrease line times tethered Rides are sold in BOARDING GROUPS this year. Once we have clearance from the McGhee Tyson Airport, we will begin boarding pre sold rides by groups. These groups will be announced "NOW BOARDING" by the emcee at the festival.
Boarding will begin with Groups A, then B, then C and D. Weather permitting, additional "Day of" balloon ride sales may be available and sales will begin once all pre sold tickets have boarded.
Passenger Release Form
Assumption of Risk, Waiver of Liability, and Indemnification Agreement
Congratulations on your decision to experience the magic of lighter-than-air flight with your purchase of hot air balloon LIFT OFF! TETHERED RIDE AT THE GREAT SMOKY MOUNTAINS BALLOON FESTIVAL ON AUGUST 19, 2023.
Please read the following carefully, as we require your consent to the below mentioned terms and conditions. Please ask us if you have any questions.
By purchasing a ticket and boarding a flight, you acknowledge, understand and agree that hot air balloon activities contain an inherent risk of injury or death to yourself, and damage to your property. You understand that such risks include but are not limited to: (a) loss of or damage to personal property; (b) bodily injury or fatality; (c) accident or illness in remote places without medical facilities; and (d) all risks explained during pre-flight meetings/briefings. You understand that the pilot is not a medical professional and cannot assess your physical or emotional condition. You stipulate that you are in good physical and mental condition and/or have consulted your personal physician or taken whatever steps necessary to determine that you have no conditions that might limit your participation in ballooning activities. You understand and agree that no medical benefits will be provided to you during these ballooning activities, and that you and/or your insurance shall be solely liable to pay for any medical expenses incurred on my behalf.
You certify that you are 18 years of age or older, or that you are the legal guardian and/or parent of the minor passenger with authority to sign this document on said minor's behalf. If you are signing for a minor passenger, all waivers, releases, assumptions of risk, terms of agreement, representations, acknowledgements, and certifications apply equally to such minor.
Being aware of the risks involved, you are voluntarily and willingly assuming full responsibility for all risks and dangers involved with or arising from your participation in hot air balloon activities whether during flight preparation, take-off, flight, landing, travel to or from the take-off or landing areas, or otherwise. You agree to follow all instructions of the pilot in connection with this hot air balloon activity and understand that your failure to do so may jeopardize your safety and the safety of the pilot, other passengers, and other persons.
Therefore, you hereby irrevocably release the following entities: William Randall, Balloonmeister Townsend Cades Cove Gateway Alliance The Blount Partnership The Townsend Visitor's Center The Balloon Ride Operator; The hot air pilot providing the balloon rides to the undersigned passengers;
their employees, agents, representatives, contractors, subcontractors, successors, and crew members (the "Released Parties") from, and hold them harmless for, all claims, rights, demands or causes of action arising out of the ballooning activities, which you or your successors, heirs, or assigns may have against the Released Parties in connection with ballooning activities. You agree to make no claims against or sue the Released Parties for injuries, death, or property damage that is caused due to the ordinary negligence of the Released Parties or any dangerous conditions of any property upon which the ballooning activities may take place.
You agree to engage in good faith efforts to mediate any dispute that might arise. Should the issue not be resolved by mediation, you agree that the issue will be submitted to binding arbitration. Such arbitration shall be conducted in accordance with the Arbitration Rules of the American Arbitration Association currently in effect.
You further agree that if any portion of this Hot Air Balloon Agreement (including Assumption of Risk, Waiver or Liability, Covenant not to Sue, and Indemnification Agreement) is held invalid, it is agreed that the balance shall, notwithstanding, continue in full legal force and effect.
Tags
United States Events Tennessee Events Things to do in Townsend, TN Townsend Festivals Townsend Other Festivals#festival#townsend#family_friendly#hot_air_balloon#food_and_wine#smoky_mountains#vacation_experience#cades_cove#townsend_visitor_center
About the organizer Organized by Townsend Cades Cove Gateway Alliance Contact Gsmballoonfest2022@gmail.comFollowingOrganizer website : Exploretownsend.com